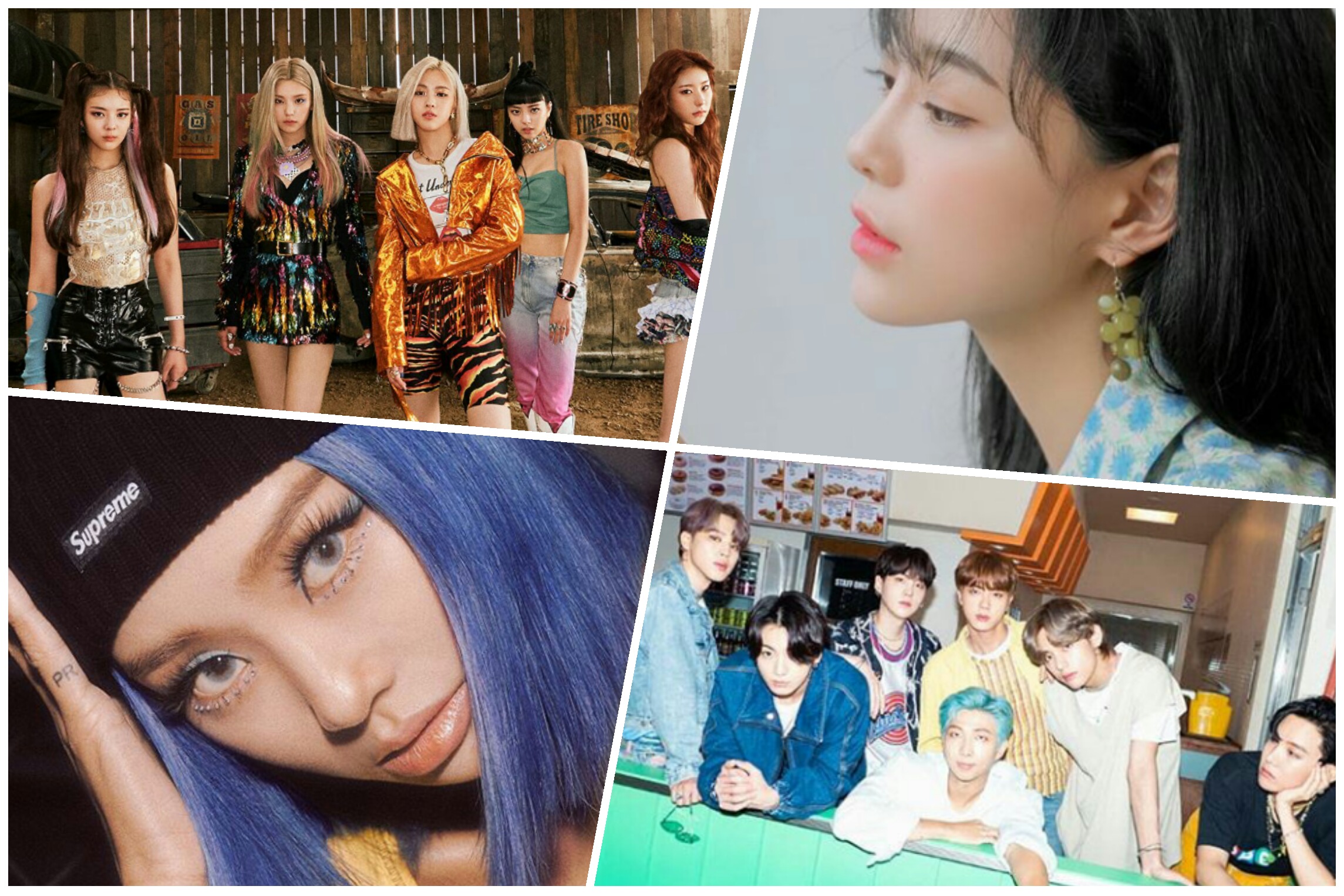 We're back with the third edition of 'Weekly K-Pop Recap' for August 2020!
Another week in the K-Pop universe is yet another dive into a whirlwind of absolute bops and we are here to guide you through them all. Whether you've been caught up with exams or work and have missed out, put your heart at ease. We've got it all covered for you.
---
15th August
KNOA – "No Heart"
An unassuming black and white music video gives way to animation, paired with an upbeat yet heartbreaking track.
Rockit Girl – "My Sea"
Female duo Rockit Girl are back with a summer single about the beach. While both members feature in the vocals, the music video features only member Leeseul. Will there be another version featuring Della?
Wooks – "Intentions"
You will not regret listening to this one.
Jungmo – "Magic"
Best known as the guitarist of SM's rock band TRAX (2004-2011), Jungmo is back with a lighthearted single with an adorable music video.
---
16th August
Oh My Girl – "SUPADUPA"
This super cute single is not actually a comeback, in fact it's for a popular children's show called 'PORORO'.
NeD – "Twinkle"
Summer vibes? Check! Nerdy cute aesthetic? Check.
Sohyang – "Wait"
The solo vocalist brings us a beautiful, minimalistic ballad that makes you feel like you're walking on air. A breathtaking single.
THAMA – "Wait"
The second track off his new EP 'Land' is just as chill and laidback as the lead single.
Kim Areum – "Aqua"
With an animated lyric video, Kim Areum charms with a funky, relaxing, city pop single.
---
17th August
SEJEONG (gugudan) – "Whale"
Sejeong's second ever solo release is a breathtaking dreamy pop song with acoustic accents. Written and composed by the artist herself, the lyrics are thoughtful and honest as is much of her artistry.
ITZY – "Not Shy"
JYP's powerful fourth generation girl group ITZY is back with another anthem! The girls are serving us the highest levels of rap, dance and vocals with this comeback.
Dreamcatcher – "BOCA"
Featuring their trademark rock edge, the lead single off their latest release 'Dystopia: Lose Myself' is everything you needed.
Cheetah – "So Sorry"
With an animated music video, Cheetah is back with a song that shows off both her rap and vocals.
Pluma – "Skrt" (feat. Paloalto) 
A relaxing hip hop track with plenty of autotune by the former 'High School Rapper' contestant.
---
18th August
Peakboy – "Diet" (feat. WheeIn of MAMAMOO)
This R&B track is all about that body positivity. Serving us lovely vocals and a great message, a must listen.
Kang Daniel – "Movie"
A smooth R&B pop track also from this latest release 'MAGENTA', "Movie" is the kind of song that just has you vibing. Also watch out for the cameos and tell us how many you can spot!
D1CE – "One Summer"
Five membered boy group D1CE take us on a vacation with their new summer bop. The group debuted in 2019 and consists of members Jo Yonggeun, Kim Hyunsoo, Jung Yoojun, Park Woodam and Woo Jinyoung.
Ahn Byeong Woong – "Can Have Everything"
The twenty one year old rapper from 'Show Me The Money' (Season 8) shows off his rap skills in a litty new single.
BURSTERS – "Therapy"
This may be just a lyric video release however, K-Pop fans aren't often exposed to K-Rock so here's one for the rock fans.
Jo Woochan – "Cola" (feat. HOTCHKISS) 
A breezy summer rap single by Jo Woochan from 'Show Me The Money' (Season 6) and HOTCHKISS from 'High School Rapper'.
From Island – "See You Again"
A simple acoustic track, perfect to help you unwind.
---
19th August
HYOLYN – "Say My Name"
The Queen is back with a sexy summer single and we can't help but reminisce about her days as a member of SISTAR. The track is produced, composed and written by the Queen herself. "Say My Name" is catchy as hell and features some sexy choreography by Aliya Janell who most famously choreographed HYOLYN's single "DALLY".
ONEUS – "To Be Or Not To Be"
This comeback is glorious. The production value of the music video is off the charts. "To Be Or Not To Be" is intense, dramatic and haunting in the best possible way.
Jo Jung Min – "Be My Teresa"
Soft vocals against a traditional melody gives you this baby right here. Definitely worth a listen!
DONGKIZ – "Beautiful"
The five membered boy group is back with an intense love song with energetic choreography and dark visuals. The group is composed of members Wondae, Kyoungyoon, Munik, Jaechan, and Jonghyeong.
Jay Park, pH-1, Sik-K, Big Naughty, Trade L, HAON, Woodie Gochild – "How We Rock"
The artists of H1GHR music have dropped another pre-release for their upcoming albums 'Red Tape' (2nd September) and 'Blue Tape' (16th September) . 
---
20th August
MCND – "nanana"
Five membered boy group MCND is composed of Castle J, BIC, Minjae, Huijun and Win. The rookie group brings a fierce comeback song with a powerful beat and choreography.
Zelo – "Mi Amor"
A romantic rap song with a cute animated music video by former B.A.P member Zelo.
FR:EDEN – "Seokchon Lake"
Serving an early 2000s R&B-esque sound that is mellow and pleasing to the ear.
---
21st August
BTS – "DYNAMITE"
The seven membered group have taken the world by storm with their new single and as usual have broken records on YouTube and iTunes. "Dynamite" is a retro styled pop song that pays homage to the various eras of pop music and is chockful of pop culture references.
Red Velvet – "Milky Way" (originally by BoA) 
This is the fourth remake of SME's 'Our Beloved BoA' series for the artist's 20th Debut Anniversary.
For reference, here is the original "Milky Way" music video from 2003!
Amin – "Today" (feat. DinDin)
The HeyMiss member shows off her soft vocals that contrast well with DinDin's edgy rap.
---
That's all for this week! Let us know if we've missed out on any new releases from this week. Stay tuned for releases from JENYER, BLACKPINK, HyunA, KARD and more next week!