"Rookie Cops" episodes 15 and 16 will be about the revenge Dae-Il friends will take for his death. They even plotted everything to catch Han-Sol!The romance, friendship, and police job we adore so much at the police university have unfortunately come to an end.
Plot Summary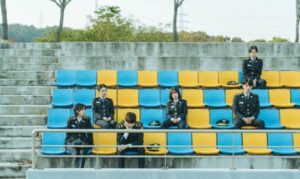 To send off their friend Yoo Dae-Il. Seung-Hyun, Eun-Kang, Han-Na, Kim-Tak, Shin Ah-Ri, Beom-Ju, and Ju-Young reunited. Because of Dae-Il's untimely death, everyone was devastated. This event led them to investigate the circumstances surrounding his death. The reason for Dae-Il's death was revealed. The KNPU squad agreed to fight against Han-Sol and his secretary to repay for their friend. The squad devised a way that would enable them to seek revenge. They even asked Detective Kang's help, but he was stabbed while on the work. Wi Seung-Hyun and the rest of the team devised a new strategy for gaining access to Jo Han-Sol. Eun-Kang, on the other side, wore a disguise and approached Jo Han-Sol, the criminal.
He was taken aback when he saw Eun-Kang standing in front of him. He was fooled by the students and was unsure of how to respond. Eun-Kang sought to mislead him, causing him to confess to all of his criminal activities. Everything he said has been recorded and could be used against him in the future.
Couple Chemistry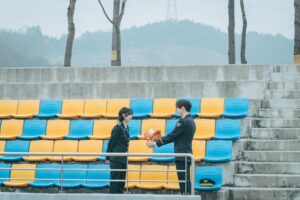 Ki Han-Na opened Dae-Il's files he shared with her while remembering about her good moments with him through their prior messages. She came upon a shady video while browsing and was shocked to learn that high-ranking officials are supporting prostitution. She showed it to the rest of the team right away. They suspected Dae-Il was chased down by the man on the video, which led to his death.
Professor Cha was also told about the clip. He instructed the students to keep the video private until they devised a clear plan to prosecute the officials involved.
Kim Tak read his late brother's letter and received a message from Wi Seung-Hyun, encouraging him to return to join the squad in arresting Jo Han-Sol. Kim-Tak surprised his friends late at night while planning their next move. He also took the opportunity to apologize to Shin Ah-Ri about his sudden departure. He expressed his sincere feelings that he wanted her back in his life. Seung-Hyun and Eun-Kang exchanged kisses and pleasant moments.
Supporting Character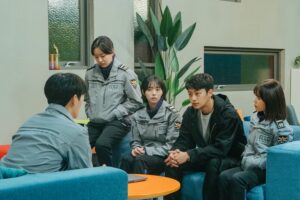 Jo Han-Sol offered Ki Han-Na a large sum of money in exchange for spying on Eun-Kang and Wi Seung-Hyun on the KNPU campus. She alerted her friends about the news and decided to become a double agent in the hopes of catching Han-Sol. Han-Na accepted the opportunity without telling Han-Sol that she still trusted her friends.  Seung-Hyun, Kim-Tak, Shin Ah-Ri, Ju-Young, and Bum-Ju were battling Han-Sol's guard to catch him while Ha-Na and Eun-Kang were dealing with him inside his hideout.
Finally, at the parking lot, Wi Seung-Hyun had a one-on-one brawl with Jo Han-Sol. Kim-Tak attempted to fight Han-Sol as well, but he passed out. Fortunately, his friend Seung-Hyun arrived and did everything he could to get the culprit into his possession. Shin Ah-Ri received a call from Professor Cha in the middle of the fight, chastising him for their risky plan. Professor Cha, however, used his faith in his students to phone the cops and send them to the kids' location, where they were assisted in the capture of Jo Han-Sol. Seung- Hyun's father walked over after he defeated Han-Sol and brought him the handcuffs, which he placed on Jo Han-Sol's hand. Wi Gi-Yong was pleased with his son when he became a virtuous police officer alongside his comrades, even though he was prepared to face the repercussions for his role in the Sinyu Club.
Moments that stay
Wi Seung-Hyun, Eun-Kang, Kim-Tak, Han-Na, Shin Ah-Ri, Ju-Young, and Bum-Ju excelled in university and gained honors for solving a major case after Jo Han-Sol was imprisoned. Even though Dae-Il was not present, the squad remembered him and always made room for him wherever they went. The team realized its ambitions to make it big at KNPU and will continue to serve society as good civil servants once they graduate.
They all went to Eun-Kang's restaurant for supper, and they were all sad as they left the restaurant for Dae-Il.
Verdict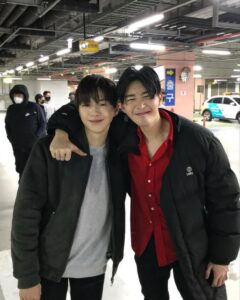 And that's it for episodes 15 and 16. Are you watching this drama? Are you enjoying it as much as we are?
'Rookie Cops' was full of friendship, romance, and learning; not only did it have a unique concept, but it was filled with moments that touched our hearts. The drama touched on the day-to-day problems of KNPU students, giving us insight into how life is inside the KNPU and is definitely worth the watch!
See you in the next K-Drama review!
Connect with us on Instagram Twitter YouTube for more content, interviews, & news.