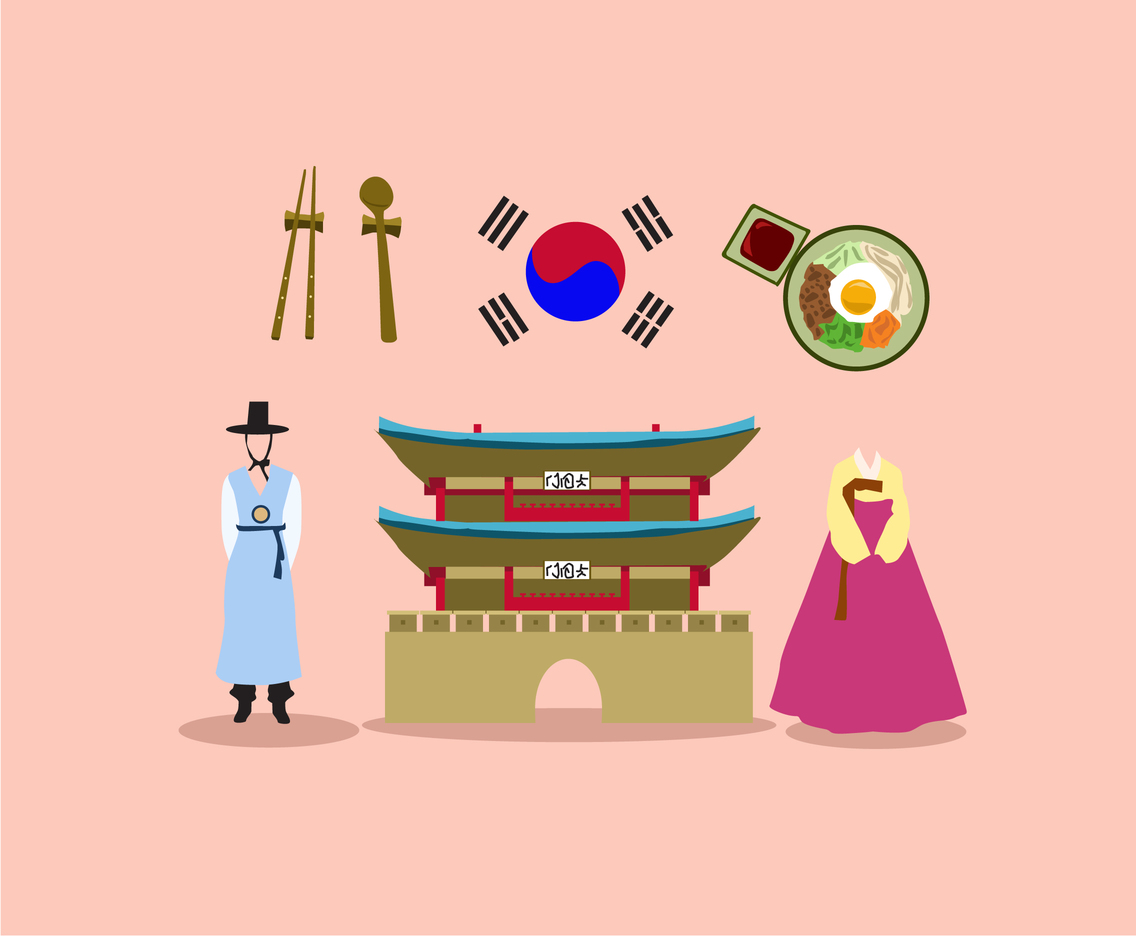 Ever thought "I wish I was in Korea right now!", only to take a peek at your bank balance and realized a trip to the nearest pani-puri shop is the only thing you can afford? Well, woe no more my friend, I'm here to offer you a diet version of the Land of the Morning Calm right here in Delhi, that both you and your wallet will enjoy!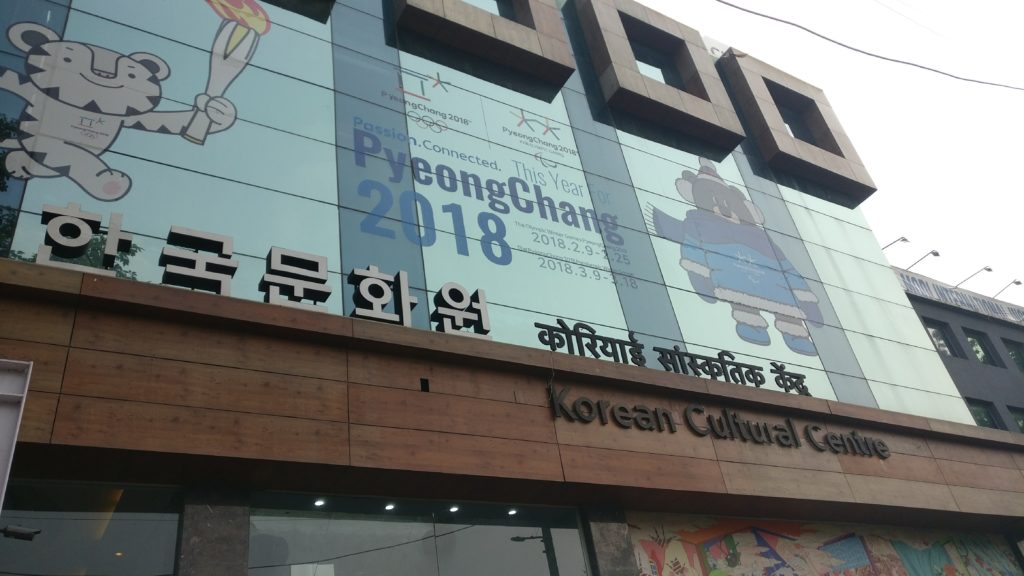 Korean Culture Center India: Let's kick things off with the obligatory KCCI. It's a hard one to skip. (The words "Korean culture" are literally in the name) Situated a 5 minute (or 10 if you're me) walk away from Moolchand Metro Station, this is your one-stop for all things Korean. You can enroll to learn the Korean language, get inspired by the numerous exhibitions, browse through shelves of books both in Korean and English, and finally sit down for some great Ramyun. 

 
Address: 25-A, Ring Rd, Vikram Vihar, Lajpat Nagar IV, Lajpat Nagar, New Delhi, Delhi 110024 
Contact: 011 4334 5000 
Korean food : Any list about Korean culture cannot be complete without the mention of its mouth-watering food. From Tteobokki to the popular Sam Gyop Sal, there are so many cafes and restaurants you can explore for Korean food at an affordable price(yes!). 'Shim tur' is one such swarming with college students, it is nestled in the second floor of a guesthouse. It might be little tricky to locate it in the streets of Paharganj, but we promise it will be worth it in the end. But the list doesn't stop here. There's Busan Korean Restaurant, Kori's also on the list that serves light on the pocket and while Restaurant De Seoul and Gung the palace is on the heavier side, these ones are so close to the authentic food and totally worth it!
Address: (Shim Tur) 3F, Navrang Guest House, 6 Tooti Galli, Main Bazaar, Paharganj 
(Busan Restaurant) Ground Floor, House 9B, Block 10, Majnu Ka Tila  
(Restaurant De Seoul) Ansal Plaza Mall, 3rd Floor, C Block, Khel Gaon Marg, New Delhi 
(Kori's) Safdarjung Enclave, R-62/1, Humayunpur, New Delhi  
Contact:  (Shim Tur) +91 981 038 6717 
(Busan Restaurant) +91 956 081 6905 
(Restaurant De Seoul) +91 813 002 8378 
(Kori's) +91 116 599 9931
K-POP Contest India: Organized by Korean Culture Center India, this annual event began all the way back in 2013. Since then, every year people from all parts of India come together to compete with vigor and passion to not only win the grand prize but also avail the incredible opportunity of performing in front of famous K-pop idols!

 

Contact: K-POP India

 
PC Bang (NxGT Gaming Lounge): Bear with me now. I know gaming parlors aren't "technically" Korean but with approximately 25,000 PC Bangs in South Korea, it sure seems like an important part of its culture. Affordable and filled to brim with college students, the NxGT Gaming Lounge is the perfect place for your uninterrupted gaming sessions. Like most PC Bangs, it also offers an overnight pass.

 
Address:  Plot No. 29, 1st Floor, Above Subway, Malkaganj Road, Jawahar Nagar, Kamla Nagar  
Contact: +91 882 691 3868 
Noraebang:  Noraebangs are an essential part of every K-Drama protagonist. It is a place where one can hang out with friends while jamming to Big Bang or hilariously fail at attempting to nail the high notes in the iconic "Tears". Gung the Palace is a name that usually pops up in discussions of great Korean restaurants but unbeknownst to most, it also offers services like Noraebangs. While it is available every day, it is recommended you make a booking prior to showing up. So, gather up your squad and head on over there for great food and seoulful singing!

 
PS: You can also enjoy noraebang sessions at Korean culture centre with your friends 🙂
 Address: Sector 29, Gung The Palace 1st Floor Near Reliance Mart, Gurugram 122009 
Contact: +91 124 438 3101 
INA Market: If, in past few months, you have traversed the sea that is Youtube's Mukbang section, you are bound to have come across the viral Fire Noodles Challenge. If you are me, you also drooled at the sight of it and wondered where you could score one of those. Good news, it's right here in South Delhi! Known as the food bazaar of Delhi, INA Market has everything you can think of- from Korean Shin Ramyun (RS 100) to Japanese Shiitake mushrooms. Grab a friend and take a walk through the bazaar on a warm winter afternoon for some great Korean snacks.
Address: Sri Aurobindo Marg, INA Colony, Aviation Colony, New Delhi 110023 
Majnu ka Tilla: What the I.N.A Market is for Korean food, Majnu Ka Tilla is for Korean fashion. That college classmate of yours who looks like she just walked out of a Korean Drama? Yes, she most probably shops there. While its best to stroll through the place to get the best finds, a few names like Glam Girls Boutique and Three sisters are well-known among regulars. Not only does MKT satiate your K-fashion craving, it also provides a cure for your inner K-Drama addict with shops lined with CDs of all genres of K-Dramas. 

 
Address: G.T. Road, New Delhi 110002 
K-Beauty : You will find some of the brands store like Innisfree and Its skin making a mark in the Indian market.It's a great way to check exactly how some products affect your skin. But if you are a hermit like me, I also have online stores to recommend. You will find popular brands like Innisfree all the way to Son and Park, Cosrx and Missha that are not very popular in India. They are readily available on online stores like Amazon, Nykaa, BeautyBarn and Shelc. 

 
Address: F-78(B), First Floor, Select City Walk, Saket
F-164, DLF Mall of India, Sector 18, Noida, Uttar Pradesh
F-124, First Floor, Ambiance Mall, Vasant Kunj
 If this helped you, leave a heart for us !