Get up close and personal with Shaun who is more than the 'Way Back Home' hitmaker!
There are days when all you would want to do is, lie down under the open sky and star gaze while listening to music that soothes your soul. If you happen to be a fan for that or even just calming Korean music, then you should definitely add Shaun on your playlist or he probably already is, with his virally hit songs 'Way Back Home' and 'Bad Habits.'
Although his music cannot be limited to one specific genre, his ardent, mellifluous voice especially makes his songs a go-to, during times when you wish to dwell in to world of mellow and comfy music.
Kim Yun Ho, the singer behind the viral song 'Way Back Home,' famously known as Shaun, received a very appreciable amount of home as well as international fame not just among K-POP fans but also among non-K-POP fans. He recently made a comeback with double singles #0055b7 and we were excited to be able to interview the talented artist as he greeted us with, 'Namaste' and introduced himself as, SHAUN- singer/songwriter, DJ as well as producer.
Although Shaun took a break from music, while in the military, he still remained one of the Top 10 Most Streamed Male K-Pop Artists Globally in Spotify 2020. The artist confessed that it didn't feel real when he saw the numbers. Listening to the story around him, he realized that the number of 'Way Back Home' streaming had reached nearly 200M at that time and it felt unreal.
"I figured out that I created a powerful track and I was so thankful to those who consistently listened and loved the track, even during my military service with no activity at all." – Shaun
Shaun's debut as an artist happened back in 2010 as he started off as band member (keyboardist) for the indie band, The Koxx.  He released his first solo EP 'Take On' in 2018 and that was when the title song 'Way Back Home' made its way no.1 in the charts, not just in South Korea but in Vietnam as well.
The song then began to beat popular K-POP groups and artists and landed on the first spot and charted in many countries. Gradually his song took over every household, café, and social media platforms of many countries as well as in India, proving that the song had made its mark on its own and was here to stay. When asked what kind of impact the song had on his musical journey, the artist shared, "In many senses, it gave me expansion and hurt at the same time. I met a lot of great people from all over the world, and I received a lot of support and love. But at the same time, I also received jealousy and got involved in numbers of conspiracies. I tried hard to stand still on top of these good and bad reactions to not to fall apart. Regardless of my performances I'm just continuing to do what I have to do as an artist."
Besides his personal music, Shaun has also worked with many popular artists like EXO, Girls Generation, Epik High, SHINee, BoA, and F(x) as a producer. Shaun attributes it to producer, choreographer, and director, Shim Jae Won, with whom he has been working with for a long time- "We had this 'good chemistry' so whenever we go into studio, we were somehow able to create something new. We worked on concert-related the most and based on those works, I was able to include my tracks to albums. As a DJ, my role is to utilize my strong points to dynamically link tracks and naturally bring audiences from the beginning to the end. Thus, I was able to participate in lot of events, various teams and also award ceremonies."
 As a DJ/Producer, he has also released many remixes of different K-POP songs like EXO's Power and has also arranged the song, 4 '0' clock sung by RM & V (BTS), besides others. Many might not know that he was also a contestant in MNET's 2015 DJ survival show, 'Headliner,' so when we took the trip down the memory lane, Shaun shares that although it's been a long time ago and he can't really remember everything about his experience, he believes it was great because he had a great opportunity to meet good people and build relationships. He also shared that he could enjoy the filming as the staffs and participants were so considerate and comfortable. He however confesses that in his case, "competing with others on music was a little difficult."
Shaun's major breakthrough in 2018 made him a global star and in order to reach out to his international fans, he remixed 'Way Back Home' with Sam Fedt and Conor Maynard but just as he was being embraced by his new fans, his mandatory military service knocked at his door. The newly found star wanted to keep his fans happy so he prepared another EP 'Annyeong' which was released in his absence. Fortunately, his fans turned the tables and his song 'Way Back Home'  found its way to many places.
As he wanted to keep pursuing music and reach out to his fans, he kept his words of having a comeback as soon as he was released from military this year. Although Shaun has not been shy to talk about how he actively tries and avoids writing music similar to his previous hits or even replicating its success. His new single 'Closed Ending' is an exception, as it is a reminder of 'Way Back Home' with the same soothing melody and Shaun shared the story behind why he made this exception.
He expressed that before he joined the army, he was having a dark time because of the issues that he went through and as it was something that he had never faced before, it had drained him. The artist confesses that, "There was an insubstantial dispute over my music and myself at the beginning of 'Way back home' release and thus personally, Way Back Home's hit wasn't just a good thing."  But then when he was in the military, he met a lot of people and heard a lot about their memories with his song. Thus, listening to their stories, he felt loved as a musician who made the music and also felt grateful to the people who told him the stories and the memories.
"Thanks to the people that I met, I was able to shake off a lot of dark parts that were inside me." – Shaun
The artist further adds that the reason he arranged 'Closed Ending' like 'Way Back Home' is because, "I wanted to sing with gratitude to the people who told me warm stories. I wanted people who waited for me, to know about my comeback by conveying the magical moment of the first time they heard, Way Back Home."
Shaun also gave us an insight on his new EP, how it came about it and stated, "Last October, I worked on several tracks when I finished my military service. I picked two and worked on more details!  Although I started working on two tracks based on the same theme, it became two different tracks with two totally different tendencies but I really like the contrast."
 The #0055B7 album consists of two tracks, 'Blue' and 'Closed Ending.' It also has a 2CD merchandise package 'Traveler' which includes these double-singles as well as all the other tracks.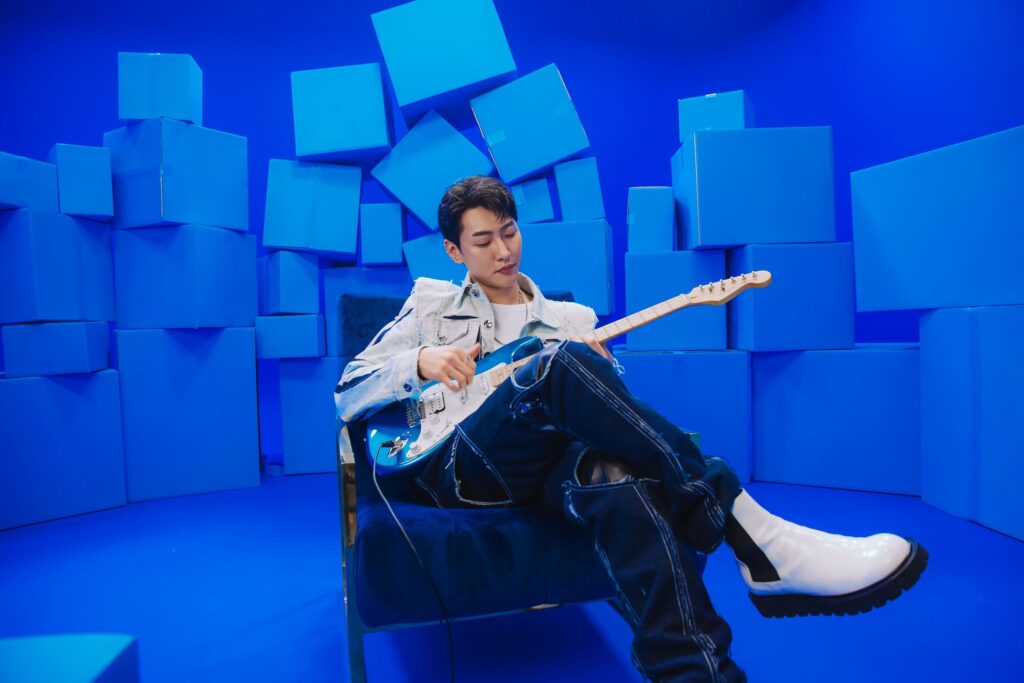 Shaun reaffirms that the title '#0055b7' is rather based on the theme of feeling 'blue' and not the color, 'blue' per se. While walking us through the process of how he eventually decided on a theme such as this, he confesses that, "Since the draft of the track, breakup stories have naturally appeared in the lyrics." He further shared, "At the very beginning I worked on 'Blue' lyrics in English and rapper Mad Clown converted it to Korean based on the storyline which was to accept a breakup after a quarrel with a lover.  In the case of 'Closed Ending', lyricist Mandy Kim drafted the story and based on that story we all together worked out and completed the track."
When asked how is '#0055b7' different from his previous work, both in terms of production and as an artist, Shaun shares that he took part in the lyrics a little bit more. Originally, he insisted to work alone from the beginning to the end, but then, he started to have a desire to learn working with someone else and he thought that working with someone else was necessary to keep producing a good track in long term.
 Shaun has also collaborated with Show Me The Money 9 star rapper Wonstein in his song, 'Blue.'  With regard to future collaboration possibilities with more K-HipHop artists, he stated, "I am always opened to collaboration, not just with Hip-Hop artists but I'd love to work together with fabulous artists who are willing and able to create."
Shaun's inspiration list isn't limited as he gets inspiration from a lot of things starting from impressive books, movies, animations, music, what he sees, hears or feel etc. He believes that based on those inputs, he changes himself and grows over time. Shaun further adds, "It seems like that flow of change naturally makes my music to be spread to the world. Besides Chet Baker, I also listen to other inspirational artists like, Porter Robinson, Flawed Mangoes, Elliott Smith, Beatles, Bonono, Ólafur Arnalds and many more."
Apart from that, from a very young age, he has been a music lover, listening to tracks by rock band artists like U2 and Red Hot Chili Peppers and he had also debuted as a part of 'The Koxx', an indie rock band. It thus won't be a surprise if his future projects continues to have rock elements but then again, with Shaun, any kind of music can be expected.
"There are always rock elements in my music. I consider my music cannot be categorized into a certain category, because it is an outcome of all kinds of music that I have been doing so far. Hybrid always excites me and amuses me. It is impossible to separate me from rock sounds since my teens and 20s are filled with guitar and rock band."  – Shaun
 As we came towards the end of the interview, Shaun had a message for his Indian fans, hoping that everyone is staying home and safe during the COVID-19 Crisis, the thoughtful artist further added,  "I'm so thankful and overwhelmed for the love and support I'm receiving from India. As soon as this pandemic is over, I'd make sure to visit India and play live for you."
Shaun has given us multiple versions for some songs and his fans have also come up with different versions of it but what we love about Shaun's music is that, it doesn't constrain itself to one kind of music. It has its own distinctive element to it, hence when its his song, fans can easily identify it. After all, "That's music produced by Shaun."
Connect with us on Instagram Twitter YouTube for more content, interviews & news.