Episodes 11 & 12 of 'Our Beloved Summer' is all about Choi Ung finding the confidence to speak up and admit how he truly feels and growing closer with Yeon-Su, giving us some lovely moments happening between them.
Review: Our Beloved Summer – Let's Just Be Friends (Episode 9 & 10)
Jjongjong, The Dog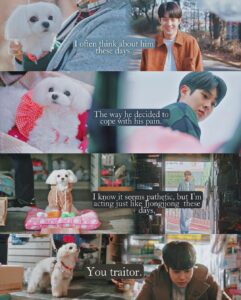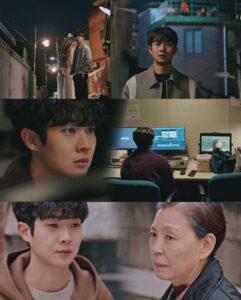 All of the present happenings gives insight to his memories of a dog named Jjongjjong, whose behaviour he compares to his own. The dog appears to be living in luxury but is afraid to go outside, and hence avoids large crowds and gatherings. Choi Ung decides to just act like that dog, to live with his pain, and opts to make friends with Yeon Su. He believes that if he doesn't do anything, nothing will happen. On the last day of filming, he goes to see Jjongjong, and discovers that the dog now has stopped hating the outside world and is out on walks. The dog has matured and transformed, symbolising Choi Ung's own growth. He just needs the courage to take the next step. This helps him take a better look at his life, and specifically what's been going on with Yeon-Su.
NJ & Choi Ung Affair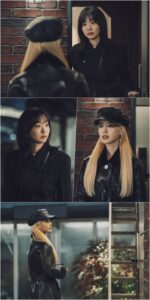 Internet pictures of NJ and Choi Ung's meeting starts to spread. Given Choi's outstanding reputation, CEO Kang believes this might be beneficial to the company's public persona and for the time being he decides to overlook NJ's lack of judgment. The celebrity taunts the CEO, asking her to stop treating her like a child. When Yeon Su sees the same news, emotions take over and she closes her laptop quickly. Sol Yi calls and attempts to find out how Yeon-Su is feeling, but she remains quiet and reserved. When Yeon Su goes for a drive, she notices a large billboard with NJ's advertisement, which makes her doubt Choi Ung's feelings. Choi on the other hand, tells Eun Ho the truth: they're not dating and are simply friends.
Yeon Su goes over to Choi Ung's apartment and while she's waiting for him, NJ shows up. NJ asks if she's getting in the way of Yeon Su and Choi Ung, leading to an unpleasant chat. NJ isn't going to give up on him without a fight, no matter what she says, and she knows it.
Ji-Ung and his feelings

Chae Ran tries to persuade Ji-Ung to go out for dinner with her, pointing out that it was his birthday the day before. Unfortunately, they are not alone, and because other SBBS Special workers were present, things do not go as planned. Ji Ung likes Yeon Su, Lee Min Kyung discovers it. Min Kyung urges him to re-edit the video, plainly concerned that his emotions are influencing the way it is shot.
That night, Yeon Su finally catches up with Choi Ung, allowing the two to talk about their issues in private. Yeon-Su finally gathers courage and tells him she doesn't want to just be his friend. "I've been missing you, Yeon-Su. I've always had a soft spot in my heart for you", Choi Ung abruptly says, interrupting her. He eventually expresses what he has been thinking and encourages her to keep loving him. Yeon Su nods and both of them looks at each other with soft tears in their eyes.
Begin Again

Choi Ung's past has been filled with sorrow. His parents adopted him, but they still weep in the lounge every year at the same time, mourning the death of their own son. Choi Ung began having nightmares about being abandoned after witnessing them weeping together one night. Yeon Su meets him and expresses concern for his well-being. Choi Ung holds her against the wall in the heat of the moment, and they both acknowledge that they're dating. This also helps him to be more honest with his parents as a result of this. He informs them that the next time they go on a countryside vacation, they should ask him to tag along. Choi Ung and Yeon Su make plans to meet up over the weekend, but it turns out to be rather awkward.
Choi Ung unexpectedly shows up at Yeon-Su's workplace. Outside, as both of them hugs, he thinks to himself that he couldn't wait to see her during the weekend. They had an incredibly sweet talk, especially when they were chuckling outside Yeon Su's house. They end up at Choi Ung's place and share passionate kisses on the sofa.
NJ brings Ji Ung out for drinks, but she becomes completely wasted and begins babbling about how much she likes Choi Ung. She acknowledges that she feels stupid for interfering between them and persuades her to give up on Choi Ung. Even though he doesn't say much, Ji Ung's guidance helps NJ gain some perspective.
Verdict

What a lovely end! Choi Ung finally has the strength and bravery to open up and explain how he feels after a long time of waiting. There's some lovely imagery here, and NJ and Ji-Ung's conversation helps both characters move past their feeling, or at the very least get started on the route to it. Choi Ung and Yeon Su become closer as the series progresses, and there are some emotional moments between them.
Nowhere is this more clear than at the moment outside Yeon Su's house, where the two are hugging and talking. Although they are not students, this serves to remind them that they are still youthful at heart.
What did you think about episodes 11 and 12? Let us know in the comments! We'll see you next week for episodes 13 & 14!
Connect with us on Instagram  Twitter  YouTube for more content, interviews & news
Written By Kanan Agarwal