Do you know what "초보(chobo)" means in Korean?. The word 초보 (chobo), is a slang word for 초짜 [cho-jja] which is the proper way to say a beginner.
Are you a chobo to the magnificent and alluring world of K-drama? Don't know where to start? Don't worry because you have come to the right place! We are here to guide you through your new venture. A warning though that once you enter, it might be a little difficult to exit. Korean dramas are known for their amazing plots, creative cinematography, attractive actors and actresses to name a few so once you start, you won't regret it. So let's begin shall we? We are here to guide you through your journey in the K-Drama land and lead you with our Five handpicked K-Drama for Beginners.
1. BOYS OVER FLOWERS
Cast: Lee Min Ho, Ku Hye Sun, Kim Hyun Joong, Kim Bum, Kim Joon
No. of episodes: 25
This 2009 drama is one of a must-watch classic K-Drama for beginners. It is an adaptation of the Japanese manga Hana Yori Dango. As cliche it may be, it is hard to avoid the rich-guy-falls-for-average-girl storyline and it is a classic that garnered massive attention all over the world. This drama can be said to be one the drama that played a major role in getting the world fall in love with the K-Drama genre. Think it its an exageration? This is the drama where the infamous F4 exists.
Geum Jan -Di(Ku Hye Sun) plays the role of a girl who comes from a poor family but gets a scholarship and gets admitted to a private high school where she met the infamous group of four spoiled rich brats who are known as F4. Goo Jun Pyo (Lee Min-ho) does a phenomenal job in portraying a handsome elite high school student getting on the strong-headed Geum Jan Di'snerve with his arrogance but eventually falls in love with her.  Watch out for the birth of 'Second Lead Syndrome' in the form of Yoon Ji-Hoon (Kim Hyun Joong). With a drizzle of coming of age and a drizzle of rom com, Boys Over Flowers will be your next K-drama obsession if it isn't already. 
2. THE HEIRS
Casts: Lee Min Ho, Park Shin Hye, Kim Woo Bin
No. of episodes: 20
Love the Rich Spoiled High Schoolers storyline? If so, this is another K-Drama that you would definitely like. We are getting ourselves into rich, spoiled high schoolers who are heirs to the largest empires. Yes, the Heirs is a Rich man Poor Woman high school drama.
Kim Tan (Lee Min Ho), is the heir of a large Korean conglomerate and was exiled to the US by his brother who wanted the family business for himself. Kim Tan meets Cha Eun Sang (Park Shin Hye) in the States who went there looking for her sister. Even though he is already engaged, he falls for Cha Eun Sang. When Kim Tan returns to Korea, problems arise in his family, school, and relationships. His former best friend turned nemesis Choi Young Do (Kim Woo Bin) starts picking on Eun Sang only to annoy Tan, who also falls for her eventually. The love triangle will make you fall in love with the three characters on a different level. Amidst the chaos, Tan has to choose between his empire, love, and friendship. Rich people problems that we absolutely love watching over popcorns!
3. HEALER
Casts: Ji Chang Wook, Park Min Young, Yoo Ji Tae
No. of episodes: 20
'HEALER' is a complete package drama that manages to combine action, romance, and some spots of comedy. Seo Jung Ho aka Healer (Ji Chang Wook) as a night courier, takes highly confidential tasks commissioned privately by highly powerful men/women in the society as long as it doesn't involve murder and never leaves a trace behind. Chae Young Shin (Park Min Young) is a young, passionate, and ambitious tabloid writer. Healer's latest job leads him to Chae Young-shin and a successful star reporter Kim Moon Ho (Yoo Ji Tae). As the story unwinds, Jung ho discovers the mystery of his shared past with the two reporters, which endanger their lives. 
This show will keep you hooked with its engrossing hero-centric and well-thought-out plot. This drama has a yin and yang effect as you will be experiencing an adrenaline rush, and at the same time, you will find yourself head over heels for the characters. Ji Chang-Wook's look, acting skills and his chemistry with the beautiful and talented Park Min-Young is something you don't want to pass over. We also recommend you to not miss out on the OSTs! Take a sneak peak of the album and listen to it as you continue reading the article.
4. REPLY 1988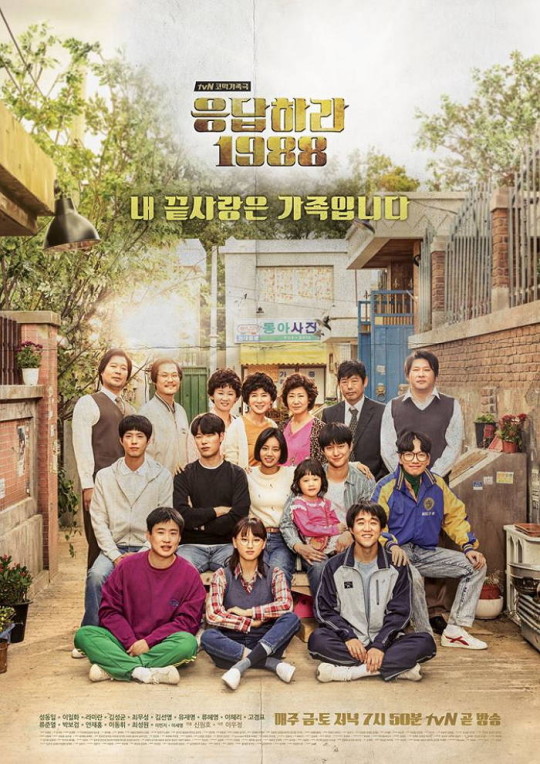 Casts: Lee Hye Ri, Go Kyung Pyo, Ryu Joon Yeol, Park Bo Gum, Lee Dong Hwi
No. of episodes: 20
Reply 1988 is a 2015 drama about five childhood friends on a journey to pursue their dreams and you can't help but fall in love with the characters and their stories. This drama is part of the Reply Series each with its own storyline about close friends set in different timelines. Reply 1988 is filled with all the warmth, romance, and fun which you need with your family and friends.
The drama features Sung Deok Sun (Lee Hye Ri), who struggles with her studies and needs the attention of her family, Kim Jung Hwan (Ryu Joon Yeol) belongs to a family that became rich overnight, Sung Sun Woo (Go Kyung Pyo) is a student council president, Ryu Dong Ryong (Lee Dong Hwi) a geek, and Choi Taek (Park Bo Gum) a genius baduk player all living in the same neighborhood. The drama is set between 1988 to 1995 and hence takes you down on a trip to memory lane where technology was still minimal. It features those days where friends met at each other's house to watch movies, eat, play games, hang out and chat, where romance came through heartfelt love letters, declarations, stolen kisses, and warm hugs. Simpler Times! The drama unfolds as the friends follow their dreams, experience life and grow up.  The families of the five friends can be seen as a big family surviving happily in these changing times.
Watching this drama will make you realize how a simple story can be relatable, close to your hearts, turn into something emotional and heart-wrenching. 
5. DESCENDANTS OF THE SUN
Casts: Song Joong Ki, Song Hye Kyo, Kim Ji Won, Jin Goo
No. of episodes: 16+ 3 special episodes
Descendants of the sun tell the story of a special force captain Shi-Jin (Song Joong ki) and  Dr. Mo-Yeon (Song Hye-Kyo), who deeply falls in love while dealing with natural disasters and civil strife. Their story takes lots of twists and turns because of their jobs. Destiny plays an interesting role as they part away for a year but they meet again in a warzone in a land far away from Seoul. Along with lead roles, the 2nd leads Sergeant Major De-young (Jin Goo) and Army doctor Myeong-Joo (Kim Ji-won), struggle to prove their love for each other. You might even experience a new feeling called the 'Second Couple Syndrome.'
This drama is an essential watch for all K-drama fans and can be a good kick-starter for you. It has a little bit of everything in it, be it romance, adventure, drama, and comedy as is not cliche. Besides being a major hit in South Korea, the series drew a peak audience pan Asia.  This series was dubbed in many languages and you can also find the Hindi dubbed version broadcasted on Zindagi Channel which drew a large portion of the Indian audience into the world of K-drama. The drama collected several awards and was named the 'Most Popular Show of the year' by the Korea Broadcasting Advertising Corporation in the year 2016.
We hope you enjoy these K-dramas that we have listed for beginners. We will be back with Part II, so watch this space for more.  Looking for Winter Themed K-Dramas To Binge Watch This Holiday Season or Historical K-Dramas? We got you covered. Short on time? Check out our Mini K-Dramas to Watch During Your Busy Schedule
– Written by Anamika Jha and Anshika Gupta