It's the season of winter, warmth and love! Spend your winter season with Namaste Hallyu as we bring you the warmest five handpicked dramas to binge this winter. So get ready with your hot chocolate, sweaters and watch these soul food dramas till the end of the year on a warm and happy note ~~
1. MY ID IS GANGNAM BEAUTY
Adapted from a webtoon by Gi Maeng Gi, this is a drama that talks about the reality in the society.
Do you guys know what Gangnam Beauty means? It means "plastic surgery monster" it is used as a derogatory term towards people who have had multiple plastic surgeries. But this drama breaks stereotypes, beauty standards and promotes self-love and acceptance. The K-drama also sheds light on how one's life unfolds as they leave their comfort zones, mending relationships, and the power of kindness and friendship. 
Kang Mi Rae (Soo Hyang) and Do Kyung Seok (Cha Eun Woo) 's on-screen chemistry is just  so beautiful and it is all you need for your heart to feel warm!
The mixture of different genres with romance makes this drama breezy yet worth watching.
2. IT'S OKAY TO NOT BE OKAY
'It's Okay to Not Be Okay' is a healing drama. Starring Kim So Hyun as Moon Gang Tae, Seo Ye Ji as Ko Mun Yeong, Oh Jung Se as Moon Sang Tae.
We live in a world where mental health is not given attention to and given very little importance. Most people don't understand concepts such as the importance of mental well-being, after effects, the manifestation of childhood trauma, and things similar to that and this drama captures that. 
An antisocial children's book author, Ko Mun Yeong, falls in love with Moon Gang Tae, a psychiatric hospital employee. Their relationship goes way back to when they were but kids, who meet again years later. Gang Tae's older brother Sang Tae suffers from Autism Spectrum illness and the trauma of witnessing their mother's murder.
This mysterious plot is well written as that shows the connection between three main characters and shared history for years from different aspects. They are about to figure things out soon.
"What is the connection?" "What will happen when they find out?" "Wait… No way!" "My heart can't take this, please!"
 Yes, that's how you are going to feel. 
The chemistry, the trio, the side characters, Mun Yeong's jaw-dropping clothes, and the naturalistic depiction of mental illness is what makes this drama so special and a must-watch.
(The entire OST is really good too! )
You can check the OST below.
3. HEALER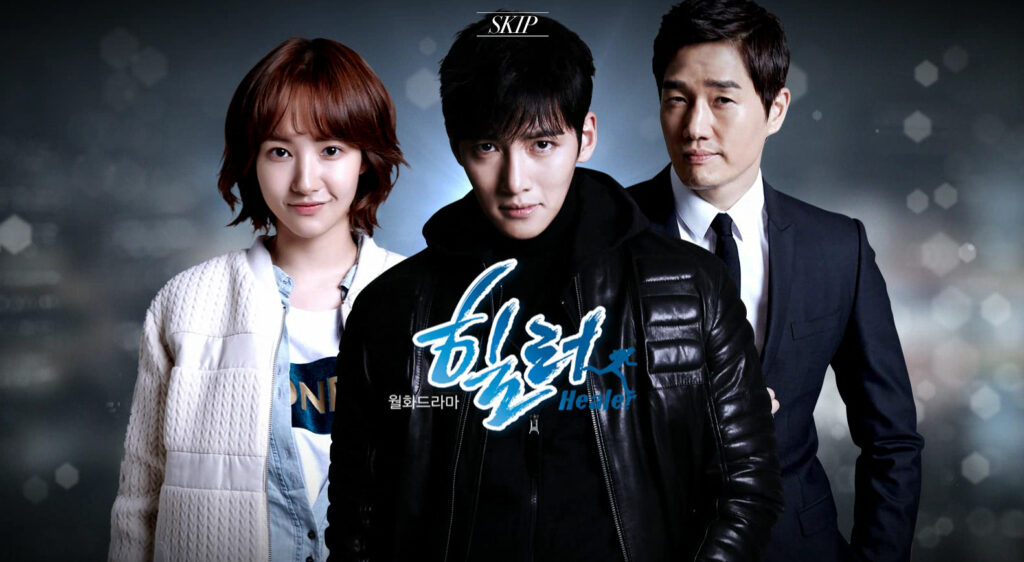 Staring Seo Jeong Ho as Ji Chang Wook, Chae Yeong Shin as Park Min Yeong, and Kim Mun Ho as Yo Ji Tae. Healer is a romantic drama that is going to make you wish for a healer in your life because this drama is going to have your heart racing for its abundance of romance! 
The only breaks you'll need from this drama are your sleep and bathroom breaks, where you'll be reliving your favorite scenes! 
Seo Jeong Ho (Ji Chang Wook) will give you the superhero vibes whereas Chae Yeong Shin (Park Min Yeong) and Kim Mun Ho (Yo Ji Tae) will show the importance and tough sides of journalism. As the story unfolds, you will see that Mun Ho knows the complicated, entwined pasts of Yeong Shin and Jeong Ho, who have no idea about it yet.
This drama will keep you hooked as a lot is going on there, starting from shared pasts, hidden secrets, trauma, political corruption, family bonding, friendship, and a ton of romance with all the ruckus.
(Also, check this OSTs: "You" – by Ben and "Eternal Love" by Michael Learns to Rock)
4. CRASH LANDING ON YOU
Starring Hyun Bin as Rye Jeong Hyuk, Son Ye Jin as Yoon Se Ri, the creators of this drama have taken the plot to a very interesting level of doing justice to the phrase "Love knows no boundaries".
Se Ri is a strong, independent businesswoman and an heiress in South Korea, who seems distant from family and friends. Deep down she is sweet, hurt, and genuinely cares for people. With an unexpected turn of events, she ends up in North Korea and crashes into the life of an army officer there, who decides to help her without the knowledge of his government, to keep her safe. The romance between the main leads is heart touching and special, but the storyline of the second pair, Dan and Seung Joon will have a different impact.
What makes this drama even more special is the casting. Without the side characters, this drama wouldn't be where it is now. This drama has everything. Some friendship bonds would only require a few weeks to become unbreakable, and Crash Landing on You has it. The plot gets heated when the villain's character gets the spotlight. The drama keeps you addicted.
Did you know, "Crash Landing on You" was inspired by an actual event, when a South Korean actress and three friends accidentally strayed into disputed waters between North and South Korea on a boat trip while talking to North Korean fishermen after getting lost in a fog in 2008.
(You can check the post here)
5. TRUE BEAUTY
Probably one of the most anticipated drama of the year, 'True Beauty' is a yet to release drama which we have included in this list. If you are a Webtoon fan, then you would know for sure that True Beauty is one of the most loved Webtoons and most awaited drama of 2020 with 5.1 million reads and is rated 9.71. (Don't worry, no spoilers!)
Heartthrob Lee Dong Min, better known by his stage name Cha Eun Woo stars as Lee Su Ho, Moon Ga Young as Lim Jug Yeong, and Hwang In Yeop as Han Seo Joon.
The author of this Webtoon Yaongyi (Kim Na Yeong) deals with a sensitive topic in her story where the main character Jugyeong cakes herself with make-up to avoid being bullied for her looks. We can see two loveable characters Suho as the main lead and Seo Joon as the second lead. Fans are dying to know with whom Jugyeong is going to end up. 
Nobody knows what is going to happen in the webtoon, but let's see what happens in the drama!
The first episode to be aired is on December 9, 2020.
Network- TVN
You can check out the trailer below.
Besides this list, there are many more K-DRAMAs but this are our top five picks. What about you? What are you currently watching? Which dramas are your feel good winter dramas? Do let us know!
Happy Winter Holidays!
– Written by Varsha Alan