Previously, in our K-Pop Idols That Are Back and Active After Their Enlistment article, we looked at what the members of 2AM, 2PM, BTOB, and Infinite were up to since their discharge and for our Part II, we are looking at some of the other biggest groups of the 2nd/3rd Gen that are back from their compulsory military service this year. 
HIGHLIGHT :

Doojoon, Yoseob, Gikwang, Dongwoon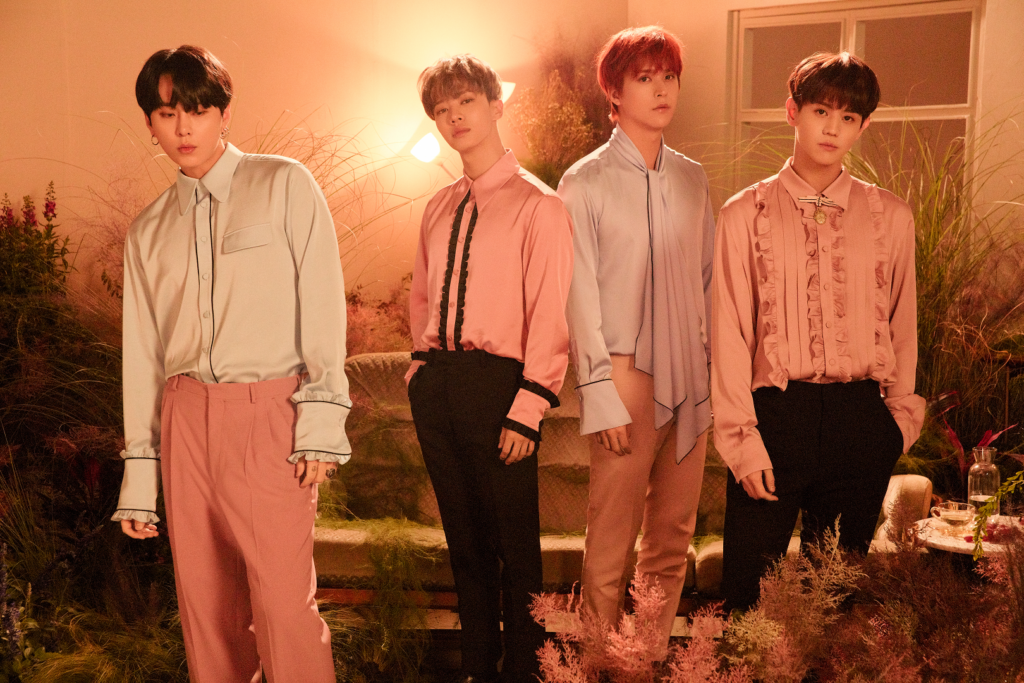 Remember BEAST of Mystery fame? They reinvented themselves with the new group Highlight and a whole new discography. Their last comeback was with the dark synthpop title track, 'Loved' before they started enlisting and all of the members went into hiatus at the same time which did sadden their fans but it also meant good news because everyone's back in 2020! 
Highlight's leader, Doojoon was back in May followed by its main vocalist and main dancer, Yoseob and Gikwang. Dongwoon, the youngest enlisted last and hence was the last to come back on December 8th. So, does this mean we are going to get a comeback early next year? We hope so but until then, the members are all individually booked and busy.
Doojoon came back with his first solo album, 'Daybreak'. A remarkable change from Highlight's usual songs, Lonely Night is an R&B title track about heartbreak. Yoseob on the other hand recently dropped his OST, Love I Recognized At Once for the manga, 'A Guide To Proper Dating'. While he is also starring in the musical, 'The Days',  he's also ready with his next solo album and we can't wait for it to release soon.
Gikwang on the other hand decided to show off his visuals the moment he got discharged with the magazine, Singles. Along with the photoshoot, he was also interviewed where he promised an end-of-the-year Highlight concert!
2. SHINee: Onew, Key, Minho
SHINee's back! After the longest dry spell that Shawol's experienced with 3 out of 4 members enlisting, it is now over. Our happy pill, Onew came back in July and was the first to accompany Taemin on his solo schedules. Since then, he has had his vlog series on SHINee's YouTube with him pretending to be a manager to the other members.
The second half of the year was a blessing with Key and Minho coming back within a month of each other. Minho was discharged earlier due to the current pandemic situation. But the best part is that he already got the part of a cop in the K-Drama, Lovestruck In The City!, It makes it his first drama appearance after his military service. Then we have Key, who has been very active on his social media, holding Instagram lives with his fans. BTOB's Changsub who became a close friend after serving with him also made an appearance on Key's V Live announcing his discharge which of course led to cute tidbits of their time in the army and a boon for the SHINee & BTOB fans. And Key's also back as the charismatic host on Amazing Saturday alongside fellow SM idol, Taeyeon.
3. VIXX: Hakyeon aka N
VIXX has been practically inactive, now more than ever with Ken and former member Hongbin enlisting. But don't worry, the first of the members are starting to get discharged, starting with our favorite leader, Hakyeon aka N. Fans were shocked with the news following his discharge that he'd be leaving Jellyfish, VIXX's company. But worry not, like Ravi, Hakyeon also promises to still be a part of the group. Hopefully, we will see a sub-unit of sorts with him, Ravi, and their maknae, Hyuk.
So, what has Hakyeon been up to? He will continue to be an idol as he recently joined 51K. The company boasts artists like 2PM's Taecyeon and actor So Ji-sub of Oh My Venus fame. He is also pretty active on his social media where he keeps posting hints of his upcoming work. For actual content, check out his YouTube channel Achahakyeon where he recently made art from all the stamps that came from his fan mail from "Starlights" . Isn't that adorable?
4. CNBLUE : Yonghwa, Minhyuk, Jungshin
CNBLUE are officially done with their military service, thanks to the new safety regulations. Minhyuk and Jungshin were discharged in March before their official date and their leader, Yonghwa who had completed his service was there to welcome them during their comeback V Live. And because they reunited in the first half of the year, they were able to surprise their fans with a comeback! The band came back after 3 whole years with the title track – Then, Now, and Forever for their 8th mini album. The album, RE-CODE went on to top several itunes as well as Billboard charts, proving that the band's still got it. 
Other than their current reign on the music charts, the boys are also branching out. Jungshin is part of the main cast of the drama, Summer Guys along with Gugudan's Mina. Meanwhile, Minhyuk's webtoon adaptation with EXID's Hani is called How To Be Thirty and is set to release next year, right when the male idol turns 30. Not to be outdone, Yonghwa too is in talks of a drama which has casted Jang Nara.
That's all for now but December is already a pretty good month for all the idols coming back from Military. We have seen EXO's Xiumin finally coming back along with several iconic 2nd gen groups like U-KISS and Teen Top. Watch out for this space to read more about them in detail in our our 'K-Pop Idols That Are Back and Active After Their Enlistment' series. 
Written by Lopa Jena Kaul