"There are so many people who trusted and supported us throughout our journey. From our friends, family, followers to the Doctor and medical shop owner who supplied us all these essentials really made us believe in humanity. We would like to thank each and every person who trusted and supported us in every way possible."
We are back with another amazing story for our YOUR STAGE section! Apart from charity works, donations, and fund raising events organized by K-Pop fans, we also cover your performances, fandom achievements, artworks, and more! Covid-19 has been hard on this entire world and people with less access to income have been the worst hit. But during these hard times, many have taken initiatives to help those in need, proving that humanity still exists.
Today we bring to you the story of six dedicated Eris/Elis, Lasya, Shiny, Preethi, Sri Ramya, Sri Devi, and Reddy Harshitha, who together started an Instagram based non-profit organization called Exol Dilse written as exoldilse on Instagram. Their first project was a fund raising event for Kaisoo's (Kai and D.O.) birthday which was donated to 'Manaspoorthi Children Home' that is located in Kakinada, Andhra Pradesh. They raised more than ₹18,000, with which necessary supplies like masks, sanitary napkins, detergents, shampoos, soaps, etc. were bought and distributed.
For their second project, in order to celebrate Xiumin and and Sehun's birthdays combined with EXO's 9th anniversary, they wanted to help the old age homes. They initially planned to set up medical camps and even contacted NGOs and doctors, but due to the ongoing pandemic, this wasn't possible as it involved a lot of people and the risks that come with it. But this did not stop them from helping and they instead decided to alter their plans.
After visiting many old age homes in Rajahmundry (A.P), they finally decided on "Gowthami Jeeva Karunya Sangham," for old and leprosy where a total number of 95 people reside.
They got in touch with the doctor who checks the residents of the old age home on a regular basis and they shared their idea with him. The doctor then guided them on how to go about it. The team behind exoldilse said, "He suggested us to buy medical essentials for them. We were in regular contact with the doctor. He gave us the prescription and was very patient with us whenever we had any doubts regarding this. We searched for many generic medical shops in Rajahmundry to know who can supply us all these essentials and as it was month end and financial year end, most of the items were out of stock. It took us time to find the store who's willing to restock all these goods for us. These medical essentials consist of day to day tablets like B complex and also syringes, saline (as it's summer, they need saline daily), antibiotics, multivitamin syrups for everyone living there and ORS packets, eye drops, cotton and other various tablets based on their individual conditions."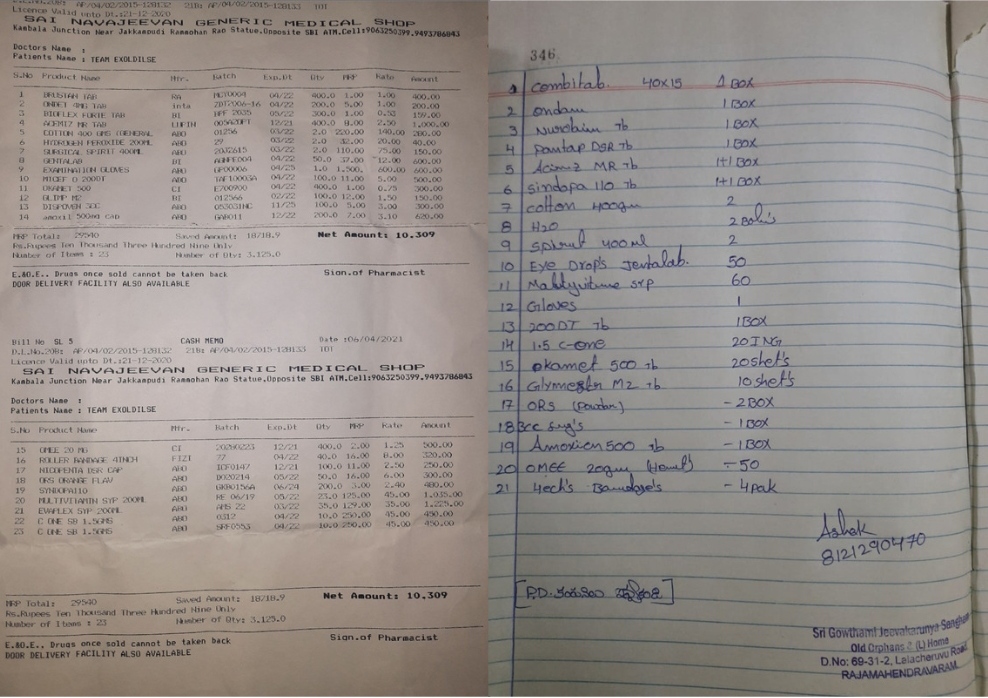 Even after the donation countdown, people continued to donate and a total of ₹9000 was collected. A friend of theirs also really helped them out since the six girls reside in different cities. All the essential listed down by the doctor costed more than ₹10,300. As planned the girls were able to distribute these essentials on EXO's Anniversary, April 8. This day, apart from being an important day for EXO-Ls as it marks nine years with their idols, the girls learnt the hardships of the people in the old age home. The valuable time they spent there taught them important life lessons and inspirations. The girls also said that they see them as individuals who inspire the world.
"We distributed medicines with Doctor's guidance on event day on EXO's Anniversary ( 8th April, 2021) and watching them and listening to their stories broke our hearts. We so badly wanted to cry but we didn't want them to feel that we're pitying them so we held back our tears. We smiled at them and the smile we got in return is one of the precious things we've ever seen. They were so happy when we talked to them and smiled at them. They were so happy to receive medicines and syrups & they reminded us of the kids who are happy to receive candies. We don't want to pity them because after hearing those stories, we realized they're the example of the strongest individuals. After years of torment they have gone they still decided to stay strong and now they are even capable of standing on their own feet and helping each other. If anything, they inspired us."
It is no news that EXO members have taken part in many charity and voluntary work despite their busy schedules. There are many instances where the boys have involved in charity works be it as a group or individually. Chanyeol, Kai, and Chen participated in delivering briquettes, Chen donated 5 million won for a charity event that took place in a Catholic church. Suho has donated goods for a Charity and 40 million for a briquette charity, Good Neighbors. This are only few of many instances that EXO donated.
Like idols, their fans too all over the world take part in charitable activities and make a difference in this world.
EXO, with their wonderful music and beautiful personalities are our source of happiness. A part of us will always be thankful and grateful to EXO. We have always seen EXO taking part in charity works and helping people in need. This inspired us to start this initiative and we consider this a way of passing on the happiness to people in the name of EXO, our angels. This inspired not only us but all those EXOLs who came forward to help us with their donations.

Thank You EXO for making us better human beings. We will always love and cherish you.

                                                                                                                                         – Team @exoldilse
We are delighted to share their story as we take pride that Indian K-POP fans follow the footsteps of their idols and help those in need. For more stories like this, stay tuned to our website.
Want to be a part of 'Your Stage'? Send us your/fandom stories and achievements to admin@namastehallyu.com with 'Your Stage' as the subject line. 
Follow us on Instagram @namastehallyu and @namastehallyustudio for quick updates on K-Pop, K-Drama, and more.