Sessions Team with Joy Ruckus Club Set to Present K-POP SuperFest Featuring Rain, The Boyz, CRAVITY, and More
Sessions and Joy Ruckus Club are set to host the K-POP SuperFest.  It is reported that this event will be one of the biggest K-POP festivals in the globe.
The event is a one-day festival which will be livestreamed in Seoul from Yes24 Live Hall and the online concert is scheduled to be held on Sunday, June 19 at 9PM ET.
The highlight of this online concert is the star studded line up along with our very own AleXa and Kevin from The Boyz , hosting it! Curious about the full line up? Here's the Complete Lineup 
AB6IX 
Ailee
AleXa
Bloo
Cravity
DJ Soda
Golden Child
GWSN 
Jessi
Lovelyz
Momoland
Rain
The Boyz
WOO!AH!
With a line up like that, the tickets starts at 20 dollars and fans can purchase it by clicking here  and enjoy the concert within the comfort of your home.
According to Kublai Kwon , the founder of Joy Ruckus Club and a pioneer of the Asian American music scene,  this music festival honors his cousin, the late Shin Hae Chul's legacy, who had gained massive recognition in the 1990s, widely known for his smashing hits "To You" and "What Do You Really Want," in 1991 and 1999 respectively
" Through the event, we want to disseminate K-pop culture, as well as the musical legacy of the late singer, Shin Hae-chul (1968-2014), by putting the spotlight on today's K-pop superstars."
Founded by Tim Westergren, Pandora founder and pioneer of digital music & Gordon Su, virtual games developer, Sessions is a huge and the only live streaming service that provides solution to all the necessary components a musician requires to succeed like, fan engagement, audience development, and art monetization from advanced virtual gaming techniques.
Sessions is also available in more than 194 countries and in 18 languages. Musicians are offered a global opportunity by Sessions to earn sustainable and suitable revenues and a global audience, at any stage of their career. Available online and on all mobile devices all over the globe, fans and artists can play more, earn more, and experience more in Sessions.
"Sessions' growth is rapidly accelerating across Asia. The K-Pop SuperFest represents another milestone as we bring even larger events to fans across 194 countries and 18 languages. Sessions' unique combination of gamification and marketing is driving attendance and revenue for artists at an unprecedented level, and our partnership with Kublai and Joy Ruckus Club continues to deepen."

– Sessions co-Founder Tim Westergren
For Sessions and Joy Ruckus, this one-day event is the first of it's kind and there is no doubt that this concert is going to be a massive success, given it's astounding K-POP superstars line-up. In the festival's and artist's store- event t-shirt, NFT videos, posters with signatures, and virtual 1-on-1 meet and greet chances with the idols will be available!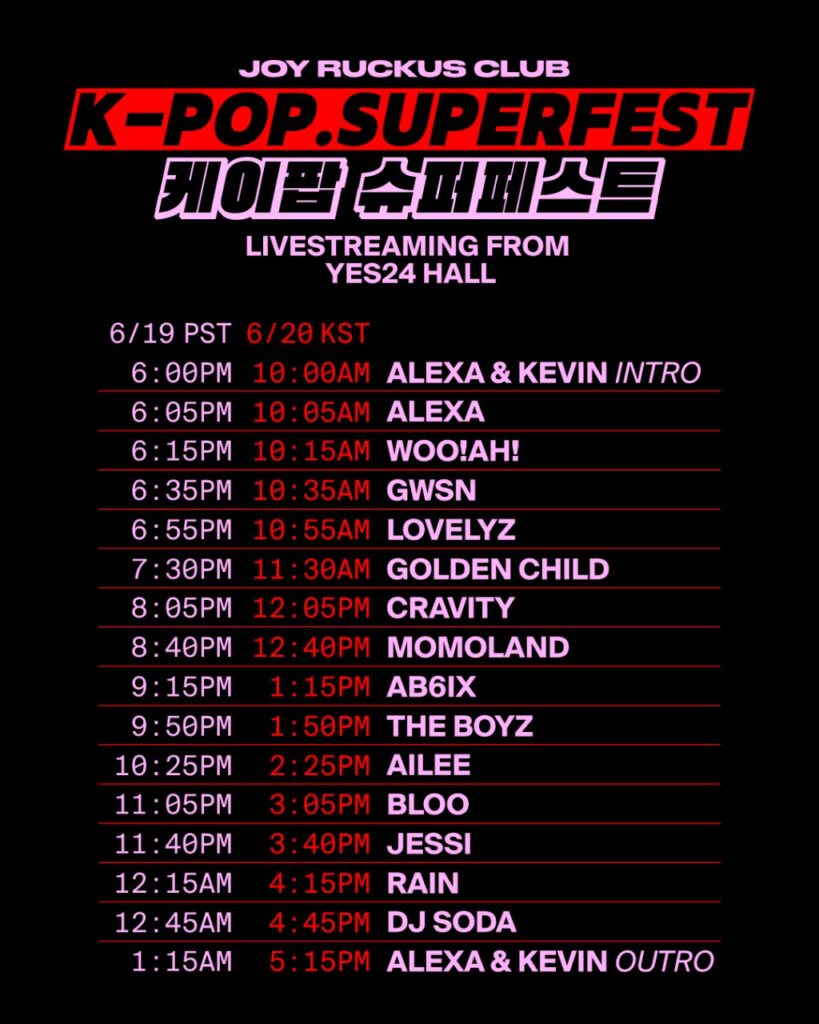 Exclusive: AB6IX Talks About Their Latest Comeback, Weirdest Dreams & India 
Interview: IN2IT & Alexa Talks About India, Favourite Marvel Superhero and more
UPDATE:
The previous line-up included solo artist Heize, but due to circumstances she will not be a part of the show.
The new, revised line-up includes two notable girl groups  GWSN and WOO!AH!
Have you bought the tickets for the show? Who's performance are you looking forward to the most? Let us know in the comment section!
Find us on:
Instagram @namaste_hallyu
Twitter @namastehallyu
YouTube Namaste Hallyu