Amazing Lineup, Amazing Show, Amazing Hosts! Here's what we thought and what you missed!
Sessions and Joy Ruckus Club together hosted the K-POP SUPERFEST online concert, that had a fantastic lineup with some of K-POP's popular faces and groups like Jessi, AB6IX, Momoland, Ailee, Rain, and more! The concert was scheduled on June 19 at 9PM PT, which according to IST is 6:30AM on June 20.
Sessions Joins Forces with Joy Ruckus Club to Present K-POP SUPERFEST
Couldn't watch the concert? Don't worry, we got you! Keep reading to know what happened during the concert and get some glimpses! 
The concert was hosted by soloist AleXa and Kevin from the boy group "The Boyz" and we take this opportunity to state that Joy Ruckus Club chose THE BEST HOSTS for this live streaming concert.
As the show's MCs, their work entails them to keep the audience engaged and intrigued and they did it right! Though this was an online concert, it did not stop them from being themselves on stage. AleXa and Kevin very comfortably and enthusiastically kept their viewers occupied and even even took up every chance they had, to crack jokes and keep the stage as lively as possible! 
Kevin and AleXa also made use of this platform to address social issues that require more attention than what it has now. Here is a clip of AleXa speaking about hate that minority communities receive and further extended support on behalf of the show.
@AleXa_ZB speaking facts! #kpop #SayNoToRacism #AsianLivesMatter #BlackLivesMatter #KpopSuperfest #AleXa pic.twitter.com/1eZeOATuts

— NamasteHallyu (@namastehallyu) June 20, 2021
The Concert's Order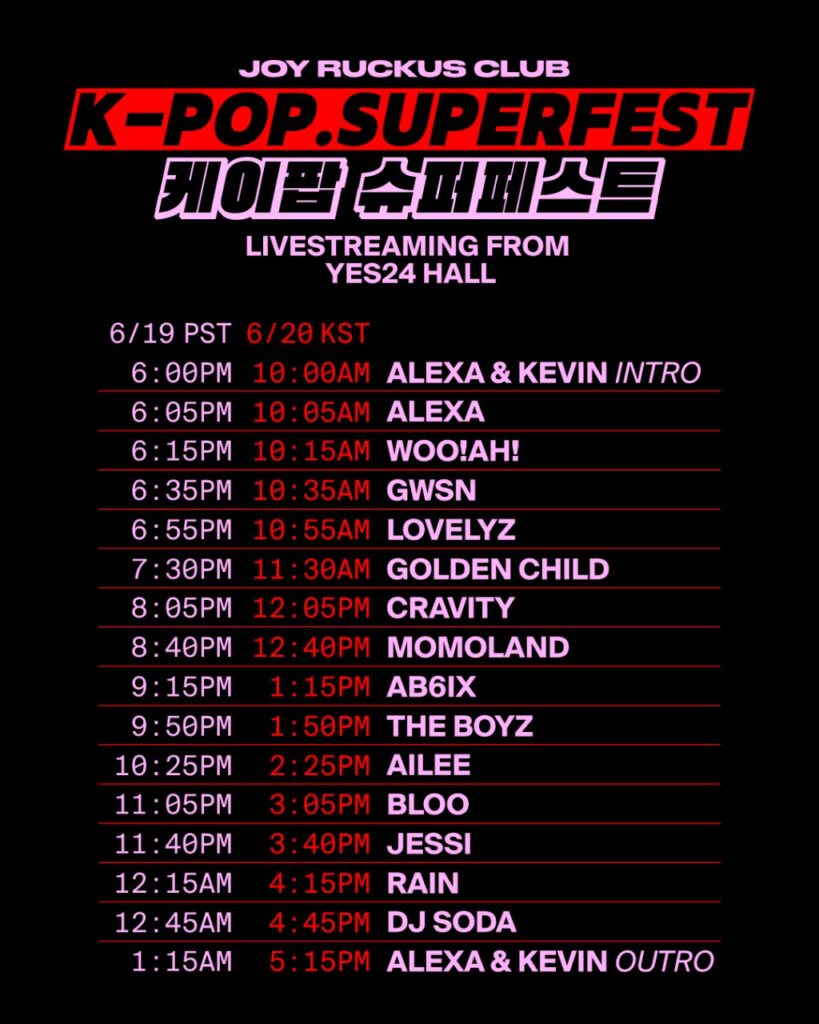 After every artist/ idol's performance, most of the artists took time to check out the comment section that was displayed on a large screen, and addressed their fans from different parts of the world. Here's a little spoiler, one of the artists even mentioned India. Stick around to know who!
The Performances 
 

 

View this post on Instagram

 
AleXa being the first performer, gave an amazing performance on her song 'Revolution.' It is important to make sure that the first performance of any show is energetic, in order to make the fans eager to look forward to the rest of the show and AleXa killed it on stage! She is a cheery, bubbly, and enthusiastic person, who infused her fun vibe into her performance intend making it an energetic one. We can't wait to have her back in India!
If you haven't started stanning girl group WOO!AH! yet, then you better start soon! The members were cutely dressed and performed three of their songs- Bad Girl, Purple, and Scaredy Cat. We couldn't stop UwU-ing over them! Here's a sneak peak!
 

 

View this post on Instagram

 
Next up, GWSN! Their performances were a whole mood! Starting from their Black & White getup, simple yet great hairdos, and the vibe was enough to get the party started! They performed Like it Hot, Starry Night, and All Mine.
 

 

View this post on Instagram

 
Girl group Lovelyz, not only gave a great performance, they were also a treat to the eye. They looked so beautiful, don't you agree? Pretty sure they swept the fan boys' and girls' feet away! The girls interacted with fans, via the comment section, and spoke about nail arts and other things they have been up to these days and performed Obliviate, That Day, Now We, and Rewind. 
Amazing dance formations = Golden Child. 
Living up to their name, the boys certainly gave us many golden dance formations. They were dressed completely in white and looked like angels while performing Wannabe, Without You, One, Compass, Milky Way, and Burn it. They were one of the groups who made sure to have lots of interactions with fans and made the stage comfortable. 
What a show! Cravity then lit up the stage with their killer performances and at the same time made us UwU. Love their duality, we fell in love all over again and truly enjoyed their performance as they performed Jumper, Stay, Sunrise, Mammoth, and My Turn. 
 

 

View this post on Instagram

 
"Dear Momoland, is it even legal to be this cute?!" They performed Ready or Not, Pinky Love, Thumbs Up, and their hit song Boom Boom. 
 

 

View this post on Instagram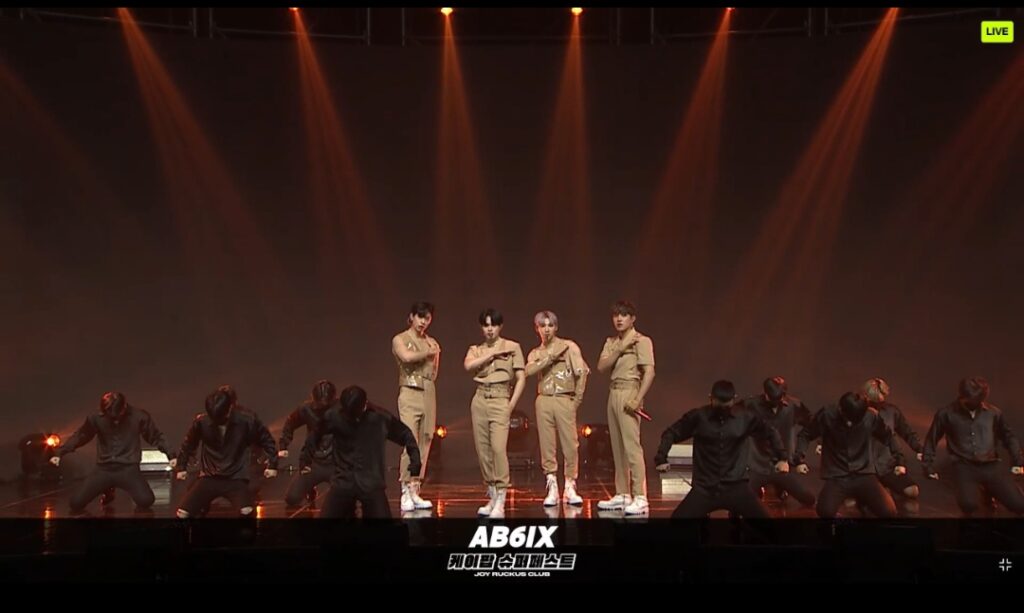 AB6IX rocked their performance! We recently interviewed these loving boys and couldn't help but cheer while watching them perform some of their bests – Salute, Stay Young, Shining Star, Lululala, Close, and Heaven. 
Exclusive: AB6IX Talks About Their Latest Comeback, Weirdest Dreams & India 
 

 

View this post on Instagram

 
How to choose a bias from The Boyz? Simple, you don't. This is probably an understatement, but we are still not over The Boyz' performance. We just can't stop thinking about their full black attire combined with sultry dance moves.
*Lowkey thinking about a petition to bring them to India* 
Sneak peak time! 
Petition to bring @WE_THE_BOYZ @Creker_THEBOYZ to India! This performance is on 🔥🔥🔥🔥 @Theboyz__India #kpop #theboyz #KpopSuperfest @hipinkboxevents pic.twitter.com/5gShVAmwed

— NamasteHallyu (@namastehallyu) June 20, 2021
And guess what? They performed Reveal, Scar, and Stealer! 
We really appreciate Ailee for being so comfortable and open on stage as she talked about her personal feelings and spent ample time interacting with her fans and even asked them how they were doing and where they were from. She spoke about how much she loves performing and more!
She sang U&i, Make up your Mind, and her OST from the drama Goblin, I will go to you like the First Snow. Before singing this, she spoke about how much this song means to her, and watching her perform for sure made many fans cry. She melted our hearts.
 Ailee also read comments sent by our team and mentioned India and spoke about wanting to visit! 
Ailee @itzailee: "India~~ I have never been to India before. That's actually one of the country I want to visit ~~" #Ailee on #KpopSuperfest
AILEE IN INDIA PLEASE 🥺 ❤️ #KPOP

— NamasteHallyu (@namastehallyu) June 20, 2021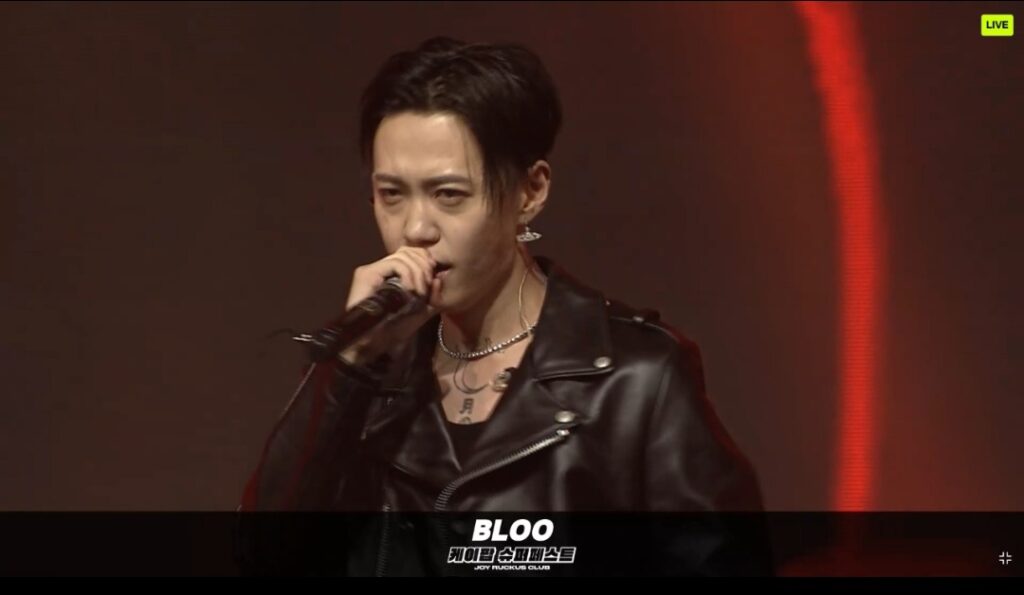 Bloo went full on in this concert! Though he did not engage much in fan interactions, he made the best use of his time and sang some of his best songs! He sang So Rude, Hennessy, Drive Thru, Drama, Come and Kiss Me, I'm The One, and his hit track Downtown Baby. 
The next performer was one of the iconic idols',  the Nunu Nana Queen, Jessi!
She is one of the biggest gifts to the K-POP world, as she breaks stereotypes and lives her life by her own will and rules. She is more than just an idol, she is a role model and trendsetter in the industry and to all Hallyu fans. Of course we expected Jessi to give us an unforgettable show, but she was more than just terrific. Jessi really knows how to own the stage. 
But what came next, we were just not ready for that!
 

 

View this post on Instagram

 
She invited Kevin and AleXa on stage to dance Nunu Nana with her! This was just Jessi being Jessie part 893636368339. We need version 2 of this collaboration! Songs performed – What Type of X, Nunu Nana, Gucci, Ssenunni, and Who Dat B.
Probably one of the highlights of the show was first generation's K-POP sensation Rain, who performed Why Don't We, Hip Song, It's Raining, Flying Through the Night, How to Avoid Sun, and I Do. Our hearts were just swooning when he sang I Do, it was more special for the first gen K-POP fans of Team NH, as Rain was one of the biggest heartthrob of that generation and even now!  It's unbelievable how he is the father of two children, and yet looked young, sultry, and energetic as ever! 
You also need to know how the hosts introduced Rain. We couldn't stop laughing! 
😂 Rain or Kevin's clouds? 🌂☁️ #KpopSuperfest pic.twitter.com/NJj0BDjfAW

— Joy Ruckus Club (@JoyRuckusClub) June 20, 2021
Exactly why we said BEST HOSTS EVER! 
The concert then ended with DJ Soda's dope beats that made use of a number of party and popular tracks like Lose Control, Horror Hour, Tripping, and more! DJ Soda also had one of the best surprise when she featured her collaboration with Lost Chameleon and Ahin from Momoland! 
 

 

View this post on Instagram

 
Overall, this concert was an unforgettable experience. Sessions and Joy Ruckus did an amazing job and the concert was executed very well for the fans. K-POP Superfest also offered fans different ways to show love and support to their favourite idols. Fans were given the opportunity to request songs and chat with the idols and most of the idols made sure they read the messages. Fans could also buy various online "gifts" and help boost their fan status and get featured on top as per the number of hearts that they had via the gifts purchased. 
The concert tickets started at a price of 20 dollars and for that amount, it was definitely worth it. Most of the artist performed for at least 20 minutes and some even performed for 35 minutes. We started watching at 6:30 AM and it got over around 2 PM. That was one long concert and we aren't complaining! Our Sunday was well spent! We truly enjoyed the show and we look forward to more. 
One of the things that has kept K-POP fans sane during this pandemic rough-patch is online concerts. There are instances when many people hailing from different places couldn't watch concerts but now, online concerts have eliminated the geographical factor and connects the world entirely to stream the show and that is a boon. 
But we still do badly miss the times we could unleash the K-POPPER in us during offline concerts and we sincerely hope that we get through the pandemic soon and concerts start again!
Until then, online concerts for the win!
We are grateful to Joy Ruckus for inviting us to watch the K-POP Superfest.
Find us on Instagram Twitter   YouTube for more content & news! 
[K'onversations] Online K-POP Concerts – The New Normal?