Read on to find what IN2IT & Alexa has to say about favourite Marvel superhero, Bollywood, plans for future and more…
Almost 4 months after marking their presence with their first tour in India, K-Pop boy band IN2IT and former Produce48 contestant and Soompi Rising Star winner Alexa returned to grace the stage of Kpop Contest Finale 2019 which was held at Talkatora Stadium on July 27. Before they went onstage and swayed the crowd with their performance and alluring stage presence, we caught up with them backstage for a short and fun interview!
We wanted to do something fun so we created a board filled with keywords related to the questions sent by fans. Each IN2IT member and Alexa got their chance to randomly pick the keyword and the related question was asked. Upon knowing how the interview was going to happen, the boys and Alexa seemed beyond excited and interested about the whole ordeal. It was made even more obvious when IN2IT member Hyunuk took responsibility over the board and was practically not ready to give it up even at the end of the interview.
<Hyunuk: Should I start since I am holding the board? Okay. Umm. I choose the keyword "Movie">
NH: Some of the members have made their appearance in the drama "Her Private Life," so are you interested in stepping into the acting game more?
Hyunuk: (Laughing) Oh! Yes of course. I have thought about it a lot and been practicing too. I have also been researching a lot on Bollywood movies and learning a lot from it. In the future, along with being an idol if I get an opportunity to act, then I really do want to attempt it. 
<Inpyo: My turn. What should I pick now? Hehe. Oh! There is a keyword of IN2U too>
<Inho: Don't you think we should pick that up at the last>
<Inpyo: (Playfully ignoring Inho) I will pick the keyword "IN2U">
NH. How would you feel about watching an Indian movie at an Indian theatre with your Indian fans?
Inpyo: Wow. You have asked me a question about something which I have actually never thought about. So I am quite amazed. (Thinking) But I think I will really like it. I will really like it if I can watch a movie with my fans together. If we are given a good opportunity, we would like to see our own movie in the theatre with the fans.
All members: Woahhhhhhh(clapping loudly)
Inpyo: With a movie where we have starred in, we would really like to watch it with our Indian IN2U. Oh also, while watching movies, anyone sitting beside Inho should be a bit careful because their ears might hurt at the end of it. He is always screaming loudly when we watch scary movies, so everyone has to be careful. 
<Issac: Alexa, your turn>
<Alexa: Oh me! Hmm. Okay because I am technically still one, let's roll with the keyword "Trainee">
NH: What was the most difficult obstacle you faced while being a trainee?
 "Oh boy! (Laughs) When I first came to Korea, I did not know the language at all so struggling to learn the language and understanding the culture and how things go about was definitely the hardest part," Alexa answers.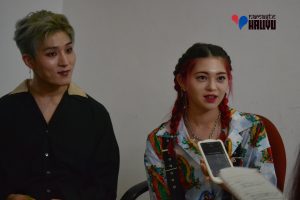 <Alexa: (singing) Who do I give this too~>
<Isaac: My turn? Okay, I choose the keyword "India">
NH: What has been your most memorable moment in India?
Isaac: Alright. Umm (Thinking seriously while members imitate him in the background). Honestly for me, everyday has been memorable because it is really different. IN2U's from India and the other country are a bit different because here, they dance and sing together so, I find it very impressive. I also really enjoy the food. I think the most unforgettable moment for me was when we arrived at the airport(New Delhi), our fans were waiting for us and fan-chanting which they learned from our videos in Youtube and I thought they checked those videos to learn it. I was very impressed. Thank You!
<Jiahn receives the board "What should I choose? (Thinking) Should I choose Music or Bollywood?">
<Yeontae: Bollywood. Choose Bollywood>
<Jiahn: Bollywood? Okay then I will choose Bollywood.>
NH: Do you have any favourite Bollywood song? 
Jiahn: (Excitedly) Oh yes. But there is a possibility I might not pronounce it correctly. There is a song called "Aankh Maare" . You know this song? (Shows the song in Youtube through his phone).
NH: Oh yes! Do you think you can sing a bit of the song?
Jiahn: Oh! (Laughing) I just know the whistling part. But whenever I see Bollywood songs, the chemistry between the male and female lead is always great and many people as a group dance in the songs. So whenever I see that, it always reminds me of international dance competitions and also gives similar vibes to musicals. It is so much fun to see the videos that I also want to participate and try Bollywood if I am given a chance. In Korea, as a student I had participated in a dance for the ending song of a movie called "Marriage Blue". I had a lot of fun filming at that time. Therefore, IN2IT along with Alexa would really like to participate in any Bollywood song. 
Inpyo: And then we can watch it together with IN2U.
Jiahn: Yes of course. We can that watch it together with our IN2U. 
<Jiahn: Yeontae, your turn now>
<Yeontae: Oh! As for me, I want to choose the keyword "Random 1">
NH: Which member do you think will be able to survive a zombie apocalypse? 
Yeontae: (Thinking) Umm. I think…it will be me. (Ensue protests from all of the members). 
Inho: You will die first.
Inpyo: Yes. He will be the first one to die. 
Inho: I think it is Hyunuk.
Yeontae: Wait. Let me give a reason. I think I will survive anywhere easily because I can roll a staff very well.
IN2IT: No, no, no.
Inpyo: I will stay behind you then. 
Yeontae: However I will not survive alone but take all my members and survive together. 
(Claps and hoots from all the members)
Hyunuk: Then except you, who else do you think will survive a zombie apocalypse?
Yeontae: Oh, except me? (Looking at every member carefully)
Hyunuk: Otherwise just tell us who would be the one to die early?
Yeontae: This is kind of a hard question. (Casually glancing at Jiahn)
Jiahn: Why are you looking at me? 
Yeontae: I think it will be Jiahn.
Jiahn: I am good at running so I won't be the one to die early. 
<Inho: What should I choose? I am confused between Tour or Youtube.>
<Yeontae: India or Random 2 might be fun>
<Inho: Since we have already answered a lot related to India. I will select the keyword "Youtube">
NH: Do you have plans on releasing any individual Youtube content?
Inho: I think after our official IN2IT channel gains a little bit more popularity, it will be good idea for each member to open their individual channel. Right now, we are still trying to reach our name to more people, I would like to take the help of all the members and Alexa more than doing it individually. Since we have come all the way to India and worked hard, we would be really happy if the Indian fans check and like our online content and SNS.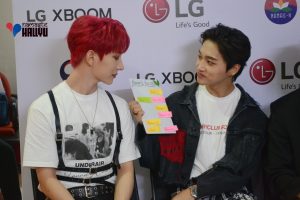 <Alexa: Oh! Can I choose again? Umm. Okay let's go with the keyword "Random 2">
NH: Which Marvel superhero is your favourite?
(IN2IT members start laughing at the unexpected question)
Alexa: Okay! That is easy for me. My favourite is actually Spiderman because from a young age my dad really got me into Spiderman.  Also, my English last name kind of sounds like Spiderman's. It is kind of a running joke in the family. 
Inho: (Laughing) Is that why you dyed the tips of your hair red?
Inpyo: I like Iron Man more. 
<Since we had time, we let the boys pick one more question from the remaining keywords>
<Inho: I want to pick a keyword. Let's go with "Tour">
NH: Would you like to come back to India for a full country tour?
Inho: I would really really love to do it. We have been only to Mumbai and New Delhi, so to go on a tour to the other cities of India would be amazing. Even if they cannot come to see us, we can go to them so we would love to meet them as soon as possible in the nearest places.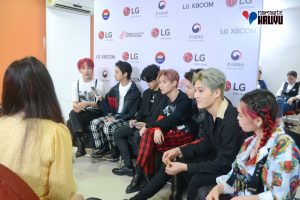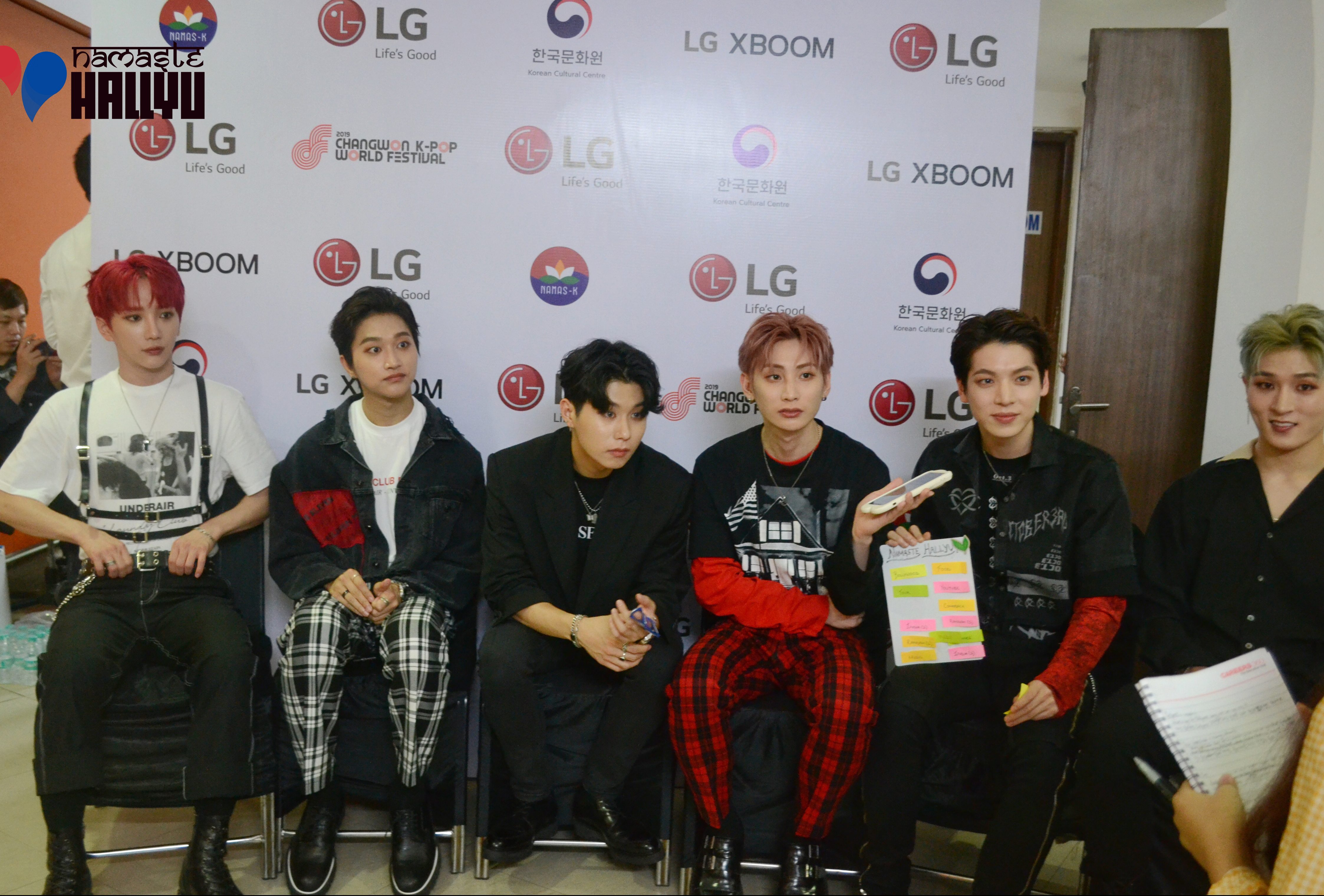 Expressing their love for India and the rich culture, IN2IT and Alexa resolved that they will be back to perform here again in the near future. Not wanting to end the interview and feeling curious about the remaining keywords, the board was handed back to us albeit quite unwillingly. 
While we wait for Alexa to debut and IN2IT next digital single 'Runaway', here is a glimpse of IN2IT performing during the LG KPOP CONTEST INDIA 2019 !