No matter how much Na Bi tries to push Jae Eon away, in the end her efforts mean nothing and this cycle only keeps continuing.

In the latest episode, the leads get most of the screen time and the rest is given to the supporting characters. The production team is still building up the story for the second lead, hence, in all honesty this episode was a little let down as compared to other episodes. Of course we do understand that the story needs to grow for the main scenes to kick in but it would be nice if the story wasn't too slow. 
"Nevertheless," Review: "It Sometimes Felt Like We Were Lovers" (Episode 4)

The Mystery 
Towards the end of Episode 4, Na Bi and Jae Eon were talking when an unknown person gets out of his car and confirms if the boy was "Jae Eon." Upon confirming, his anger first came out in the form of calling Jae Eon a "bastard" and then he punched him in the face. The episode ended with that. 
Knowing Jae Eon, Team NH had a few guesses about the backstory of this hot-headed situation.  Well, we were not totally correct, but it did involve a girl. 
Yoon Sol and Ji Wan who were close by heard the two men fighting and run to the scene, and witness Mr. 'Mystery Puncher' being totally brash with Jae Eon and Na Bi trying to stop him. Yoon Sol tries to calm him down, while Na Bi checks on Jae Eon. Ji Wan immediately calls the police and the entire scene is shifted to the police station. 
After dealing with the necessary, Mr. Mystery Puncher screams at Jae Eon for being a 'scumbag' who hits of women who are already spoken for, and looks like he was her older brother. 
Before taking his leave, he give Na Bi some advice about why it is important to date decent men. Well of course he was right about that, but it is ironic as he is one to be speaking about decency after pushing Na Bi on the ground while she was trying to stop him from punching Jae Eon.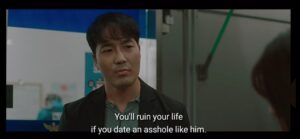 This obviously didn't leave a good impression on Na Bi and only gave her more reason to just stay away from this no-strings-attached relationship she shares with Jae Eon. And she does it. We all know how that went but anyways. 
Turns out this was all a misunderstanding. The drama didn't reveal much about who this girl was but looks like she wasn't someone who was being played by Jae Eon. It is a little weird that the show was left her story incomplete, so maybe we can look forwards to her appearing again.
This happens a little later, after the entire police station scene. But on the same night of the issue Na Bi took her stand. 
Ending Things, Again
Here is a shout out to Na Bi who really stood up for herself this time, PROPERLY. She was stern with her words which were loud and clear to him that she really cannot put up with this truck of pure, useless burden anymore. She was also honest and accepted that she was just acting cool about this entire thing with him, and she really was no longer up for it.
Things get cold from here as they both resort to the silent treatment. And speaking of silent treatment, guess who else has resorted to this? 
Yes, Nam Gyu Hyun. 
The UwU Couple
The night Bit Na and Gyu Hyun spent together turned out to be an eye opener for both, but first for Gyu Hyun. After Bit Na rejects him, he decided to stop talking to her, completely. He also starts dating just to distract himself from think about Bit Na. 
Bit Na took her time to realize that she was in love with her best friend as she's never been in a real relationship before and needed to be sure of her feelings. 
Apart from Gyu Hyun not speaking with her anymore and starting to date again, he is unfazed of all the things Bit Na does to get his attention. Bit Na is frustrated and goes drinking with her buddies. They say when you drink with a troubled heart or mind, you can get drunk easily. Bit Na got wasted. 
The buddies call up Gyu Hyun to get her address but he insists on taking her home himself. Drinking made this easier for Bit Na and she finally admits her feelings for him. These two make a cute couple! We totally love them!
The Girl Bestfriends
Yoon Sol and Ji Wan, after the entire Mr. Mystery Puncher scene, get a chance to make up. Well they don't really talk about it much, but Ji Wan is no longer mad at Yoon Sol and now they're back to being besties. 
Yoon Sol had decided to not take up the student exchange program and that too a few people knew about, but Ji Wan was left out again. Ji Wan got to know about this when the professor talks about it during class. Once again she's disappointed and walks out, but after a while she forgives Yoon Sol. 
It's cute how Ji Wan really likes Yoon Sol and cannot be mad at her for too long. 
The Second Lead's Confirmation 
We all did have our theory about Do Hyeok, that he probably had a crush on Na Bi since their childhood, some scenes did give us signals that this could be a possibility. Though this theory hasn't been answered, yet, but for now he likes Na Bi very much.
We were expecting more screen time for the second lead but we sure did not forget that directors like to break our hearts 🙂 
Another Love Story? 
Is this a potential couple? 
Think you might have seen him somewhere? His name is Jung Jae Kwang and has previously appeared in a few dramas, and one of them is It's Okay to Not Be Okay. Ring any bells? How about now?
Feels like love is blooming everywhere except for Na Bi. 
Na Bi and Jae Eon
After a few days of the silent treatment, things between them started to calm down a bit and Jae Eon tries to make conversation for which Na Bi reciprocates. 
In these few days of avoiding each other, Na Bi really misses him and surprisingly Jae Eon missed her too. It starts off with him leaving his hair down since Na Bi likes it that way, which moves on to him planning to change himself. His exact words were "I'm sick of myself." 
He didn't exactly specify things like "I'm changing for Na Bi" and lines similar to that, but it is pretty much self explanatory. Na Bi's words definitely stings him a bit, which I believe resulted him wanting to mend his ways. Not sure if he wants a serious relationship with her, but he does not want to be in her bad books. Even being friends is something he wants. After all, Na Bi from the start has been a little special to him. 
As the senior, Na Bi along with her classmates has to make a presentation about her piece and junior students who like it can volunteer to her assistant in this project. She talks about her upcoming piece "Yeoji," which means 'leftover' and 'land.' The concept of her piece was going to be about 'hope' and 'possibility' that this land can be used. She looks at Jae Eon while explaining this and I love the metaphor here. After which, he volunteers to be her assistant.
So they start to work on this project and their cold relationship is now a little warm. They aren't together and there's nothing romantic between them, but their friendship felt nice. People around started noticing Jae Eon's behavioral changes and probably Na Bi has teeny-tiny bit of hope, which was crushed when Sol-A entered the picture. 
Jae Eon started missing Sol-A's calls and forgets about their plans, he even stood her up since we has busy working with Na Bi. Sol-A was outside his studio and sees all of this so when she got the opportunity to break Na Bi's hope a little, she took it.
Na Bi who has now realized that she was blind enough to believe Jae Eon walks away with a blow, as she removes her hair tie to let her hair down. And this is another symbolic scene that we LOVE! 
Verdict  
Episode 5 was a bit of a drag but overall an okay-ish episode. Probably not the best episode to re-watch from Nevertheless. I still stand by what I said in my previous review that I'm watching this drama for the supporting characters more than the leads. 
The first few episodes dropped a lot of subtle romantic hits for Yoon Sol and Ji Wan, but not much in this episode. So let's see how things go on for them.  We want more screen time for the second lead. Five more episodes to go for 'Nevertheless,' to end, so we are expecting more for the second lead. 
Team NH hasn't lost all hope for Jae Eon, now that he's trying to change we can't completely push him away. But, we most definitely would like a different ending to this drama and not a clichéd one. 
We don't have much to say for this episode, but hopefully we come up with more theories and try to crack more hits that the production team drops.
We shall meet for episode 6!
Find us on Instagram Twitter  YouTube for more content & news!