FINALLY Do Hyeok gets more screen time.
"Nevertheless," Review: Changes (Episode 5)
If you have read our review on episode 5, I was pretty clear about wanting more from the drama's plot as it was slower than expected. Yes, this drama is a slow burn, but since there is a limitation on the number of episodes maybe speeding things up a little bit wouldn't leave other stories incomplete. Now this brought us to thinking, will we be having a second season?
First of all, let me make this clear, there is NO confirmed information regarding a second season for 'Nevertheless,.' But it does feel like there might be a second season and here is why I think so,
I happen to know what happens in the webtoon, (Not to worry, won't spoil anything for you)
The plot is unfolding pretty slowly and we have just four more episodes for this drama to finish, so if the production team doesn't speed things up a bit, then the stories of the supporting characters will not have a satisfying ending
Only in episode 6 the story line for the second lead has stepped up
Nam Gyu Hyun will officially be having lesser screen time (read on to know why), and things just started building up for him with Bit Na and they are already facing relationship issues. So that needs to be addressed, and given his limited screen time it cannot be done in just one season
Ji Wan and Yoon Sol lately haven't dropped much hits
What in the world happened to Jung Ju Hyeok? (the guy who likes Yoon Sol)
Ahn Gyeong Jun and Min Young's love story hasn't even begun (if there is supposed to be one)
Why did Park Jae Eon's mother suddenly enter the story?
What's the deal with Sol-A? Why does Jae Eon accompany Sol-A to the doctor's often?
*Me Now*
All these reasons give me a strong feeling that there might be a season 2, but again, the production team has given us no information. I guess we will only know at the end of episode 10.
Let's start with Na Bi.
Heat Waves Faked Her Out
From the very first time she met Jae Eon, things have always been steamy for them but he is not the "into the relationship" type. These heat waves keep clouding her judgements, mislead her to disappointments. But looks like things can be different now. We shall discuss why, when Jae Eon's turn's up.
After her passive-aggressive conversation with Sol-A, Na Bi takes off without word. She believes Sol-A lie about her and Jae Eon planning on getting back, which she later admits to Jae Eon.
Na Bi visits her aunt and blows off the steam as she spends time in her home town, with Do Hyeok. Luckily Do Hyeok also happened to visit by co-incidence or destiny, whatever you want to call it, and this gave Na Bi the chance to know that he has been in love with her for a really long time.
"Nevertheless," Review: "It Sometimes Felt Like We Were Lovers" (Episode 4)
Well, this was pretty predictable. If you didn't see this coming, read our review on the fourth episode and this might give you perspective.
Episode 6 was really warm and tender, with Na BI and Do Hyeok spending the night at the beach with fairy lights, yummy food, cycling, street shopping, and that are simple yet heart racing.
Na Bi was starting to experience the sweet love she always wanted but in the form of Do Hyeok's friendship. This is something she probably will never get from Jae Eon. She likes him so much that the sculpture she was working on turned out to be Jae Eon's face.
After confirming that Na Bi is single and there is no one else is presently she's interested in, Do Hyeok tries to make his move again! YASS GO DO HYEOK!
Pretty sure he wanted to ask her out. Team NH has been rooting for them to start dating so Na Bi knows who is better for her and she can finally decide. But hey, we're forgetting about the production team. They of course like to push our happiness for later.
The Boy Who Is Changing (Sort Of)
After Na Bi took off with informing anyone, she also started avoiding calls not just from him but from all her classmates. Of course after a while she answered Yoon Sol and Ji Wan, but did not return messages or calls to Jae Eon. Here is where we see changes.
Jae Eon really likes and cares for Na Bi. Though his mindset does not work that well around commitment, missing someone looks like something he is new at. He even re-visits the pub where he met Na Bi the first time and relives those memories.
This side of Jae Eon, I've been waiting to see. And just when I thought his change was pretty big…
"Na Bi Boleogallae?" (Wanna go see butterflies?)
Well he's never been in a serious relationship before and these thing are new to him, so I guess it's going to take a lot of time for him to change big time, but minor changes are seen, also old habits die hard.
By the way, BREAKING NEWS, in the K-DRAMA world, it is no longer "Ramyeon Meoggo Galleo" for most of us and from now on it's "Na Bi Boleogallae?" 
As we say it in the team, "SONG KANG IS CHANGING TRENDS!"
Some might feel he's just using the same pick-up line to all women, but hey, if it's Song Kang then we'll take it!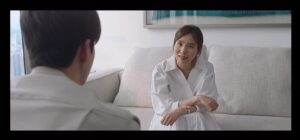 In this episode, we also see Seo Jeong Yeon. She is playing the role of Park Jae Eon's mother and her sudden appearance in the drama tells me that the show is going to have some back story for her and that will probably answer why Jae Eon has no faith in love? What do you all think?
The 'Nam Gyu Hyun' Situation
This is the part you guys probably looked forward to the most. So I'll break this down into two compartments,
We'll discuss about his role in the drama, and
Why the show has decided to give him lesser screen time
1. 
Well Gyu Hyun thought that getting Bit Na to become his girlfriend was the only problem, but he did not realize that he's got much more in store. Given Bit Na's open minded character and the number of no strings attached relationships she's had before, it is probably overwhelming for her to be in a committed relationship. Gyu Hyun's character is a little old schooled who believes in the concept of "only one." If they want this relationship to work, then both of the must sacrifice a few things and change a little for each other.
In this scene, he confides in Jae Eon about his relationship issues with Bit Na. While explaining what he feels, Jae Eon in his mind makes comments which gave the audience more insights to understand what exactly goes on in this boy's mind.
"The relationship becomes weak."
What made him think that and stick on to it? Will this be covered in the mother's backstory that we're expecting? This line also makes us question if he isn't actually interested in deep relationships or he's afraid of them?
2. 
Off the drama, Kim Min Gwi the actor who is playing the role of Nam Gyu Hyun has caught himself in a situation as his former girlfriend of six years took to social media to reveal about him cheating on her while they were dating and even used hostile words at her while she confronted him multiple times. She also accused him of breaking COVID-19 restrictions. Min Gwi has admitted to the accusations about him cheating on his girlfriend but denied breaking COVID-19 safety measures. His agency, Big Picture Entertainment, responded on this too and this is their statement.
*Not Official Translation*
First, we apologize for causing concern with the negative news surrounding our artist, Kim Min Gwi. We ask for your understanding regarding the lateness of this statement, as we had to check the facts first.

Kim Min Gwi acknowledges that he has done wrong in the parts regarding his personal life. He feels sincerely apologetic toward the other person whom he hurt with his immature actions and judgments and he is in deep self-reflection. He also apologizes for causing public concern with this issue.

It is not true that Kim Min Gwi violated self-quarantine restrictions regarding COVID-19. On May 22, he was informed that he was a close contact and he went into self-quarantine at his home. During his self-quarantine, he felt signs of symptoms and got tested and received a positive result. He went to receive treatment and is currently fully recovered.

Once again, we apologize for causing concern.
Kim Min Gwi also posted a handwritten apology on his Instagram
View this post on Instagram
The Translation – Not Official 
Hello, this is Kim Min Gwi.

I apologize for having recently caused a scandal with my personal life.

After reading what that person had written, I thought about how I acted in the past. I clearly recognized my wrongdoings and sent her my regrets and apologies.

Regardless of the reason, I did wrong in hurting someone who had shared so much with me for a significant period of time. I hope that that person does not suffer any damage from this going forward. Once again, I express my sincere apologies to her.

About the issues regarding the COVID-19 restrictions: On Friday, May 21, someone I had been in contact with tested positive for COVID-19, so I went to get tested that same day. I received a negative result and the disease control authorities advised me to minimize my daily movements and move to my residence before I was classified as a close contact. With this advice in mind, I carried out my daily activities.

On May 22, I received notice that I had to self-quarantine from the disease control authorities. I followed their instructions and never left the area where I had to quarantine. I apologize for not being more proactive in responding to these reports, which became more controversial during these sensitive and difficult times.

I would also like to apologize to my seniors and colleagues who were cheering me on.

In the future, I will work hard to be more mature in my personal life so that I can be honorable and accountable to myself.
So due to this controversy, his screen time in the drama will reduce. But things just started for Bit Na and Gyu Hyun so with limited screen time and episodes they possibly cannot build much for them. Which is why there might be a season two, or the production team might just end their relationship and reason it as difference in character.
The Cute Scene
This is such a pure scene UwU. Let's be real, people still laugh at others when they fart and even embarrass in public in order to show "disgust." But these are such natural thing and we love how Ahn Gyeong Jun teases Min Young for farting loudly but in a funny way, that doesn't hurt her feelings. From normalizing periods, sudden erections, casual relationships to farts, this drama really has taken an oath to keep it natural and take a realistic approach. This is one of the things I love about this drama.
The Male Leads Meet
Jae Eon who could no longer handle being ghosted by Na Bi, drives to her hometown without informing her, and she's dumfounded upon his unexpected visit. We're guessing Do Hyeok was going to ask her out tonight, what else could it be? But Jae Eon entry is about to change all of that.

Verdict
Well, the review pretty much covered most of what we think. Our prayers for more screen time for Yang Do Hyeok have finally been heard. Now pick up your candles and join our prayer circle for more Ji Wan and Yoon Sol moments. Now that the male leads have met, we believe the story will get interesting form here.
Do let us know if we provided you with enough reasons as to why we can expect a second season. If you think there won't be one, still let us know why and share your perspective. Until the next episode!
Find us on Instagram Twitter  YouTube for more content & news!