Rocket Punch is a six-member girl group signed with Woollim Entertainment. They have constantly been releasing catchy songs since their debut mini-album Pink Punch which was released on August 7, 2019.   The group consists of members Juri, Yeonhee, Suyun, Yunkyoung, Sohee and Dahyun. Before being signed with Woollim Entertainment, Juri was a member of the Japanese pop group AKB48. She, along with Sohee and Suyun had participated in the reality competition show, Produce 48 that aired in 2018.
Yeonhee, the leader of the group shares that the name Rocket Punch was personally named by their CEO and it means 'giving a refreshing flying punch to monotonous life.' Once you hear it, it lingers on.
So who is Rocket Punch?
Yeonhee: Hello! I'm Yeonhee who likes looking at the sky. I am already looking forward to the performances that we will show you in future. I hope my energy and charm can be a source of strength and relief for many. I love you all 💕
Yeonhee is the leader, vocalist, dancer, rapper, and visual of the group. Among all the roles that she plays, she thinks being a leader is the hardest.  "There is a way to practise the basic skills to be a vocalist, dancer, visual but there is none for being a leader. Depending on what I do, the atmosphere and a lot of things in the team can completely change so I think I'm more careful. There are times during interviews when the maknae gives thanks on behalf of the leader, it's on those days I feel like my worries as a leader just goes away."
Juri: I'm the oldest in the team! I am a person who likes giving the biggest reactions and joking!
Juri, may be the oldest member but she also loves to joke around. She is also known to be someone who doesn't get scared easily and shares that she loves watching horror movies, "I watch a lot of horror movies alone as well as with the members. There is a Korean horror movie called "Warning: Do Not Play" (암전) that I would like to recommend. It's fun because there are a lot of jump scare scenes."
Suyun:  Hello! I am Rocket Punch's confident, Suyun. I'm someone who wants to give you all a lot of happiness! 😊
Like others, the journey of being a Rocket Punch member has not been easy for Suyun but with her zeal and motivation, she is where she is right now.  Did you know she auditioned 3 times to get in Woollim entertainment? Suyun shares her thoughts on it,  "Whenever I auditioned there was this feeling about our company. Like 'I have to get into Woolim!!!' So even though I failed for different reasons each time, I couldn't give up. I'm also someone who has faced failures and I'm sure there are people facing difficulties among those who are dreaming of becoming K-pop idols." She thus sends a message of strength and motivation to those chasing their dreams, as she adds, "Don't ever give up! You are already doing an amazing job for running this far to chase your dreams and happiness. Please don't have a hard time. I believe that if you keep working hard for your dreams you'll definitely achieve it some day. I'm rooting for you!!!!"
Yunkyoung:Hello! I am Rocket Punch's happiness Yunkyoung💕 Why am I happiness? Because I am the happiest when I am together with Rocket Punch and Ketchys and I want to give a lot of happiness to others!! Please continue to love Yunkyoung and Rocket Punch in future. 💕
Yunkyoung has one of the strongest dancing skills in the group and perhaps we can attribute it to the fact that she started her dance lessons when she was only 6! She shares that the first choreography she learnt  was to Jiyeon(T-ara)'s 1 minute 1 second and she learned it with a friend. She further adds that she is currently learning the choreography for Bubble Up! and working hard for their schedule in Japan.
Sohee:I am Sohee who often does a lot of aegyo and is like the bright energy in Rocket Punch. There are many people who like me, so I always receive a lot of inspiration and strength from them. It is as big as my dreams and aspirations, that can't be expressed in words. Please look forward to Sohee and Rocket Punch in future!
Sohee is often known as someone who is in charge of cuteness in the group and she shares her thought on it as she says, "More than being in charge of cuteness, I want to be someone whom the more you look at, the more attractive you find; someone whom you would want to know more about in many ways and is a good person. I want to be a person who is gentle at the same time bold, eccentric and an all rounder." She also shares that if she can describe Rocket Punch in 3 words, it would be,  "No. 1 singer, Idol's role model, everyone's happiness."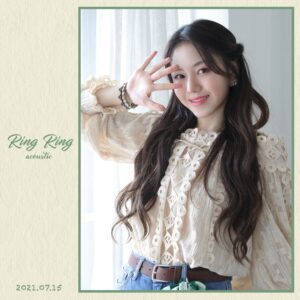 Dahyun: I am the maknae, Dahyun. Though I'm chic, the more you get to know me you'll realize I am mischievous and have a lot of diverse charms. I like playing with the members and although I might usually be shy and quiet, I think that the twist is that a lot of people get surprised when I let my reins let loose and the tension is gone. Also, I am someone who is ambitious for the stage so it would be great if you could watch my cool side which will continue to grow.
Dahyun is the maknae and the lead vocalist of the group. Taking on the two roles she shares, "I have a strong desire/passion to do well and so, my skills as a dancer and vocalist will continue to grow." With great vocal skills on stage and cuteness off stage, we thus wanted to know her hidden charm. Dahyun confesses, "If you have watched over me, you might notice that my hidden charm is honesty/being frank. I will be quiet and the next moment you'll find me straightforward, lively and I think fans find that side of me interesting."
With their diverse discography and irresistible charms, Rocket Punch have managed to gain popularity in the global market.  They made their most recent comeback on 15 May 2021 with the single album Ring Ring that consisted of three amazing tracks. Ring Ring amassed attention with its realtor vibes and catchy MV and the group is now back with the acoustic version of it. Acoustic versions of songs are usually loved a lot by fans and so, for the fans it was something that they looked forward to. Member Suyun however admits that when they first heard that there will be an acoustic version of the song, the first thought that came to her mind was 'acoustic version of Ring Ring?!' However, the arrangement was amazing and the members also matched the song well with the arrangement. It gave a gentle vibe and the members really worked hard to record and prepare for the new vibe of Ring Ring! Dahyun further shares,  "Since it's the first time our song is coming out as an acoustic version I am nervous but excited at the same time. First of all since Ring Ring is a great song, I think the acoustic version would be one that you would keep on wanting to listen to. I am excited because we will be showing a side of ours which we haven't been able to yet to our fans!"
When the members were asked which other song of theirs would they like to create an acoustic version of, Sohee chooses 'Twinkle Star' as she thinks it's very dreamy while Dahyun chooses the 7th track 'Girl Friend' from their 2nd album 'Red Punch.' She further adds,  "I would like to see it made as an acoustic version! This song too has a fast beat like 'Ring Ring' and it is a fun/exciting song. Thinking about it as an acoustic version, I think it would be a very sweet and great song!"
While the original 'Ring Ring' gave the fans a fun, bright and fast vibe and music video, the acoustic version brought about their soulful vocals and soft subtle vibes. Hence proving that Woolim's latest girl group can own any of their concept.  And if that was not enough, Rocket Punch will also be making their Japanese debut with the EP Bubble Up! on August 4, 2021. Yeonhee and Yunkyoung shares that the upcoming Japanese debut is both exciting as well as challenging.
"We are really looking forward to the challenge in Japan, we are also excited at how Rocket Punch will be received over there. In the upcoming album you'll be able to see the colour of Korea and other attractive charms. That's why we thought that this Japanese album could be a new gift for the fans who have watched over us till now 😊" – Yeonhee
Yunkyoung adds on that the title song 'Bubble up' will be released as a music video as well as digitally and although the title song is really good, the album is also full of other tracks that are really good and so to look forward to it and thus she requests fans to wait till 4th August for it. But what can the fans expect from the upcoming album? Sohee shares that as compared to the earlier albums, the upcoming Japanese debut album is more refreshing and thus they will be able to show you their colourful and energetic look once more. She also adds a spoiler as she says, "It would also be great if you could pay attention to our new facial expressions."
With each song and album from the Color Punch Series, I think you would hear a new feeling every time we appear in front of you all. This time too it will be new and since it is our debut Japanese album, I think it is one where we put much more of our heart and soul into it and so, you'll see a different side of Rocket Punch – Suyun
Ahead of their album release, Rocket Punch recently released their title track, 'Bubble Up' and it definitely brings out the fun, summer vibes with colourful MV, catchy chorus and a bubble gum feeling.
The expectations and interest have thus risen and we were curious to know their favourite song from the upcoming Japanese album.  Yeonhee shares that it is difficult to choose as all the songs are good but if they had to choose one, it would be 'Summer Days' as it is summer right now and more than anything, it is a bright, refreshing and energetic song so everyone will be able to enjoy it.  Dahyun also adds that, the moment she listened to 'Summer days', which is the the 4th track of the upcoming Japanese album she really loved it as it is a song which shows the bright and energetic 'Rocket Punch.' She further describes the song as something that is exciting from the beginning till the end which makes you feel good any time you listen to it and so, it's fun listening to it often.
With the members speaking highly of 'Summer Days' we are definitely curious about the song and the upcoming album and so, we asked the members to describe their upcoming Japanese album in 3 words. Juri shares that according to her the new album emits, "Power, Rainbow, Ability" while Suyun describes it as, "New start, 1, Happiness." This description definitely makes one anticipate their upcoming album and while we await for it, the members picked a song from their existing discography which describes Rocket Punch the most.  Juri chooses the summer song 'Juicy' as one can see their refreshing and lovely side that makes everyone happy and Yeonhee chooses 'Bim Bam Bum' and says that apart from being their debut song, once the fans listen to it, they will know the reason why this song describes Rocket Punch the most. 
Rocket Punch is soon going to be a two year old group but they have already been nominated for numerous awards and won their first KPOP Singer Award at Korean Culture Entertainment Awards, 2020. While looking back at that moment, Juri shares that it was really an honour and thanked their fandom, Ketchy! She also sent a message saying, "Ketchy thank you for always supporting us!" Member Sohee further expressed, "It was our first award as Rocket Punch and that's how meaningful the award was for us. We received a lot of congratulations so we felt proud and happy. In the future we will work even harder to win more awards."
Woolim artists has always been known for their sharp choreography and dancing and like all other Woolim groups, even Rocket Punch have effortlessly showed their outstanding performances. The members shared that although none of the members have taken part in choreographing yet, they hope that one day their skills will grow a lot to be able to do that. They also added that since everyone is really passionate, if there is an opportunity they will positively think about taking part in planning in their choreography.  The leader, Yeonhee further added that when it comes to remembering choreographies, all the members are really fast. As expected from Rocket Punch!
"Each one of us has good ability and we are all good at memorizing so I don't think there is a particular member who is the faster at learning our choreographies. Umm if we are talking about having the longest memory (or remembering choreo for a long time) I guess it would be me" – Suyun
Rocket Punch already has 3 EPs, many singles and a single album and the group is keen to present many more music to their fans. The group member Juri shares that she wants Rocket Punch to shine in Korea as well as in the world and be a lovely idol group. When asked where do Rocket Punch sees themselves five years from now, she adds, "After 5 years when corona virus is gone, I also wish that we can meet Ketchys and share happiness with them!"
 "After 5 years, just like now, I think we would be the Rocket Punch who works hard while being happy and healthy while promoting and keep growing. Since Rocket Punch always does our best in everything, I believe that more people will know our music. Even then, I want us to make lots of fun memories with our lovely fans like now!" – Dahyun

 
When asked to describe Rocket Punch in 3 words, Yunkyoung describes by saying, "Energy, Happiness, Ketchy" and aptly so. After all for Ketchy, Rocket Punch definitely gives them 'Energy and Happiness.'
As we come towards the end of the interview, we ask the group what is the first thing that comes to their mind when they hear 'India' and to send a message to their Indian Ketchy. Yunkyoung excitedly shares, "Since I like tasty food the first thing that comes to my mind is curry!!! I really like curry a lot! I want to go to India for sure to meet Ketchys and eat curry too. To our Ketchys who are waiting in India, we will meet soon. Till then, please continue to love us and take care of your health every day. Promise." Sohee warmly shares that when she hears 'India', it give her a very free feeling. She ends it by saying, "To me, Indians seem to smile a lot. When the situation becomes better I will be very happy if we get to perform in India. I am waiting and looking forward to it. I love you all Indian Ketchys 💕"
Find us on Instagram Twitter YouTube for more Korean Entertainment content, interviews, & news.