Joy Ruckus Club, Musicspray and the Korean Creative Content Agency have come together for "New Beginnings with K-Pop Superfest", an online festival which will showcase a wide range of K-pop acts including KARD, A.C.E, Everglow, and many more.
The online festival will be available for streaming on LiveXLive, which has previously hosted iHeartRadio 2021 Fiesta Latina as well as streaming events for BTS, Justin Bieber, P!nk, Monsta X and many others across the platform generating over 76 million views and over 5 billion views of #musiclive across TikTok in the first quarter of 2021. The event will be live-streamed globally across 2 days on 6 PM PDT August 27th / 10 AM KST August 28th and 8 PM PDT August 28th / 12 PM KST August 29th. Tickets are available on the LivexLive website for $15 for each day and you can purchase it by clicking here.  
Considering the fact that this festival is in partnership with Digisonic, it is going to bring the most immersive audio experience with their 360º 3D ultra-realistic stereo sound technology and viewers will be able to hear their favorite artists vividly as if they are right there next to them, creating an experience almost equal to attending a normal concert while enjoying even more immersive elements throughout.  
This year's festival is operated by Kreaon in partnership with SBS, and will be hosted by Alexa and San E and include performances by many artists during two days. 
DAY 1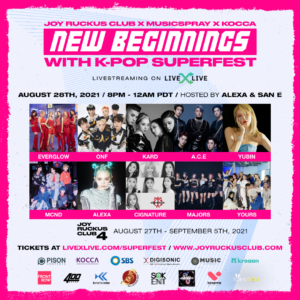 pH-1, San-E and BE'O, DONGKIZ, Kaachi, Kim Se-Hwang, Sway D, Choi Ye Geun, W24, Woo Jee Won, Band Famous.
Day 2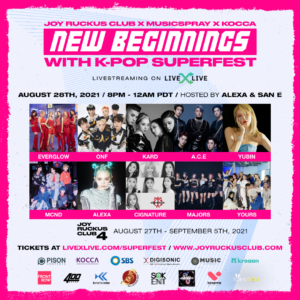 Everglow, ONF, KARD, A.C.E, Yubin, MCND, AleXa, Cignature, MAJORS and YOURS.
KARD will perform as a group of 3 as J.Seph is in military service.
Besides this, Joy Ruckus and all its partners also have other amazing stages like the Asian Hiphop, DJ Stage etc.  The Joy Ruckus Club 4 festival will be the largest Joy Ruckus Club festival yet spanning for 10 days, with 14 stages across the world, and 250 performers of Asian descent. Get to know all about it by following their socials. 
Instagram | Website | Facebook | Twitter | YouTube
The last festival organised by them was definitely an enjoyable experience and we know for sure it is going to be amazing this time as well, so do join us at the festival!
K-POP SUPERFEST Presented by Sessions and Joy Ruckus Club was Top Notch & Here's Why