A.C.E is a 5-member Korean boy group comprising of Jun, Wow, Kim Byeongkwan, Chan, and Donghun. They debuted in 2017 with their digital single 'Cactus' under 'Beat Interactive' and is co-managed by Swings Entertainment. 
The group recently made a comeback with their second repackaged album 'Changer: Dear Eris' on September 2. The album consists of nine tracks, with 'Changer' as its title song. Shortly after the unveiling of this album, member Wow officially announced his mandatory enlistment which began on September 10. Member Donghun later announced that he will also be enlisting on  September 23. Days before 2 of their members enlists, we spoke to the quintet about their journey, music, fandom, mental health, India and more. As we begin the interview, A.C.E introduces themselves and their album, "Namaste! Set to be a hero. We are A.C.E! Hi, all readers of Namaste Hallyu! We came back with a new album, 'CHANGER: Dear. Eris'." A.C.E stands for 'Adventure Calling Emotions' and they desire to create emotions that inspire motivation in the hearts of their fans, so that they get hope and courage to work towards making their dreams come true. Living up to their name 'Adventure Calling Emotions,' all their comebacks establish energetic and lively music and dance styles. The members shared how they keep up with this zeal as they reveal, "CHOICE is our life's motivation. Yes, A.C.E's choreography is 'Not Easy', but when we recall CHOICE, we get energized when we recall them."
(If this isn't Jun saying, "Not Easy"!)
The quintet released their fifth mini album, SIREN:DAWN on June this year and is back with their second upcoming repackage album, 'Changer : Dear Eris.'.  While the MV of their previous title track, 'Higher' showcases theatrical mermen concepts and dance, 'Changer' saw the members having fun in the MV with vibrant and joyous vibe. The members spoke about the kind of impact they wanted to leave on their fans and further explained the concept and story they wanted to convey,  "'Higher' portrays the love that doesn't come true. We wanted to tell the mermaid's love story and dream via A.C.E eyes. There is something we all long for and admire and we wanted to talk about that feeling with the fans. With 'Changer', we wanted to convey hope and positivity through this song. This album is a love letter for CHOICE with the heart of A.C.E."
A.C.E Are The CHANGER In Their Latest Comeback
For A.C.E it all began during their busking days, where they gained a lot of popularity as they covered a lot of popular songs of other celebrated artists. The times have however changed now, and we were thus curious to know how does it feel to have their own songs hitting charts in several countries and seeing fans covering their songs, A.C.E confesses that it is still fascinating to them and adds, "It's amazing. It makes us feel good to see someone covering our music."  It has been more than 4 years in the industry for A.C.E and although this might have been a rollercoaster ride for them, they have received so much love and affection from all over the world. The members look back and share what they have learned and how they have evolved as an artist as they share,  "We were young when we first started. We didn't know at the time, but as we look back, we are very grateful for everything. Through the uncertainties and anxieties, we had many valuable experiences. We believe this will be a great driving force in living our whole life as artists and this is very special."
The members then spoke about the kind of impression they wish to leave on their fans as artists and what they would like their fans to take away from their songs, "It would be nice to stay as an artist who makes the fans happy and inspired. We want to give them positive energy. For those who are struggling, we'd like to say you can do it because we did it." A.C.E further reveals their short and long run-goals that they wish to achieve as a team, "The short-term goal for us, is to complete the enlistment of all the five members in good health and the long-term goal is to come back and have a world tour with A.C.E.'s full-length album." As of September 2021, the quintet have dropped 2 repackaged albums, 4 mini-albums, 2 single albums, multiple singles, collaborations, OSTS, but among all the tracks that they have released so far, A.C.E shares the song that the members relate to the most, "We relate to the track 'Stand by you' the most because this song represents our hearts." They also picked the song that they would choose to introduce someone new to A.C.E, "'Undercover' will be our choice when we introduce ourselves as this song has everything about A.C.E."
The year maybe slow for everyone else but for A.C.E it has been a fast moving and active year with collaborations, album releases etc and the members shared what their normal day looks like and the things that they like to do, "Recently, because of some irregular schedules that we have had, we have been waking up a little late as we go to bed late. But during the pandemic, we found as many things that we could do at home and we have also been listening to a lots of songs and watching many movies." With the pandemic going on, things have been difficult for everyone, including A.C.E, the members thus opened up about how they have been keeping themselves motivated, "Since we are fragile to depression, especially these days, A.C.E members, the family of Beat Interactive, and fans, all cheer and motivate each other."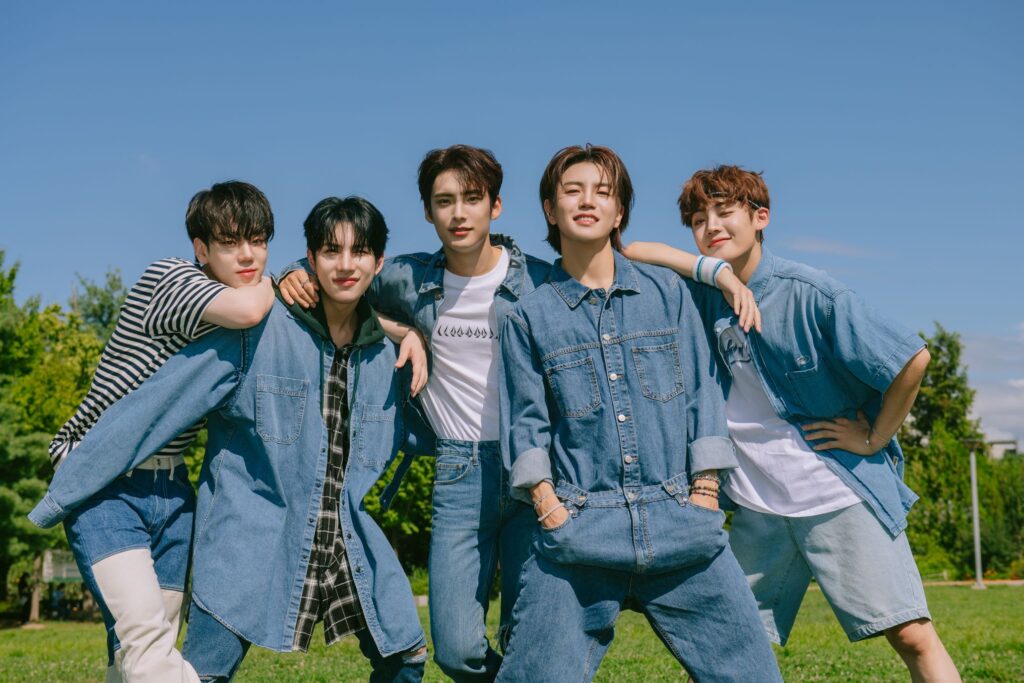 A.C.E is making waves across the world and they even collaborated with Steve Aoki earlier this year for 'Fav Boyz' featuring Thutmose, which gained a lot of attention and broke the charts. The members reminisced and spoke about the collaboration, their first reactions and the experience, "We were surprised that there were many dance music fans all over the world. Also, we realized that not only our fans but also our general listeners listened to 'Fav Boyz' a lot. It was truly a blessing that the album charted 12th on the Billboard Dance/Electronic chart. We couldn't believe the chart action because we were the 4th K-POP group that made it to the chart after BTS, Blackpink, and Monsta X. In the process of producing the track, we learned why Steve Aoki was a world star and a top professional. We look up to him not only because of his creativity but also, for his work ethic.  During the course of our collaboration we realized that he loves Pokemon as he named his remix version as 'Gold Star Remix', the name for which came from the rare 'Gold Star Pokemon card'! It would have been great if we could have filmed the music video together, but we had to film it separately."
Although the members of A.C.E are filled with various talents, they shared the quality that they would like to inherit from each other.Donghun picked Byeongkwan's dancing ability and while, WOW picked Chan's energy, Chan wanted to inherit Jun's leadership quality. Jun meanwhile said he wished he had WOW's Charms and Byeongkwan picked Donghun's vocal range as something he wish he could inherit. Apart from their dancing and singing skills, all the members have also played cameo roles in dramas, displaying great acting skills. While talking about future plans and whether they would be pursuing a career in acting as well, A.C.E members surprised us as they shared, "We are challenging various works. Some of the members go to audition for acting regularly.  It's too early to reveal the name of the drama now, but one of the members finished filming the drama as the main cast. So please look forward to it." This news may surprise their fans as they eagerly await to know more details but this is not all as A.C.E has more things in store. Fans are aware that two of the A.C.E members are enlisting this month, however, WOW and Donghun assures their fandom that, they will be seeing more of them even when they are serving, as they reveal,  "We are filming content day by day and working on surprising gifts for CHOICE. Unfortunately, we will be away for a while, but the gifts are coming soon." 
With the pandemic, it has been difficult to tour but online concerts have become the new 'it' and A.C.E recently performed at the KPOP SUPERFEST and had their 'Dear. Fan Meeting' as well. The members shared their thought on it, "We finished the concert 'Dear. Fan Meeting' just the previous weekend. There were new performances from the new album 'Changer'. We are grateful to meet our fans this way considering the given situation, but real concerts cannot be compared to online concerts, as we used to share passions and energies together with our fans. However, safety and health come first for everyone and we hope to see you all soon!"
For A.C.E, India is not a new country and they share that Bollywood! Taj Mahal, Curry, Naan and even Indian- American DJ KSHMR are some of the things that reminds them of India. The love between A.C.E and their fandom has always been known and the group once again made sure to let their Indian CHOICE know that, they are always remembered as they sent a special message, "We love Indian Choice and we hope to see you all soon!"
Connect with us on Instagram Twitter YouTube for more content, interviews & news.