MCND is a five-member boy group whose name is an acronym for 'Music Creates New Dream.' The group signed under TOP Media consists of five members – Castle J, BIC, Minjae, Huijun, and Win.
The rookie boy group released a pre-debut single 'TOP GANG' on January 2, 2020, before debuting on February 27, 2020, with the song 'Ice Age.' MCND gathered a lot of attention in the K-POP community with 'Ice Age' which is a hip-hop. It currently has over 27 Million views.
MCND's previous comebacks have charted on iTunes in more than 25 countries and have also entered the Billboard World Digital Song Sales and the Amazon Charts. Thus, their latest comeback was highly anticipated.  On August 31, the group released their third mini-album, 'The Earth: Secret Mission Chapter. 1.' The MV for the title track 'Movin' was released on the same day and shows the members as average students who have come down to Earth to complete a secret mission and pursue their dream of performing on stage in front of their fans. Two hours before the official release of the album, MCND  performed and interacted with their fans through an online showcase.
Their title track, 'Movin' is a hip hop dance track with trap beats and the MV has over 9 Million views across platforms. MCND explains that 'The Earth: Secret Mission Chapter. 1' album has two versions – "Light Emitting" (UR) and "Luminous Light" (REASON)." The "UR" version shows MCND finding and solving hidden missions on Earth to meet their fans in person while the "REASON" version shows the members enjoying with their fans after completing the hidden mission.
MCND proved that they are here to make a mark on the industry. On the day of their comeback, #MCND Secret Mission ranked #1 on Hanteo Realtime. 'Movin' charted at No. 1 in countries like Colombia and in other numbers in Sweden and also entered the US iTunes Top 100 K-Pop Songs along with their all English track, 'Reason.' Their album also charted in countries like Thailand, Philippines, Russia & More and entered the  US iTunes Top 100 K-Pop Albums and Worldwide iTunes Album Chart. It is also currently one of the most viewed K-POP videos on YouTube in the past few days.  As per Hanteo Charts, with this album, MCND has achieved their careers best as they recorded over 24,000 copies in their first week of release and also placed 5th among other artists who released their songs in the same week.
'THE EARTH: SECRET MISSION Chapter. 1' is their first comeback after their first anniversary and opens up a new trilogy. MCND shared their feelings on it and the message that they would like to deliver to their fans,  "THE EARTH: SECRET MISSION Chapter. 1′ is an album that contains our wish and message of wanting to complete secret missions hidden around the world with GEMs, and to meet & harmonise with them on stage. Even though we cannot meet due to the ongoing frustrating and difficult situation, we live with dreams and hopes and we want to convey the message that 'We will meet for sure' and we hope to meet with dreams & hopes, and in good health." The members further shared that as compared to their previous albums, the vocal line of the group worked harder as there were a lot of high notes in the songs and the rappers also has more parts in this new album.
Their new album has 6 tracks on it and the members shared which track they would recommend to their fans. BIC, Minjae, and Huijun, recommends their second track, 'Cat Waltz.' BIC explains that he likes this track as he usually enjoys cheerful music similar to it. Minjae adds on that, he recommends this track as it is also the fan song in this album, and further adds, "I have more parts so I'm more attached to it, and I think, the more I listen to it, it sounds good." For Huijun, he thinks that this is a really good track as it is a song that he has been wanting to do ever since the 'EARTH AGE' album. Win has a different recommendation for the fans as he says, "My favorite song in the album is 'Play Pungak.' I think it's the most exciting/upbeat and fun song." Castle J agrees with it and adds on that apart from 'Play Pungak' he also likes the title track 'Movin' and further explains,  "The harmony and excitement of the Gugak (Korean traditional music) and Hip Hop in 'Play Pungak' is really nice, and I like 'Movin' because it's cool."
MCND also likes to participate in the album and for this comeback, the rapper line of MCND – Castle J, BIC, and Win participated in writing the lyrics for 'Cat Waltz.' Castle J is additionally credited for the title track, 'Movin.' The leader of the group shared the inspiration and creative process behind 'Cat Waltz', "You can feel the liveliness of the song if you pay attention to the witty lyrics as it talks about MCND playing hide-and-seek with GEMs. Keeping in mind the overall concept of the album, we paid attention while writing the lyrics so that it could deliver the message that we wanted." 
With this album, MCND also surprised their fans with a full English track 'Reason' which was released as a trailer to their EP and the members spoke about their experience and thoughts behind it,  "This song is the first song that we performed in English. As the title suggest, it literally means 'the reason to meet you' and expresses our wish to harmonise with our fans on stage. We've worked on this song ever since the promotions of the last album's follow-up song 'Not Over'. It's a song that we practiced really hard so that we could meet the fans in person and perform it once the COVID-19 situation improves. However, since it will take longer to meet fans on stage, we decided to release it first as a trailer video for our EP. We are very happy and proud that so many people liked it."
It hasn't been long since MCND debuted but when they look back to their trainee days and compare it now, they individually share what has changed the most and how their coordination as a team has improved since debut.  BIC and Minjae shares that they have gotten a little more relaxed on stage and their expressions and gestures have improved. Huijun adds, "I think we can say what we want a little more. Performance wise, we've grown and I think we're more in sync." Castle J agrees to it as he says,  "I definitely think we have all grown in aspects such as music, personality and skills. I think I understand the members more and our teamwork has improved a lot." Win further adds that the team has definitely gotten closer, and they have tried to incorporate more of MCND's colour in their performances and music.
The concept of their new album is "SECRET MISSION" and MCND shared their personal mission for the year, "In 2021, MCND's mission and goal is to make more people familiar with the group, and make more people listen to our music." MCND is definitely moving towards this mission as although the year maybe slow for many but for MCND, this is their second comeback in 2021 and we were thus curious to know how do they stay motivated and creative even during these tough times and what is a normal day for MCND.
CASTLE J: "I think we all refresh each other. The members are my driving force and of course, that goes without says about GEMS also. I spend most of my time practising. When I'm resting, I take a shower and I feel the happiest when I roll on the bed while lying down and using my phone."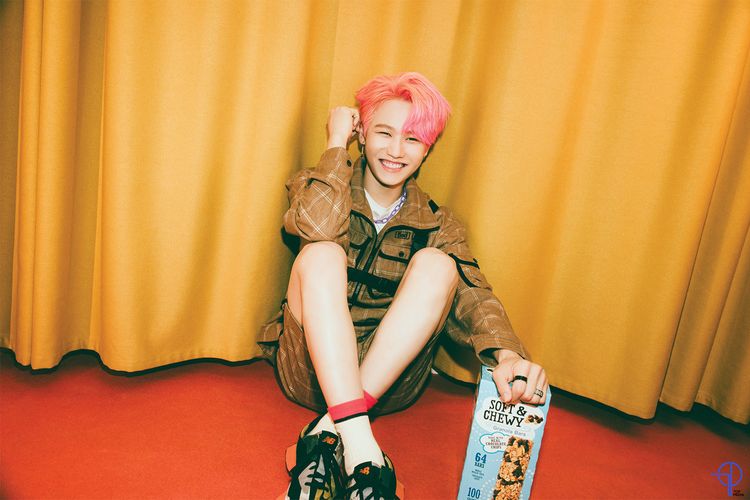 MINJAE: "After I wake up, I take a shower and eat, go to the company for practice, have dinner and again go for practice. After coming back to the dorms, I rest while using my phone or enjoy my hobby before retiring to bed. This is my daily life these days."
BIC: "I feel it is because we talk a lot with the company and  also amongst members. When I have rest time, I visit my hometown and meet my parents, sleep until late and also, meet my friends."
HUIJUN: "I do not think there is even one day when we don't laugh. I like it because that means we are happy and we depend on each other. During my free time, I either play my favourite game or watch dramas."
WIN: "I think our creativity comes from the will to show something new. The driving force is…I think it's my way to just try my best and work hard. Also, most of MCND's normal day consists of practice time."
MCND boost a lot of powerful tracks like 'KO, OK!', 'Bumpin', and 'Player' that boost fans with energy and confidence and many other tracks as well, but if MCND were to introduce new fans with one song, Castle J, BIC, and Win unanimously agrees that it would be 'Outro; MCND' as it is the most suitable song that represents them and it is like a cover letter introducing MCND. Castle J additionally wants to recommend  'Top Gang' as well, as these songs are like a self introduction to their group. Minjae and Huijun both recommend 'Cat Waltz' once again as it is the fan song in the album and it has a fun and upbeat melody. Huijun then adds on that that he wants to additionally recommend, 'Spring' and 'Beautiful' as well.
It hasn't been long since MCND debuted but TOP Media's rookie group have been gaining fans across the world and the members shared about the first thing they would like to do once the pandemic is over and further spoke about what has been the hardest thing during this period, "What we want to do the most is to meet our fans through a concert. Not being able to meet our fans in person is the most difficult and regretful part." With the pandemic going on, it has definitely been difficult to meet fans in person but MCND has been doing their best to meet their fans online and they recently performed at the K-POP Superfest along with other seniors and rookies alike and shared their thought on it, "Even though it's a pity that we cannot perform and show in front of our fans due to the COVID-19 situation, we're happy that we can greet everyone online and showcase the performance that we worked hard on."
It is the comeback period and MCND is working hard for their stages but before they leave, they take their time to share their special message for their Indian fans and NH readers, "Wherever we are, we remember our GEMs the most. Both our current fans and those who will be our fans, thank you so much for having an interest in MCND and watching over us. We're going to have a very cool and fun promotion period for our 3rd mini album [THE EARTH; SECRET MISSION Chapter. 1], so please enjoy with MCND~ Thank You."
Connect with us on Instagram  Twitter   YouTube for more content, interviews & news.