K-Pop Idols That Are Back And Active After Their Enlistment
Posted by : Contributory Writer
Last updated on December 19th, 2020 at 04:11 pm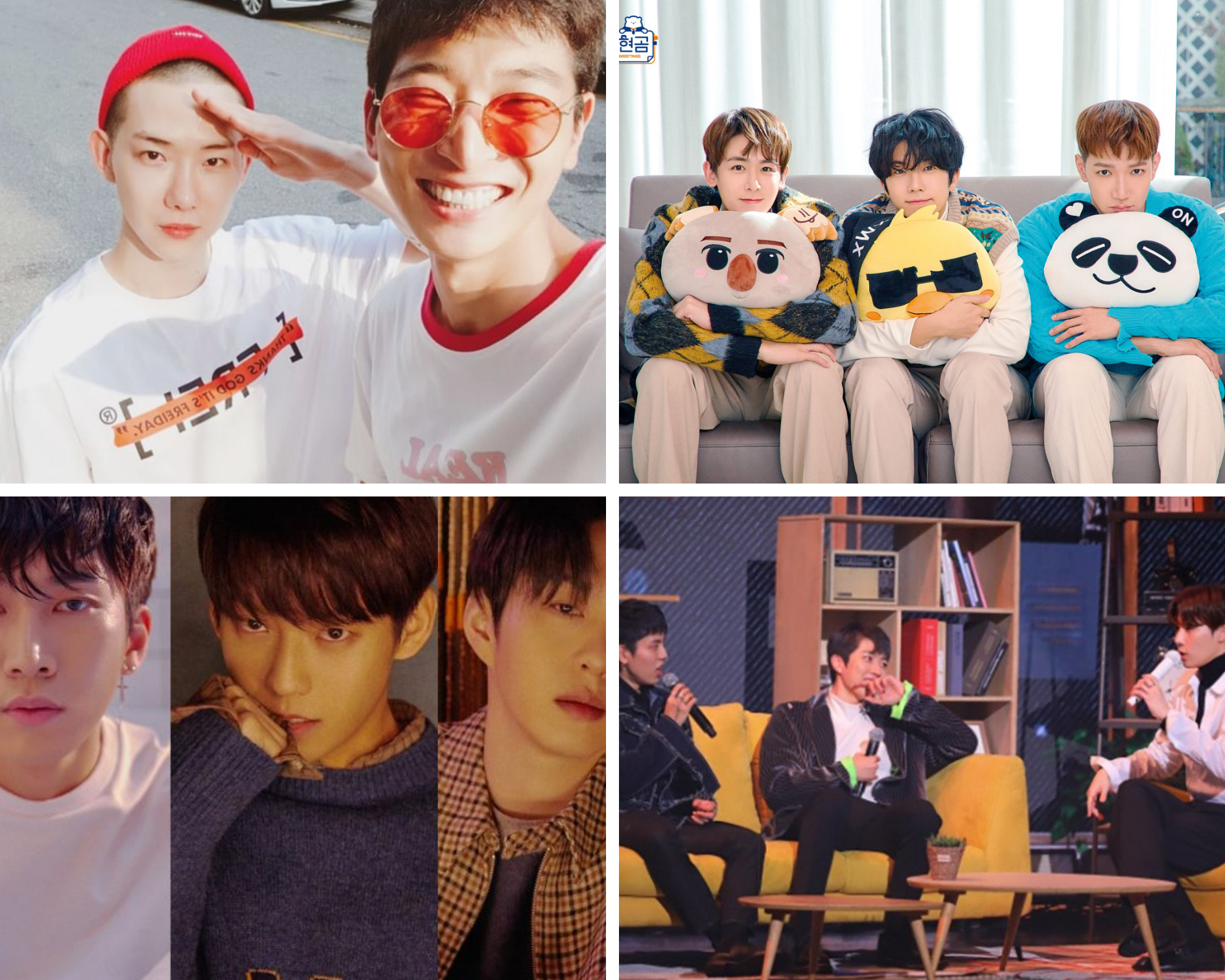 Look out K-Pop stans, because 2021 is going to be the comeback year for our favorite 2nd generation boy groups. Military service is a phase which all of us are well aware of and we are always dreading for it to arrive. However, at the end of the dark tunnel, the day finally arrives when we get to see our idols active again doing what they and we love. In 2020, several members from groups like Infinite, 2PM, SHINee and BTOB are being discharged from their military service and it has been truly a good year for us.
2PM: Jun. K and Wooyoung 
Most Indians and South-East Asian countries first heard about 2PM way back in 2010. During this year, the popular 2nd generation JYP boy group had released the song, Fly to Seoul: Boom Boom Boom to promote South Korea's tourism. Most of us will certainly remember 2PM suddenly popping up on our TVs during the ads on Star World and charming us with their "Boom Boom Boom." 
Since the last few years, we've seen our other favorites cover iconic 2PM songs like Again And Again, Heartbeat and My House at year end award shows. We have not really got much new content from the 6 original 'wild idols' since they started enlisting in 2017. But don't worry, we have good news! 
Main vocal Jun. K was the second member to be discharged from the military services after Taecyeon on January 2, 2020. Later, when Wooyoung graced us with his V Live announcing his discharge in February, Jun. K and Nichkhun actually surprised him with a cake. Wooyoung's comeback was done with a bit more fanfare later while making a guest appearance on the variety show, Knowing Bros. Nichkhun even hinted at a 2PM comeback during an interview, which left the fans in a tizzy. 
Wooyoung, Jun. K and Nichkhun's newest show, 'TaeYangHyunGom' is being broadcasted on YouTube since June. The trio have been making up for their absence with games, MBTI tests and vacations. Keep a lookout for their 2021 Season's Greetings which is based on the theme of their show.
We even got a pleasant surprise when Taecyeon showed up during one of the special episodes. Fans had been curious if the rapper was going to remain in the group since he had left JYP, but they were assuaged with his appearance.
The group as a whole hasn't had a comeback since 2016 with Promise (I'll be), though the members have been busy, individually. 2PM fans aka 'Hottests' have been starved for so long that we are actually grateful for any kind of interaction with our faves. But not anymore! 
Infinite: Sunggyu, Sungyeol and Dongwoo
Guess what, we're finally getting half of Infinite back! The 6 member boy group's fans were left in a drought with 4 of the members almost enlisting back to back. But thankfully they did have a comeback with the pop ballad, Clock in 2019 after their leader enlisted in 2018.
Looks like 'Inspirits' don't have to wait for too long, because we are finally getting 3 members back in action. Sunggyu, the oldest and the leader of the group, was discharged on January 8, 2020 and was present to celebrate the group's 10th anniversary in June. The idol was pretty active during his enlistment too, taking part in 2 musicals – Shin Heung Military Academy and Return: The Promised Day along with his member, Sungyeol.
Everyone's favorite part-time MC and underrated vocalist, Sungyeol was the second member to enlist. But we somehow saw more of him during his time in the army (Woolim take notes!). Fans were actually surprised to see him replying to almost every fanmail that he received during his enlistment. He was pretty active on SNS too, as seen from his 10th anniversary picture on Instagram.
Thank goodness for the new policies due to which Sungyeol got to leave much earlier than expected – October 5th! While poor Sunggyu was alone during the V Live that announced his discharge, he accompanied Sungyeol for his grand comeback. Both reminisced about their time in the army and how Sungyeol was annoyed that his 'hyung' got to leave before him.
Along with the two, Dongwoo is also finally back. And what timing! The main rapper was discharged on November 15, a day before Sunggyu's online solo concert. He and Sungyeol got to surprise their leader, where Sunggyu even premiered his newest song, Room. Well, we can't wait for the trio to surprise us with more appearances (maybe as a unit) while they wait for the remaining members to come back from their military service.
2AM: Jo Kwon and Jinwoon
Remember 2AM's leader, Jo Kwon who rocked the stage with his gender bending aesthetics right before he enlisted? Well, he's back with a bang. The idol was discharged on March 24, 2020 and he celebrated his return just as we expected. Jo Kwon did the #fliptheswitchchallenge where he switched clothes with his friend, former JYP trainee Gina Maeng. Since then, the eccentric idol has been busy on variety shows and musicals. 
Having shown off his skills of dancing smoothly with high heels, Jo Kwon was offered a part in the musical Jamie along with Astro's MJ, NU'EST's Ren and Shin Joo Hyup. But don't worry, his career as a singer is not on hold. His upcoming duet with Sunye of the former girl group, Wonder Girls was recently announced.
For a group that's pretty inactive, 2AM's members are trending a lot nowadays. That's partly because the group's maknae, Jinwoon too is back from his military service. The singer turned actor was the last to enlist from his group but he's finally been discharged. Surprisingly he came back on the same date as SHINee's Key and VIXX's N, i.e., October 7.
What's more, he's actually hinted at a much needed reunion of his group. I AM's have been waiting for 5 whole years for some news about 2AM's comeback and we finally got it! In an interview with Star1, Jinwoon mentioned, "We grew to understand each other better, and now we want to make music together again soon." Hopefully it's sooner rather than later.
BTOB: Eunkwang, Changsub and Minhyuk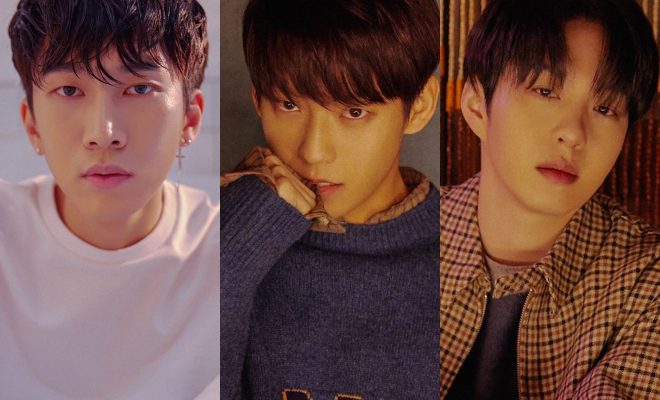 Looks like 3 BTOB members are back from their service right in time to see the remaining South Korean members enlist. Peniel, who's an American, is exempted from the mandatory service. Eunkwang, the leader of the group was the first to enlist and hence the first to come back on April 7, 2020. 
A couple of months later, Changsub and Minhyuk were discharged on August 21 and September 12 respectively. The Tom to Sungjae's Jerry, Changsub was pretty busy in the military, taking part in a military song along with Infinite's Sunggyu, 2AM's Jo Kwon and Jinwoon, SHINee's Key and EXO's Xiumin among others. 
In the meantime, Minhyuk's comeback announcement was full of chaos. The duality king was hilariously mistaken for MONSTA X's Minhyuk by a news agency while trying to announce the BTOB member's comeback date and the group took it upon themselves to troll the agency.
The members have currently debuted as a new subunit called BTOB 4U. Just 2 months after Minhyuk's discharge, the 4 active members are back with the mini album, Inside. Melodies showed their gratitude by helping the comeback with their 1st win on 'The Show'. Be sure to stream the moombahton title track, Show Your Love!
From SHINee finally getting together and all of Highlight's members finishing their military service, watch out for this space to see which of our favs are coming back from their enlistment next. 
Written by Lopa Jena Kaul
Tags: 2AM, 2PM, Big Hit Entertainment, BTOB, changsub, Cube Entertainment, Dongwoo, Eunkwang, exo, HIGHLIGHT, INFINITE, Jinwoon, jokwon, Jun.K, JYP Entertainment, Minhyuk, Nichkhun, Peniel, SHINee, Sunggyu, Sungyeol, Sunye, Taecyeon, Wonder Girls, Woolim Entertainment, Wooyoung, xiumin
2 Responses to "K-Pop Idols That Are Back And Active After Their Enlistment"