2020 has been a year of staying home and for the K-Drama and K-Pop fans, it became a little easier to follow that as we got a lot of new and interesting Korean content from time to time to keep ourselves entertained without going out of our homes and we are loving it !
In recent times , the 'Hallyu Wave' has been spreading all over the globe at a never seen before speed! Even in a country like India, where the home grown film industry occupies the heart of the Indians, K-Dramas have been trending on Netflix as well.
K-Dramas and K-POP have become an intrinsic part of the lives of millions of people but the 'Hallyu Wave' is a much broader and bigger phenomenon than just K-Dramas and K-POP . It brings with it a whole new world of Korean Culture , Korean Lifestyle , Food , Traditions and anything and everything Korean!
The food culture in Korea is also extremely vast and diverse, bringing the consumer with a wide variety of lip-smacking delicacies. From pure traditional to street style modern form snacks, from wide varieties of Seafoods , Soups , Stews , Meat dishes to hundreds of different types of Desserts. The deeper you dive in , the better and bigger your options get. As people usually get more interested in learning about Korean culture and lifestyle after getting into K-Dramas and K-Pop, we though what can be a better and an easier way to start learning more about K-Culture, than by K-Dramas themselves ?
So , we've made a beginners guide for all the K-Drama fanatics , foodies and everyone interested in learning more about Korean food culture to get to know a little bit more about common Korean dishes. We present to you with the list of 5 Korean dishes commonly featured in K-dramas. Get ready for some serious food cravings to hit in by the end of this article!
KIMCHI :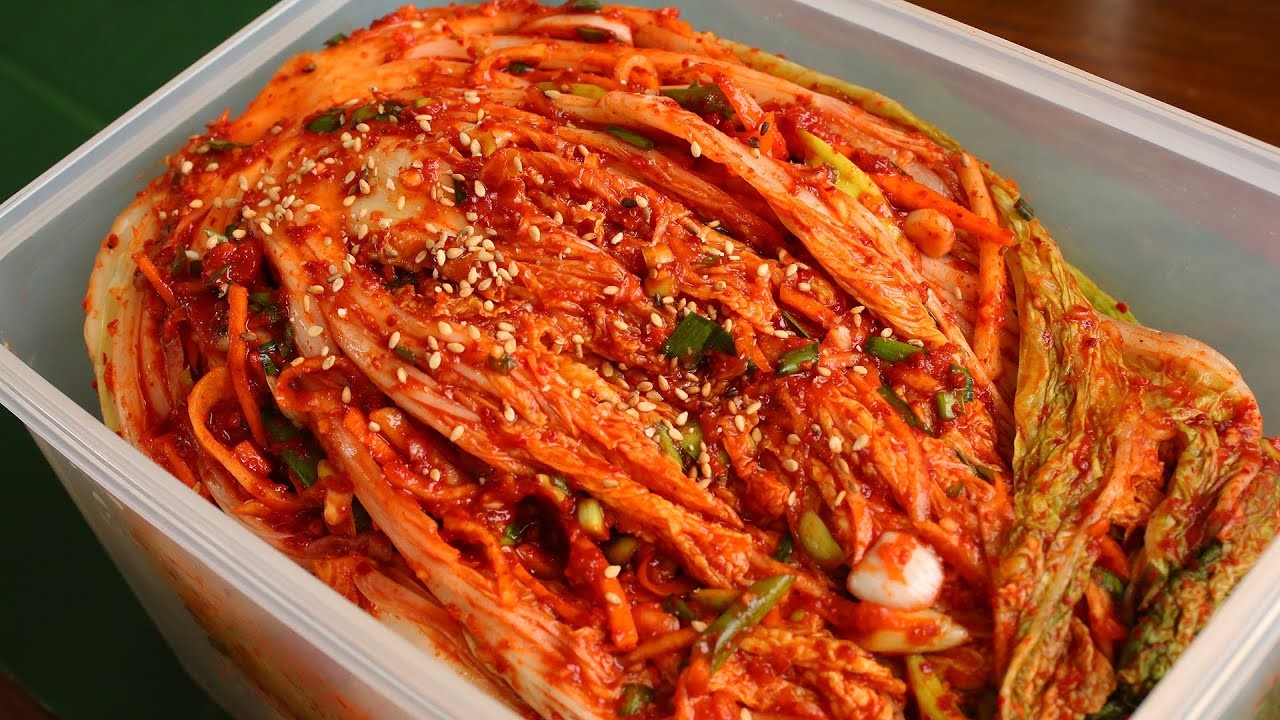 Source : maangchi.com
There's no K-Drama without Kimchi because Kimchi takes up a major part of the lives of Koreans. An average Korean is said to consume almost 22 kg of Kimchi annually, according to The Korea Magazine.
It is a side dish made up of salted and fermented vegetables. But the Korean traditional Kimchi is mostly made by fermenting salted Napa Cabbage in Gochugaru ( Red chilly pepper flakes ) seasoning and based on personal preferences and taste, it can range from different types and styles making it a multi-version dish. Some of them are Radish Kimchi , Vegan Kimchi , Cucumber Kimchi and many more. As it is fermented, Kimchi does have a strong smell.
Kimchi can also be used to make different kind of dishes like Kimchi Jjigae ( Kimchi Stew ) , Kimchi Pancake , Kimchi Fried Rice to name a few. Overall , It can go well with anything and everything, be it as a side dish or a main dish.
RAMYEON:
Source : tumblr.com
Ramyeon in particular is something that can't be missed out in a K-Drama. These Korean style instant noodles are easily available in almost all of the Korean convenience stores and make a good choice for inexpensive yet delicious late night snacks. It comes in different flavors but most has a distinct and spicy touch to it. It is usually made by adding Gochujang (Fermented paste of Chilly flakes , Soybean and Rice), Gochugaru (Korean Chilly Flakes) and sometimes Doenjang (Fermented Soybean paste) in the noodles and then add whatever you want like egg , kimchi ,chicken, cheese , seafood or anything as per your taste and preference and your Korean style instant noodles are now ready to eat ! Easy to make but extra tasty ! Ramyeon generally comes in cup style packaging or in rectangular packet.
What is your version of Ramyeon? Do tag us and share with us!
TRIANGULAR KIMBAP OR SAMGAK KIMBAP :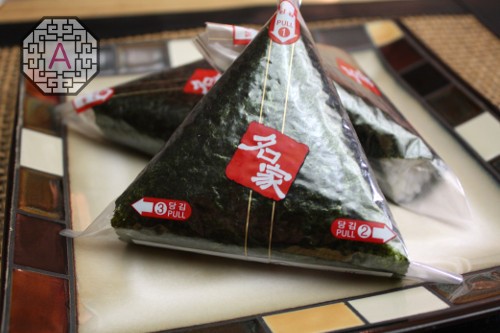 Source : aeriskitchen.com
Another very famous and very common convenience store food seen in K-Dramas is the Samgak Kimbap. It is mainly triangle shaped rice filling wrapped in seaweed sheet. In addition to Rice filling , it also contains Tuna filling , Garlic , Black Pepper, Hot Pepper paste , Kimchi , Sesame oil , Sesame seeds , Soy sauce , Vinegar , Sugar etc. It is a dry, crispy and non- spicy snack which is relatively cheap and easily available.
Since it comes in a triangular shaped plastic packaging, even if you're busy and can't sit and eat, this can be eaten while on the move. Have you tried this version of Kimbap yet?
TTEOKBOKKI :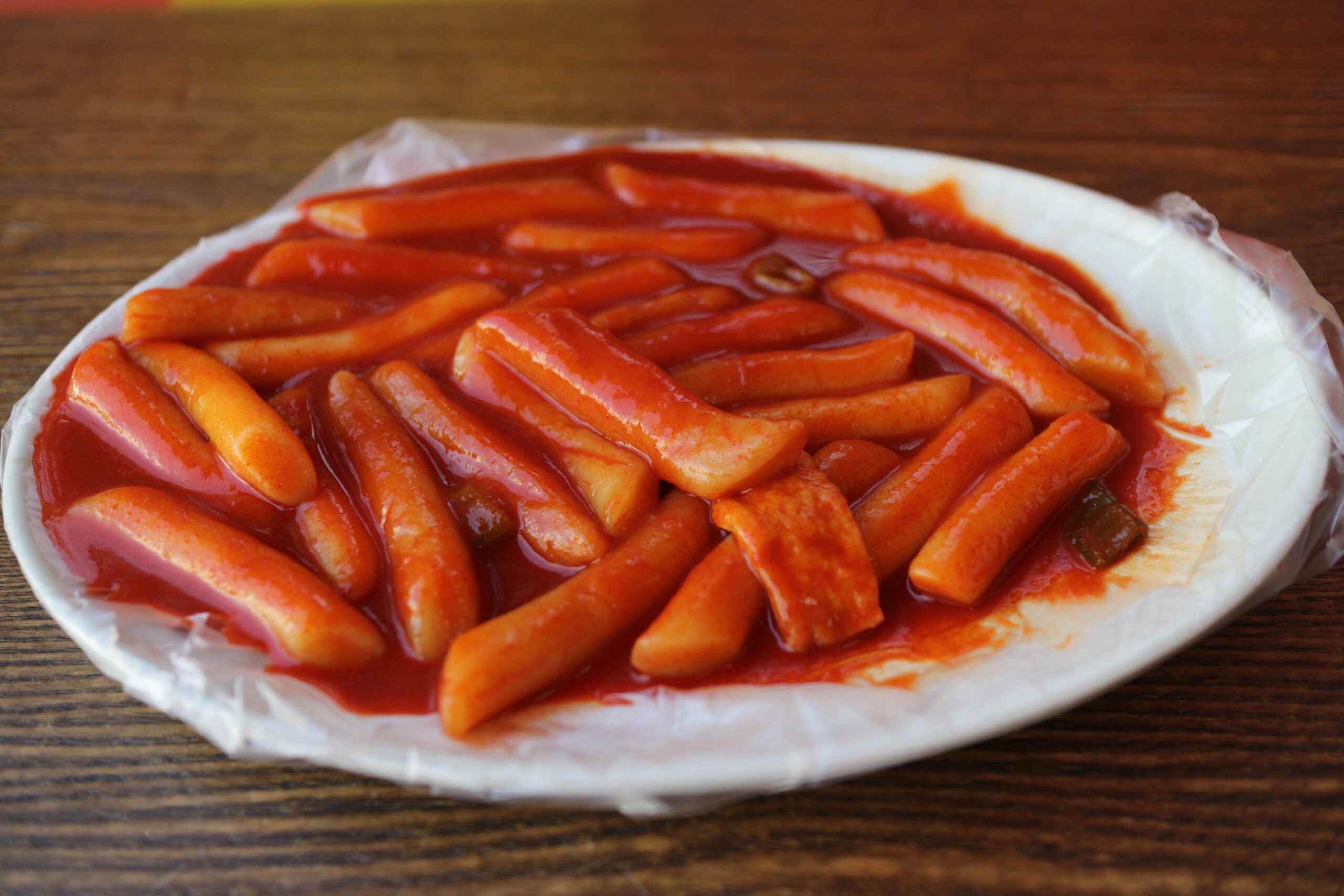 Source : wikipedia.com
When it comes to street food , Tteokbokki can never be left out from K-Dramas. In a lot of K-Dramas the 'Rich male lead' tries street food with the female lead for the first time and then , they are shown eating Tteokbokki ! And of course, the male lead is found falling for its taste because why not!
One of the most popular street foods in Korea, Tteokbokki is stir fried Rice cake covered in spicy chilly sauce. It is a soft , sweet and spicy snack consisting of Korean Rice cakes , Korean Fish cakes , Korean Soup stock and Tteokbokki sauce as the main ingredients.
One can never get bored of it because it comes in multiple variations like spicy Tteokbokki , non-spicy Tteokbokki, Soy sauce Tteokbokki, Tteokbokki with Ramyeon and many more.
JJAJANGMYEON :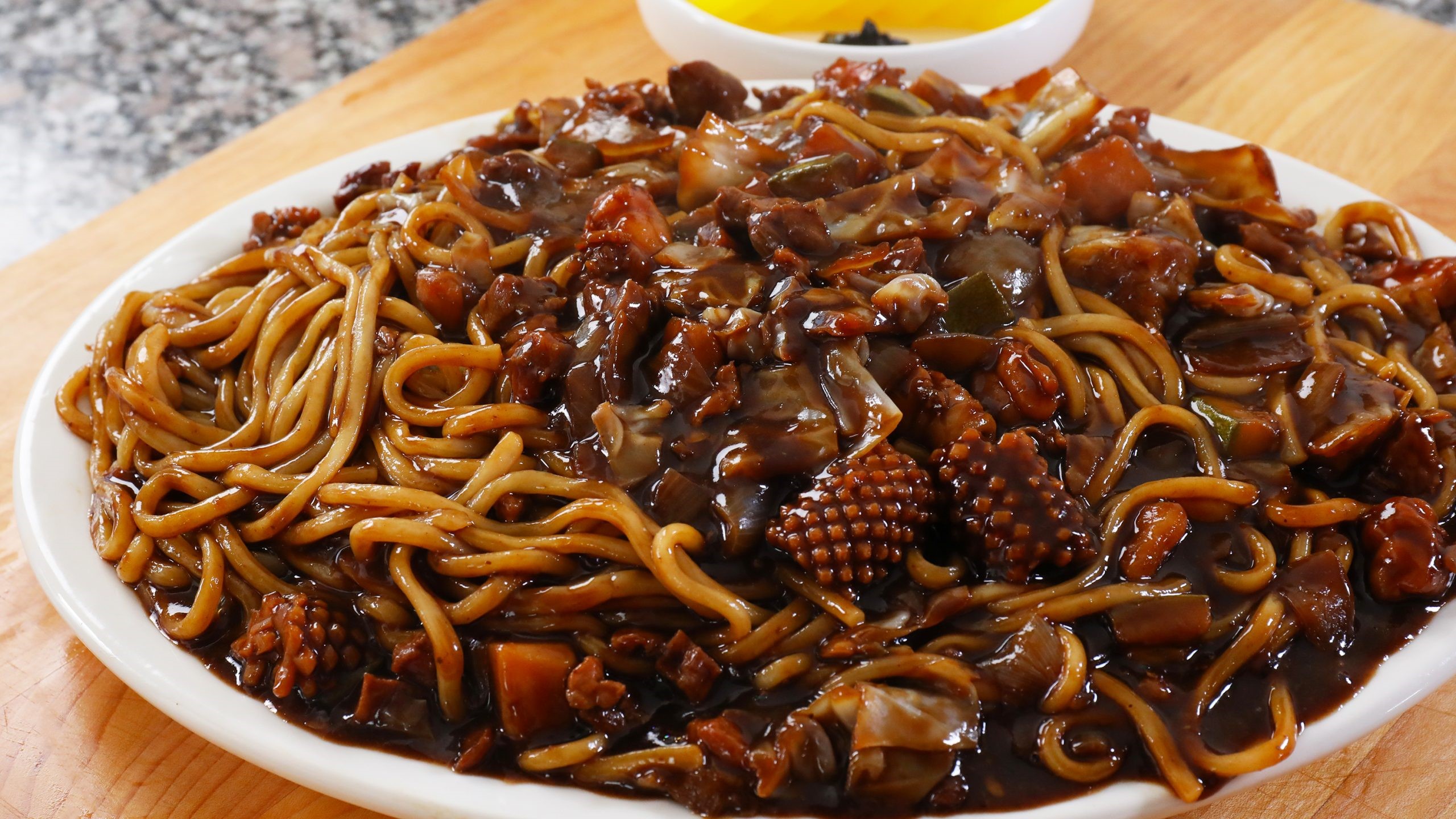 Source : maangchi.com
We now know about popular street food but when it comes to delivery food , Jjajangmyeon is the most commonly ordered/ home delivered food shown in K-Dramas !
This Chinese style Korean dish mainly contains Noodles in black bean sauce with vegetables and diced pork. It is a great choice for lunch or dinner.
The chewy noodles are cooked in a smooth and slightly sweet Chunjang ( Black bean paste ) which gives it a medium spicy to a mild sweet flavor with a rich and saucy texture. Now, toss in some vegetables, diced pork in it and your Jjajangmyeon is ready to eat ! Sounds easy but delicious, right ?
It can also be served with boiled egg or sliced cucumbers as well so, you can instantly add new flavors in it!
Have your food cravings started to hit in ? Mine started hitting in too while writing this article !
What's your pick ? Are there some dishes we missed out on ? If yes, Do let us know.