Sports giant Fila is back with its creative collaborative collection with South Korean boy band BTS. The 'Love Yourself Collection' comprises apparel, footwear, and accessories which feature artwork elements from the group's music videos. As the rumors circulated last year regarding the partnership between the two impacted a huge hit in the market across the world with a massive amount of interest and support by BTS fans. 
Fila said in a release. "We look forward to creating a meaningful synergy between two global brands." which makes BTS's genuine communication, passion, and positivity qualities perfect combination with Fila's energetic and unique personalities as  "One World, One Fila".Comprising of members Suga, RM, J Hope, Jin, V, Jung Kook, and Jimin, the K-pop band turned brand ambassadors for the sportswear and apparel brand last year and have been collaborating with them ever since.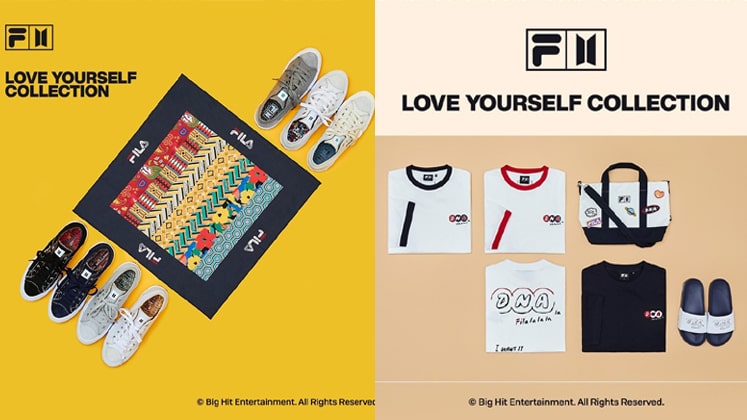 The 'Love Yourself' exclusive collection with  BTS was available for pre-order in India, from September 23-25, and will be available from the 15th of October. This collection is inspired by chart-busters- 'DNA' and 'Idol' and is a treat to all you BTS lovers.

"Love Yourself" collection highlights a dedicated icon which merges Fila's iconic 'F' logo with the BTS official logo, and each song of 'DNA' and 'IDOL' is embodied as a point symbol. Additionally, an official hologram seal will be put on every product of this collection, which approves that it is an officially licensed product related to BTS.
The collection is priced between Rs. 5199 and Rs. 7499 and will launch on 15th October. "Love Yourself"  collection will also be available for purchase via https://fila.fyndstore.co,www.SuperKicks.in,www.ajio.com and www.VegNonVeg.com.
Fila India also launched BTS "PARADISE COLLECTION" you can check them below.
"PARADISE COLLECTION" collection concept consists of colorful feel-good summer vibes. All members are dressed in colorful looking summer trendy.
Also, check out this cool unboxing video by our very own!

BTS became global ambassadors for Fila at the end of 2019. The band is the first-ever all-Korean pop act to top the Billboard 100 singles chart with their new English single "Dynamite".
The song "Dynamite" was a huge hit in India the views were massive within the first 24 hours of its release, India contributed a reported 8.6 million views to the total of 101.1 million, becoming the third-highest after Indonesia and the U.S.A.India ranked second-highest in the world to stream "Dynamite" on the first day of its release on Spotify.BTS Dynamite broke the record with 2.4 million local plays on Spotify.BTS "Dynamite" numbers were shocking as they are gaining a large following in the country compared to the past year's numbers with previous releases. Talking about the numbers India ranked 5th in the recent online concert of BTS
India army's and fan clubs (@BangtanINDIA,@mumbai_bts) efforts from local charities to streaming are getting recognition from BTS and BigHit Entertainment and it looks like, India has pretty good chances of getting India on their next tour list. Korean Cultural Centre India posted a farewell video for Director Kim, in that he quoted saying  India will be the first country that BTS will visit post corona and we anticipate it to happen. Until then, let's keep streaming and supporting.