The most anticipated K-Ind Festa is finally happening!
To commemorate the tenth anniversary of the Korean Cultural Centre in India, Rang de Korea: K-IND, the largest Korean cultural event, will be conducted in DLF Avenue Saket, New Delhi on October 15 and 16, 2022. Following the prolonged epidemic of the preceding two and a half years, the event is taking place. It will feature activities, advertising booths for Korean businesses with a Korean presence, and performances with Korean representation. The festival is open to everyone and is free as this festival is for commemorating Indo-Korean relations and the rising Korean wave in India.
Hwang Il Yong, the director of the Korean Cultural Centre India, in a statement to press shared, "We want to build an experience platform that will show how the seeds of Korean culture that we have planted in India over the last decade are blooming and what fruits they will bear in the future. The festival would be the living proof to display the soft power of Korea in India."
Here are some of the events that you will get to experience at the festival! 
Korean Performances:

Performance

 by K-tiger, Concerts by K-POP rookie groups BugAboo and Kingdom, as well as ID (Korean fusion band), would be held. On October 15, the opening ceremony for this event will include a performance by the world's top Taekwondo group, the K-Tigers. The group is known for its unique blend of K-Pop dancing and Taekwondo, which has helped them become a new Hallyu phenomenon throughout the world. Taekwondo, which is part of Korea's cultural history, will be used to offer a sense of the country.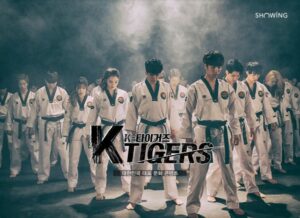 Kingdom- A rookie K-Pop boy group will perform in conjunction with the Hanbok Fashion Show on the second day. This seven-member group debuted in 2021 under the label of GF Entertainment and is known for its artistic dress sense and unusual group idea, which employs music videos and songs to portray the stories of historical monarchs throughout history.
Want to know more about them? Make sure you read our exclusive interview with the group!
EXCLUSIVE: Entering The KINGDOM As The K-POP Group Talks About Their Concept, Music, India & More
bugAboo-The 6-member rookie girl group bugAboo debuted in October 2021. The members, CHOYEON, EUNCHAE, YOONA, RAINIE, CYAN, and ZIN will perform at Rang De Korea on both days! 
ID( Korean Fusion Band)- This folk fusion band will perform in order to demonstrate the optimal blend of traditional Korean music and new sounds. The young musicians get inspiration for their own compositions and covers from traditional Korean music, but they also dabble with jazz and global pop.
2. Traditional Korean wedding ceremony event : A unique event that is set to take place is a traditional Korean wedding ceremony! A pre-wedding event will choose two couples with distinctive love stories, and on the festival days, their family and friends can witness their wedding. The event aims to symbolically illustrate the relationship between Korea and India as life partners while preserving the spirit of traditional Korean culture through a traditional Korean wedding ceremony with performances by Pungmulpae (a street musical band), samulnori (a percussion band), and haegeum (traditional instruments).
3. Hanbok Fashion Show: Samuel Chung, vice president of the Korean Culture Promotion Association, will be personally planning and leading the fashion show in India with the help of his designers and a top team from Korea. Chung has considerable expertise in major fashion capitals including Paris. At the Hanbok Fashion Show, which exquisitely embodies the dignified and graceful Korea, people will get the opportunity to learn more about traditional Korean apparel and discover its potential as a worldwide fashion trend.
  4. Korean Experience Events: The festival will also include a Hallyu flea market run voluntarily by Hallyu fans, a gallery where the Korean Cultural Center will display exhibits, a Korea Center to incorporate diverse Korea that the Korea Tourism Organization will run, and a lion serving as the festival's official mascot. The lion is a divine protector animal of Korea and India. Along with a calligraphy and naming experience centre where you can learn Korean calligraphy and acquire your Korean name right away, there will also be a variety of traditional Korean games, including Jegichagi, Yut, Tuho, Marbles, Dalgona, and a Squid Game event!
     5. Exhibition and Promotion Booth: Not fan of events? Well, there is something for everyone! Promotional booths of Korea's top brand companies that have entered India and are exhibiting strong brand power, including LG, Hyundai, Kia, Innisfree, Lotte, Orion, and E-Land, among others, electronics, automobiles, and other various Hallyu contents, such as K-beauty, K-food, and K-fashion, will be on display.
     6. All India K-Pop Contest Winner's Performance: The KPOP India Contest is a component of the KPOP World Festival, which is annually held in Changwon, South Korea, and is put on by the South Korean Ministry of Foreign Affairs with help from various other organisations. The winners of the the annual national K-Pop competition held by the KCCI in the Vocal and Dance categories will perform at the event giving fans the a chance to display their talents.
View this post on Instagram
Connect with us on Instagram  Twitter  YouTube for more content, interviews, & news.