You may have seen K-POP idols/groups using historical & traditional concepts, clothing, and make-up for their MVs but this boy group is entirely based on the history of their own realm with each member representing a King and their era.
Meet KINGDOM, the boy group under GF Entertainment that debuted on February 18, 2021. This rookie boy group is full of zest and zeal, that within just a few months of their debut, many KPOP fans have already turned to KINGMAKERS (official fandom name). The concept is dived so deep that even their stage names are inspired after Kings, directly or indirectly. Apart from inspired names, each King's Kingdom also represents natural elements.
King Dann – Kingdom of Change
King Arthur – Kingdom of Rain
King Mujin – Kingdom of Cherry Blossoms
King Louis – Kingdom of Beauty
King Ivan – King of the Kingdom of Snow
Jahan  – Kingdom of the Sun
King Chiwoo – the Kingdom of Cloud.
The members shares that the word that best describes them is 'World', rather than 'one country', as they are dealing with whole world's cultures, and reinterpreting them with K-POP. They also add that if they had to explain their personality in one word, it would be 'King', since the group itself has the concept of 7 Kings and 7 Kingdoms.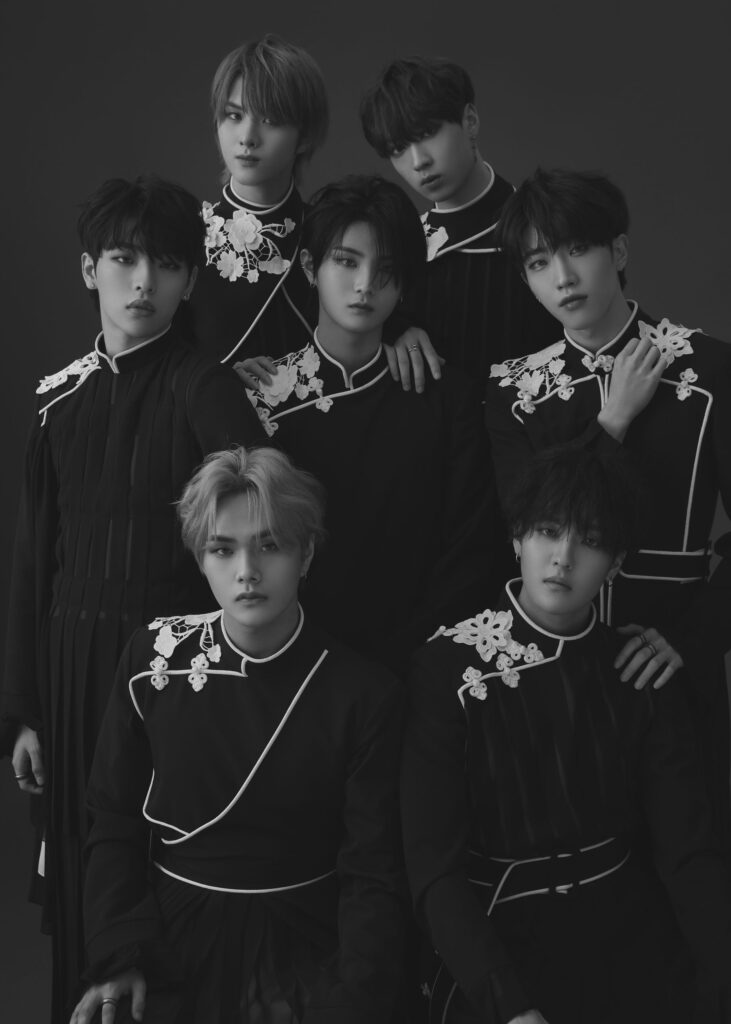 KINGDOM debuted with a mini album titled 'History of Kingdom : Part Ⅰ. Arthur' which consisted of seven tracks with 'Excalibur' serving as the title track. If we are to dive deep, Excalibur is the name of King Arthur's sword that is associated with power and sometimes even magical powers. As this album is entirely based on the era of King Arthur, the KPOP group is seen making the use of dramatic and theatrical concepts and great orchestration. Not long after their debut, on July 1, the septet made a comeback with their second mini album, 'History of Kingdom: Part II. Chiwoo' consisting of seven songs with 'Karma' as the title track. The physical album for this comeback is  available in two versions, Dusk and Dawn and the album focuses on King Chiwoo, which further led them to using traditional oriental props and costumes in this comeback.
As per their concept, every album will be created based on a King and his era, and each member will represent a King and the MV's storyline will be based on them. The concept/plan of KINGDOM is to make a complete storyline with 32 albums in the next 12 years, and 8 albums will represent a set series. This seems like a very intriguing plan, at the same time demanding and the members shared what they felt when they first heard the concept,  "At first, all of us found it hard to believe. We were also worried about whether we could do such a big project. However, as we've progressed the second album as well, we are all doing our hardest to complete the project, 'KINGDOM' successfully." When asked if they draw inspiration from any particular group/person, KINGDOM shares, "While growing up, we were inspired by so many senior artists and have been dreaming of it. Even until now, we get inspiration and energy by watching the stages of as many artists as possible. We respect every single artist out there and we also want to become a group that can make such a good impact."
There is no doubt that KINGDOM incorporates a lot of dramatic storylines into their music videos and with the latest comeback as well, the element has been present. As they look back to the time when they were preparing for the album, the members states, "Thanks to the hard work of all members, the filming went smoothly. We particularly worked hard in the group dancing scene with all other dancers to make the perfect sync without any mistakes. Since KARMA itself is a very lyrical track, we had deep concerns on how to express these delicate emotions and so, we especially put more effort into a facial expression." They then added, "Please pay attention to Chiwoo's performance where he portrays suffering from karma after the Kingdom has collapsed."
The new album also saw their transition from the medieval nature of Excalibur to the traditional beats of Karma and KINGDOM shares the story behind it while also comparing the two tracks,  "While deciding the concept, we were concerned about which way to choose to portray Chiwoo as he was supposed to be soft but charismatic as well and at the same time, he also had to express his pain well. Thus  we came up with a traditional, oriental concept. Both 'Excalibur' and 'KARMA' are intense tracks, but as 'KARMA' has more lyrical and softer beats and melodies as compared to 'Excalibur', it was a new challenge for us and we think it came out well and we're satisfied with it." The members however shares that they did feel nervous and happy as well while showing the traditional artistic style of music.
"We are so nervous and happy at the same time to be able to show totally different music style as compared to the last EP. We hope everyone can check out how we've described  the traditional oriental beauty, what story Chiwoo – King of Kingdom of Cloud has. We also hope you to see our new challenge in a gentle, nice way and enjoy it together."
KINGDOM had little time to prepare as they had a quick comeback after their debut but this, however became a strength, "While preparing for our debut album, we figured out each other's weaknesses and if we weren't 100% satisfied with the outcomes, we gave feedbacks to each other to cover those shortcomings and to emphasize our strengths. We have made this comeback in a relatively short time, so we were worried and also had pressures, but we also think we made improvements because we have prepared a lot as well. We'll consistently try harder and harder to show you better version of us in the next album." It looks like the boys are already preparing for the next album as the teasers for their next concept could be seen towards the end of the 'KARMA' MV, as we see Ivan walking through the cold snow, perhaps in his Kingdom of Snow.  KINGDOM confirms it as they say, "That is correct. The clip at the end of KARMA M/V is a spoiler for the next album. Although we cannot share spoilers about the next album, we want to say that it is a really cool concept and it'll be a totally different concept from 'Excalibur' or 'KARMA', so please look forward to it and check it out when it releases." Based on their comments, it does look like the fans will get to hear King Ivan's story next.
The members unanimously agrees that among all their songs, 'MAKE US' is the track that best represents KINGDOM,  "It is the first member-composed track that Dann and Mujin participated in. Since it includes members' inner voice, it's the best track that describes KINGDOM members' true story and we believe that a lot of people can feel our sincere thoughts, worries and as well as love and grateful mind towards our fans, KINGMAKER, from this track better than any other tracks."  The members also picked their individual favourite song from this comeback.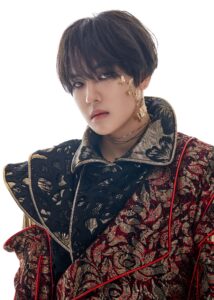 Louis: 'MAKE US', because it's a dedicated song for our fandom KINGMAKER, it's a meaningful song and I have attachment to it. Our members have participated in songwriting and I think it's a really good track to listen as a member in the same group.
Mujin: 'Warning.' I did the lyrics and even during the writing, I liked the song and I was very proud of it. Trust me, you will love it and I want you to focus on lyrics while listening.
Arthur: 'Magical'. I think it's a very addictive track. Its chorus part is particularly impressive, so I think a lot of people get addicted to the song as I did.
Ivan: 'MAKE US', because it's the only dedicated song for our fans and since our members have written, I consider it's the best track that can share our inner feelings and emotions toward our fans.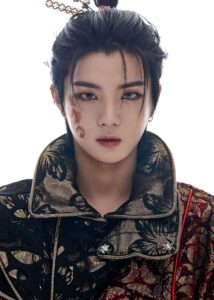 Chiwoo: 'KARMA'. As a main character of this album, I love this title track the most. The track can show better who 'Chiwoo' is and what story he has.
Dann: 'MAKE US'. It is the first track that I participated in songwriting and it is also included in the album. On behalf of KINGDOM, I also included members' genuine stories. I think a lot of people can feel our sincerity better than any other tracks, since we wrote it to comfort our fans.
Jahan: 'Eternity'. It's a soft ballad track with very emotional lyrics. I consider it's a song that can express my feelings most honestly when I sing, and although I've prepared hard for all tracks, this was the most meaningful track.
With the concept of being Kings, comes the stage outfits and with their choreography, it must be difficult to execute everything but yet the group does it well and with so much ease, KINGDOM contributes it to their understanding and teamwork as they share,  "We think that the most important thing, is to know that there are times that are tough and we get tired. Instead of avoiding it, we have come to realize it by ourselves. We respect each other as 'hyung (elder brother)' and 'dongsaeng (younger brother)', but as we are friends, we also depend on each other a lot when things are difficult. It's truly amazing that when someone is having a hard time to step forward, another member naturally pulls the member forward by saying 'It's okay'. And we think, this is the biggest advantage of being together as a team. Also, when we have any disagreements, we've rather encountered the problem to deal with it and to make it settled, rather than hiding it. Thanks to that, we can now tell what we're thinking, just by looking into each other's eyes." 
When we watch the music videos, it does feels like we are watching a drama as along with their vocal skills and dance, the members have also executed the acting so well. And so like all Kingmakers, we were curious, if we can expect concept films from them or if any members have plans to debut as an actor as well, KINGDOM excitedly shares,  "That is exactly what we want. We've talked a lot and imagined what it would be like, if our concept was made into a movie. There are members who actually learned acting, so we have desire to act." Adding on to that, we also wanted to know a hidden talent of the group that the fans don't know yet and KINGDOM shared, "Surprisingly, there are members who are good at mimicking others' voice. We often try mimicking lines of dramas, movies and animations, but rather than having the same vocal tone they are good at mimicking the way of talk and intonation. Thus, when we gather, we unconsciously play with mimicking and practicing it. We are still on a progress to make it perfect, so we cannot show this to our fans but we will try harder!"
It does look like we might just be seeing KINGDOM in another avatar in near future. In such a short time, the rookie group has already gained so much international exposure with their title MV's already hitting Million views and counting.
"We feel a lot of gratitude as we see the reactions from overseas fans every day. It is really amazing that people recognize and support us even from afar. It seems like overseas fans like our unique subject and detailed settings of our concepts and enjoy our movie-like performances and expressions, so we are just grateful for that."

– KINGDOM 
The septet then sends a message to Indian Kingmakers,  "KINGDOM is a group that reinterprets cultures all around the world with K-POP as we add our own unique fantasy. Since we are all in love with Indian food and movies, we'd love to visit India. Every time we watch Indian movie, we thought it was really cool to see the fancy dance moves and songs and people enjoying the grand scale of traditional festivals all together. India is a large country with large population so, when we think of India, colorful and lively images seem to come up first. Please welcome us when we visit!" 
Are you a KINGMAKER? Which song of KINGDOM do you like best? Do let us know!
Find us on Instagram Twitter   YouTube for more content & news