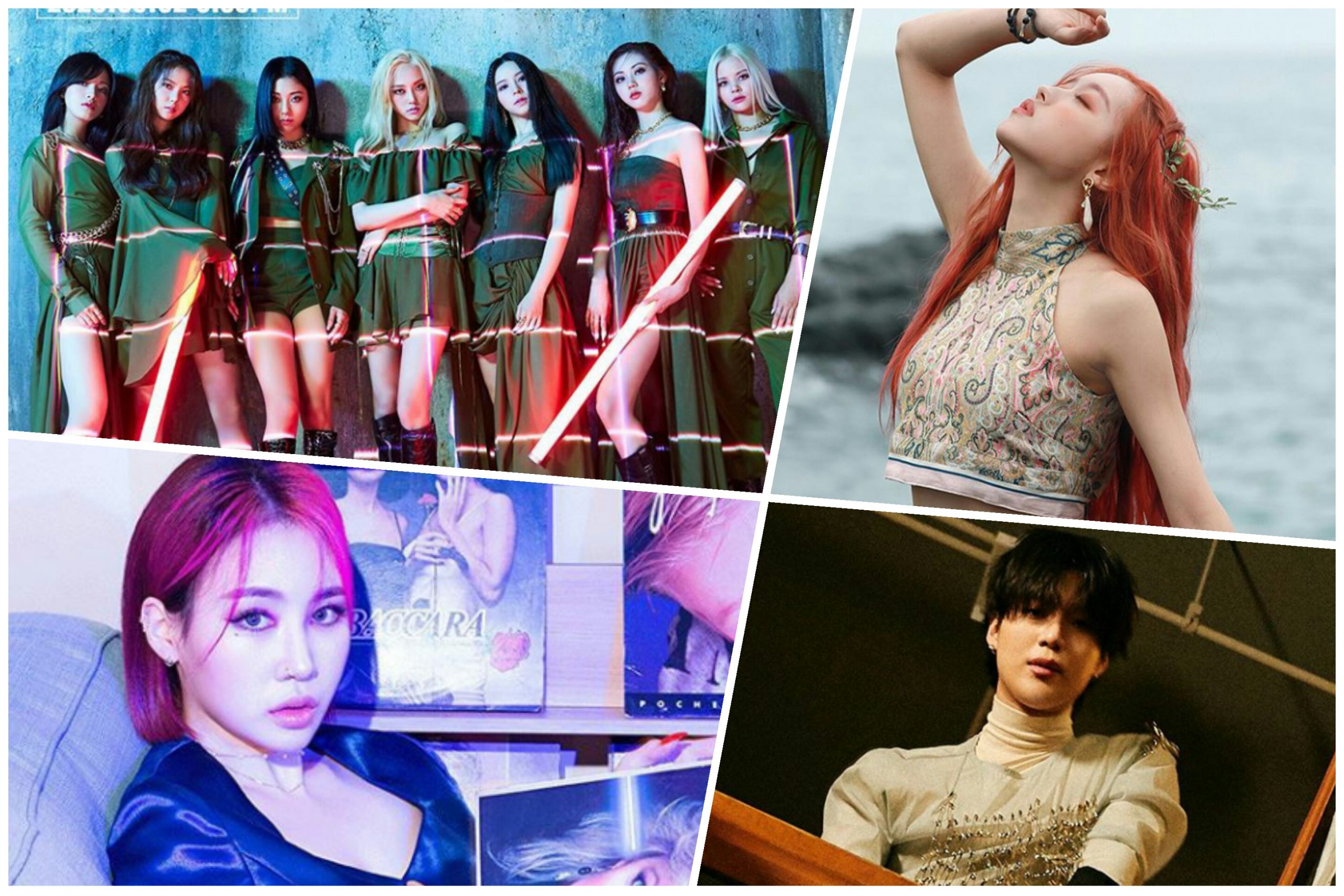 NamasteHallyu is back with the weekly round up of new music!
September is upon us and the first week has given us a promising number of amazing K-POP releases. If you've been too busy to keep up, this segment is just for you.
---
1st September
Lovelyz – "Obliviate"
The girl group well known for their cheerier concepts take on a hauntingly beautiful journey with their dark new image.
SuperM – "Tiger Inside"
SM Entertainment's Avengers (male edition anyway) are back with a brand new single that is as usual glossy and choreography heavy.
Hickee – "Wizard"
Solo artist Hickee shows off her unique vocal tone in this magical new single.
INEAR – "Lost In Memory" (feat. Jeon Sang Keun) 
This beautiful ballad is so heartbreaking, emotional and raw, it'll have you in tears.
papagumpa – "Life Is A Merry-Go-Round"
A trot styled song with a humorous music video to hopefully turn that frown upside down!
CHEETAH, JeA (Brown Eyed Girls), Oh Hayoung (Apink), Seo Eunkwang (BTOB), Park Jaejung – "With A Song"
A star studded lineup and a beautiful song. What's not to like?
Punch – "Close To Me"
If you've been watching the new drama 'Do You Like Brahms?', you must have heard this OST already. And if you haven't, well here's your chance!
---
2nd September
CLC – "Helicopter"
The girls of CLC are taking us to the skies with a catchy new banger in what has become their signature glamorous girl crush style.
A.C.E. – "Goblin (Favorite Boys)"
The five membered boy group (members: Donghun, Jun, Wow, Kim Byeongkwan, Chan) are back with an catchy, powerful, absolute banger. The saturated colours, the mashup of feminine and masculine styles, the fusion of genres is everything we've come to recognize as uniquely K-POP. Definitely worth a listen.
IONIQ x BTS – "I'm On It" (for Hyundai) 
Yes, this is an advertisement. But it's also got a hella cool music video.
H1GHR Music Artists – "The Purge"
Off the special album 'H1GHR: Red Tape', this fire track features Jay Park, pH-1, Big Naughty, HAON, Trade L and Sik-K. The 'H1GHR: Blue Tape' drops on 16th September.
Devine Channel – "Post It" (feat. Lil Cherry, GOLDBUUDA) 
Straying away from mainstream K-POP, here is some mumble rap that is quite frankly, a little bizarre.
---
3rd September
JAMIE – "Numbers"
Jamie bringing the light R&B vibes with this catchy anthem calling out society and it's tendency to grade everything.
Super Junior D&E – "B.A.D"
When is a SuJu track ever not catchy? Straight off their 4th EP 'Bad Blood', Donghae and Eunhyuk turn into "bad" biker boys in the EP's funky lead single.
https://youtu.be/f5uu30E_tL0
Aalia – "My Blue Moon"
A chill R&B track with an almost 80s inspired vibe.
JIU – "Boston"
Some chill vibes for those lonely summer nights.
Devine Channel – "Faded" (feat. Loopy, CHANYEOL) and "Makmal" (feat. Gaeko, Jo Gwangil) 
If you like heavy doses of autotune with your K-HipHop, "Faded" is for you. If you don't, check out "Makmal".
Luli Lee – "Ashby Road"
With her unique vocal tone, this dreamy indie song will give you chills.
---
4th September
WONHO – "Open Mind"
Wonho brings the heat with this sexy new single. This one needs to be EXPERIENCED!
GooseBumps – "Somewhere" (feat. Gray, HOODY, Elo, DeVita) 
This is the summer bop you didn't know you needed.
---
5th September
H1GHR Music Artists – "Télefono (Remix)"
This absolute bop has received the remix treatment and now features pH-1, HAON, Woodie Gochild, Jay Park, Sik-K, Trade L and Big Naughty in a humorous music video that revolves around tacos.
BIZZY – "ONCE IN MY LIFE"
Bizzy never dissapoints. This feel good track is a blessing to us mere mortals. Enough said. You need to experience this one for yourselves.
SUNGHWI – "Night You Went Away" (Vocal. Kim Gyeol) 
This soothing acoustic track is endearingly soft, very lullaby material.
---
6th September
Mia – "Like A Fool" (feat. Nafla) 
A soft pop song with an edgy rap verse never goes wrong. Mia has also dropped her first full length album 'Not A Fairytale'. 
ROCOBERRY – "roco is roco"
Indie pop duo ROCOBERRY, consiting of members Roco (Oh Ji Yeon) and Conan (Ahn Young Min) are not only colleagues but also a married couple. Their latest single is a dreamy pop song with retro vibes.
Kyung Dasom – "Wanna Be Yours"
This might just be your ordinary, cutesy love song but this girls has VOCALS!
---
7th September
TAEMIN (SHINee) – "Criminal"
Fresh off his third solo album 'Never Gonna Dance Again: Act 1', "Criminal" is a moody, angsty, dance pop masterpiece.
YooA (Oh My Girl) – "Bon Voyage"
Oh My Girl's YooA made her solo debut in stunning fashion. The song itself carries a fresh and pure feel, and the cinematography is breathtaking. Possibly inspired by 'Princess Mononoke', 'Tinkerbell' and 'Pocahantas', the magical forest fairy vibes are alive in this release.
Kim Namjoo (APink) – "Bird"
In her first ever solo single, APink's Kim Namjoo shows off a fierce new image with an empowering banger.
bcalm – "Dive" (feat. Maddox)
Maddox's vocals on this bcalm produced R&B track makes for a wonderfully soothing listening experience.
HAEUN – "99.9"
This touching ballad comes with a minimalist music video that really allows you to focus on the pure, clear vocals.
---
We hope you've found some new music to add to your playlist! Stay tuned for comebacks from CL, HyunA, Everglow, HATFELT and more!
(Do tell us if you think we've missed out on any new drops!)