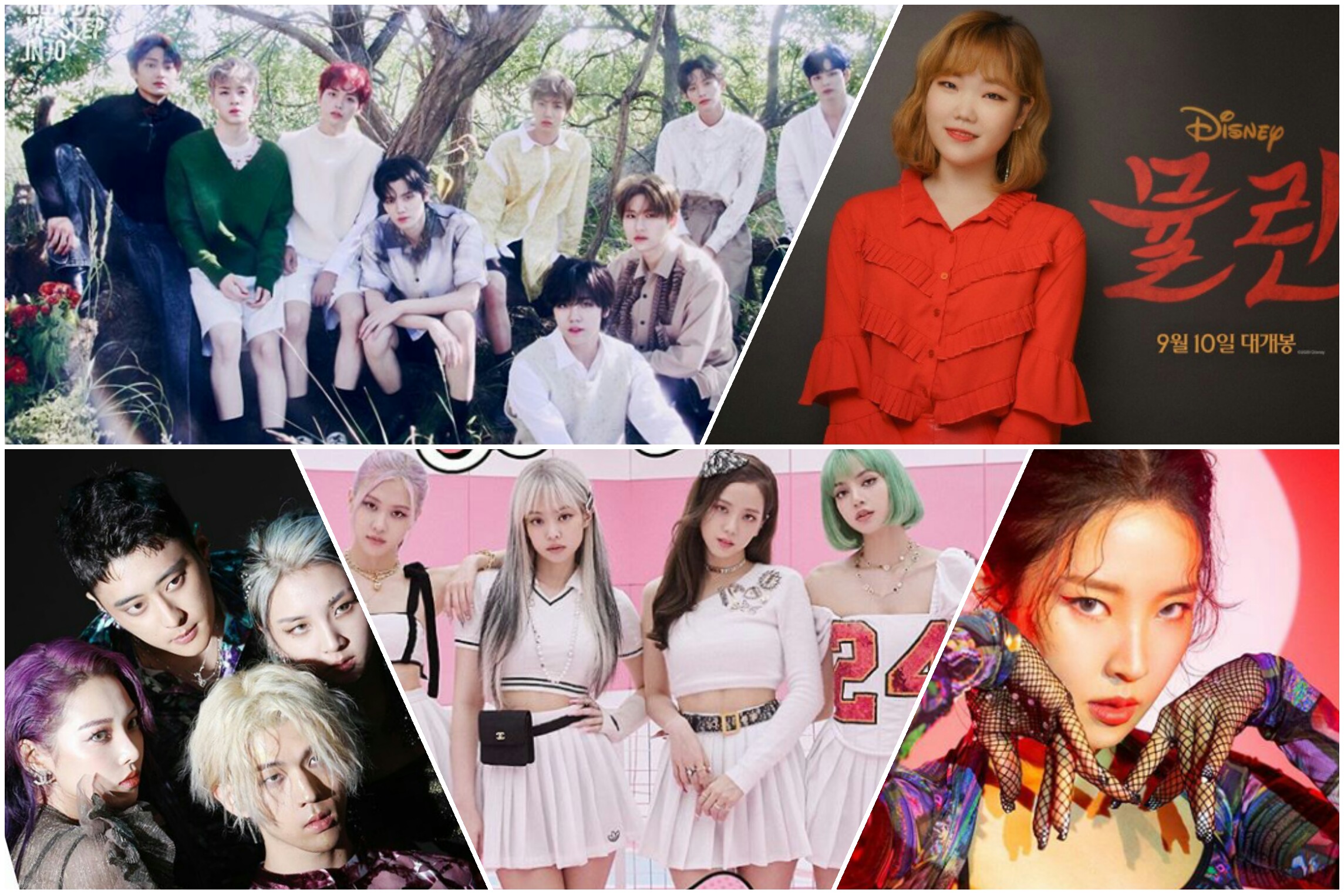 Finally – the fourth and last installment of 'Weekly K-POP Recap' for August 2020!
We're finally at the end of August 2020 and this last week of releases does not dissapoint. Well, I say last week but we're really talking ten entire days of K-POP releases. If you've missed any releases between the 22nd to 31st of August and need to catch up, have no fear – NamasteHallyu has you covered!
---
22nd August
---
23rd August
ATEEZ – "THANXX"
The eight-membered group consisting of Hongjoong, Seonghwa, Yunho, Yeosang, San, Mingi, Wooyoung and Jongho never dissapoint. This hype track is an absolute bop.
Byulzzi – "BBIBBO BBIBBO"
Girl group debut alert! Byulzzi consisting of three members (Yongchae, Jihye and Harin) are a trot group! Check out their debut single below!
---
24th August
JENYER (Jeon JiYoon) – "BAD" (feat. KIMMUSEUM) 
During the four years since 4minute's disbandment, JENYER's artistry has dabbled in a lot of experimental sounds and genres. "BAD" is a moody, city pop single with enough grit and choreography to charm the mainstream K-POP audience.
The Rose – "Black Rose"
For fans of The Rose, this release (titled after their fanclub) is a bitter sweet one as the band were embroiled in a lawsuit with their company. The song was blocked from several Korean streaming sites however is still available on the group's official YouTube. Heartbreakingly poignant, check it out below…
CRAVITY – "Flame"
This is the nine-membered rookie group's first ever comeback and they are bringing the fire! The group consists of members – Serim, Allen, Jungmo, Woobin, Wonjin, Minhee, Hyeongjun, Taeyoung, and Seongmin.
Ahn ByeongWoong – "Pour" (feat. Khakii)
The twenty one year old rapper of 'Show Me The Money' (Season 8) fame drops another badass single. His unique vocal tone has drawn comparison to Dawn and G-Dragon.
Ji Dong Kuk – "I Cry" (Rock Ver.)
Angsty and intense and dramatic, "I Cry" will give you all the feels even if you don't understand a lick of Korean.
---
25th August
Kim Yohan (WEi) – "No More"
While his group WEi has not officially debuted, Kim Yohan (formerly member of X1) has made his solo debut with a cute, bubblegum pop, love song that is sure to be stuck in you ur head.
Oh My Girl – "Bara Bam"
This is insanely catchy bubble gum pop song is another soundtrack for 'Pororo' – a children's show about a bespectacled penguin.
KASPER – "Yeoreum Cham"
It's been a hot minute since KASPER released new music. The 'Unpretty Rapstar' (Season 2) contestant is back with a new summer single.
RISABAE – "You I Know"
Popularly known as a makeup artist, RISABAE shows off her vocals in this 'X-Mas Project Special'. Although the season may not be right, the artist brings a little Christmas cheer to our rainy August.
Kim Hyun Chul – "Drive" (feat. George) and "We Can Fly High"
With both music videos dropped on the same day, it's easy to say that both tracks have their own individual charms.
---
26th August
KARD – "GUNSHOT"
Fresh off their new EP 'Way With Words', "GUNSHOT" is intense in every way – from its visuals to its lyrical delivery. KARD are definitely embracing another side of themselves with this one and we are here for it!
Khundi Panda – "Home" (feat. Hippy was Gypsy) 
Rap featuring soulful vocals, paired with an artistic video that teases on the edge of unsettling.
BOTOPASS – "Flamingo"
New girl group alert! The 8-membered girl group consists of Jiwon, Ahyoon, Mihee, Ria, Seoyoon, CuiXiang, Shiho and Harin. Check out their Latin inspired debut MV below!
Nautilus – "Sorry"
A beautiful ballad that is sure to pull at yor heartsrings.
---
27th August
SOLE – "Mm Mm"
A mellow R&B track by the talented vocalist, "Mm Mm" charms you right from the start.
OnlyOneOf – "a sOng Of ice&fire"
The seven membered boy group (KB, Love, Rie, Yoojung, Junji, Mill and Nine) are back with a sexy new single.
Huh Gak – "Without You"
As expected of the soulful soloist, this ballad is heartbreakingly emotional.
---
28th August
BLACKPINK – "Ice Cream" (feat. Selena Gomez) 
BLACKPINK are back with the second pre-release to their very first full length album. The summer bop features Selena Gomez and a whole lot of oomph.
Rosy – "Escape" (feat. Grizzly) 
The talented R&B/Indie soloist Rosy (Kwak Eun-won) is back with a new single that is an absolute vibe and comes with some really cute animation.
1set – "Laputa" (Lyric Video) 
This release didn't come with a music video, but it was definitely too good to miss out on. Inspired by the animated movie 'Laputa: Castle In The Sky' (1986), female duo Yejin and Whoru bring us a laidback, charming summer single.
---
29th August
YeEun (CLC) – "Mermaid"
First performed on 'Good Girl', Cheshires are finally getting a music video to the CLC member's original track.
Seven O'Clock – "Hey There"
"Hey There" is a dance pop track that is an absolute bop. Currently the group is promoting with five members Hangyeon, Andy, 2Soul,Taeyoung and Rui; as Hyun and Jeunggyu are on hiatus due to health reasons.
CHILDDIAHN – "Phone" (feat. NAYN) 
This R&B/pop duet is sure to serenade you with it's simplicity.
Lee JinJae – "x boyfriend"
This ballad will make your heartache for a loved one you may or may not even have.
FISTBUMP – "Hey Young Fellas"
A lil something different for the K-POP crowd, here's some K-Rock!
Jaedal – "Soom"
This trippy song and music video is… bizarre. It also comes with its own "epilepsy trigger" warnings.
---
30th August
DAMYE – "Sorry We're Closed"
An alternative feel, acoustic track off the solo artist's new album 'The Sandwich Artist'.
Seo Junhyeok – "In My Clouds"
Fresh off his new LP 'Mokdong Museum of Contemporary Art', solo artist Seo Junhyeok takes us through a dreamy pop song scattered with mellow rap and guitar riffs.
Neal – "Put That On Your Mind" (feat. EK, BOLA"
An addictive rap song with summer/tropical vibes and EDM influences.
---
31st August
Lee Suhyun (AKMU) – "Reflection" (Korean ver. for 'Mulan') 
The K-POP x Disney collaboration we didn't even know we needed. While this may not be the first of it's kind, it is certainly an iconic one as Suhyun officially covers the 'Mulan' OST originally by Christina Aguilera.
Day6 (Even of Day) – "Where The Sea Sleeps"
Everything will be alright, croons the Day6 sub-unit in this all animated music video. There's a lot of hidden messages packed into the video for the fandom too.
SWAN (PURPLEKISS) – "Call This Love"
The rookie girl group members shows off her vocal prowess in this emotional ballad.
Lee EunSang – "Beautiful Scar" (feat. Park WooJin of AB6IX)
Being unable to stay away from a love that hurts is the main theme of "Beautiful Scar", a moody dance pop song.
JK (Kim DongUk) – "Roleplay"
This sultry, retro song will have you vibing before you know what hit you.
---
Stay tuned for our weekly recap of K-POP releases in September with comebacks from Taemin, Super Junior D&E, CLC, Jamie, SuperM, Lovelyz, Stray Kids, VAV, Treasure, ACE, HyunA and more lined up!
(Do tell us if you think we've missed out on any new music drops.)