We all have those days when we just don't feel motivated to do anything. When all we want to do is crawl under the covers and sleep forever. 
Well, Korean dramas are here to rescue you! Not only are they super addicting and entertaining, but they're also filled with inspirational quotes that will motivate you to get up and dance, love, sing, and work like you're living life to the fullest.
Here are 5 of my all-time favorite quotes from Korean dramas. These quotes will help to lift your spirits and motivate you to achieve your goals. So sit back, relax, and soak up all the wisdom these dramas have to offer!
1. " Going through this life is the first time for all of us anyway".- Because This Is My First Life
Because This Is My First Life is a rom-com drama starring Lee Min Ki & Jung So Min. 
IT professional Nam Se-hee (Lee Min Ki), gets married to homeless script writer Yoon Ji-ho (Jung So Min) by signing a two-year contract. The drama displays the cycle of Social expectations, personal trauma, relationships, marriages, and love. As a whole, portraying the dilemma and pressure of Millennials and Gen-Z. 
It's been months since I binge-watched this drama, but this quote made place in my mind and heart instantly. It gives you the sudden awakening that it's okay to make mistakes or spare time to understand others. All together giving different perspectives to look at. 
Throughout the series, Nam Se-hee (Lee Min Ki) acting and dialogue make you feel at ease, especially when he said  "Cats do not have cortexes, unlike humans. For cats, only the present exists; they neither have a future nor a past. Because I'm in my twenties, my thirties, and soon-to-be forties. Only humans lock themselves in time. Only humans draw on the weakness of age, ending up spending money and emotions. That is the catastrophic disaster that man has earned in return for evolution. Thirty or forty in age is just the same as today for cats", which makes you realize the importance of staying in the present and living life to the fullest with ease.
As Ji-hoo says, I wish you the best of luck, because this is everyone's first life.
2. " Whatever choice you make, there will be regrets. So choose what you will regret the least"- She Would Never Know.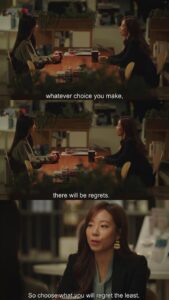 She Would Never Know starring Won Jin Ah, Rowoon, Lee Hyun Wook, Lee Joo Bin and Lee Kyu Han is a drama based on the webtoon 'Senior, Don't put that lipstick' by Elize.
The drama depicts the story of people working on the marketing team of the cosmetics brand Klavu, with a focus on the senior/junior relationship between Yoon Song-ah (Won Jin Ah) and Chae Hyun-seung (Rowoon). It shows the office romance in the midst of their chaotic lives. 
This quote will give you a pump to make decisions because in the end regret will be there. Personally, this quote helped me a lot. It gives you the confidence to stand by yourself in spite of whatever outcome comes. 
If you haven't seen the drama yet, you are missing another great office romance.
3. "Your best source of protection isn't a gun or a sword. It's your brain. Don't forget that"- Vincenzo 
Consigliere Vincenzo Cassano transported us directly to Italy with his attitude, character, dressing styles, and espresso shots. 
The tvN show is based on a Korean-Italian Mafia lawyer Vincenzo Cassano (Song Joong Ki) who returns to his homeland in search of his hidden gold and ends up fighting against the Babel group. The drama is jam-packed with action, humor, and moments of surprise. It depicts how situations change an individual and discloses some inside secrets of the mafia world.
The quote above cuts through the reality that the brain is one's superpower and protection gear. Using our brain in the right direction is fruitful and beneficial to others as well.  
Ahh! Don't forget 'Inzaghi' – The Mafia Bird used his brain to protect Vincenzo Cassano. 
4. "The most precious present in the world is living in the present, learning from your past, and planning your future"- Record of Youth
Record of Youth is a romantic drama starring Park Bo Gum, Park So Dam & Byeon Woo Seok. The drama follows the story of two actors Sa Hye-jun (Park Bo Gum), Won Hye-hyo (actor Byeon Woo Seok), and Makeup Artist Ahn Jeong-ha (Park So Dam) journey of struggle to achieve success with their unwavering hope and passion. This series also acts as a perfect reminder that money may have the power to purchase every possible materialistic thing, but innate qualities like talent, resilience, hard work, and passion are priceless and bear fruitful results.
The quote above provides true advice to live a mindful life. Applying it in life might be tough initially, but as a wise man once said, 'If you do a task for 21 days, it becomes your habit", try to incorporate the skills of empathy, resilience, and self-love and see the results yourself. Understanding yourself takes courage and this quote gives the instant push to work better in life without cursing the past and overthinking about the future. 
If you are looking for an inspirational life-changing drama, this might be the stop for you!
5. "Life isn't about waiting for the storm to pass, it's learning how to dance in that rain"- The Doctors 
The Doctors is a medical romantic drama starring Kim Rae Won, Park Shin Hye, Lee Sung Kyung, and Jung Yoon Do. It follows the journey of Yoo Hae Jung (Park Shin Hye), who used to be a delinquent teenager. While living with her grandmother, she met Hong Ji Hong (Kim Rae Won), her homeroom teacher and a neurosurgeon, who left his medical practice after an incident. As the story proceeds, Hae Jung's grandmother passed away due to medical negligence, which strived her to become a doctor. After 13 years, the two met each other again working at the same hospital and their love story begins. 
It is one of the realistic medical-romance dramas and this quote is one of the best pieces of advice for anyone struggling with their own situations. Life is unpredictable – storms happen. But moping around waiting for things to get better won't do you any good. Instead, you have to learn to find joy even when times are tough. Dance in the rain! Do little things each day that lift your mood and help you feel more positive. Before you know it, the storm clouds will clear. But you'll be stronger for having weathered them.
If you're looking for more inspiration, be sure to check out some of these other amazing Korean dramas. Each one has its own unique set of quotes that will speak to your heart and help you on your journey. So don't hesitate, dive right in and find the show that's right for you!
Connect with us on Instagram  Twitter  YouTube for more content, interviews, & news