Episodes 11 and 12 of 'Rookie Cops'are all about the sinister plot of the series that will be finally explored. We finally see the gang of friends working on criminal cases so that it can be solved and perpetrators are punished.
Review: Rookie Cops – You Will Be The One I Like (Episode 9 & 10)
Plot Summary
CEO Jo Han Sol turns out to be a creep and a criminal, much to everyone's horror. Meanwhile, our main couple, Seung Hyun and Eun Kang are attempting to hide their relationship from everyone. Love is also in the air for the other characters, as Kim Tak, A Ri, Han Na, and Dae Il share many romantic and fun moments. These episodes also allow Han Na's character to develop slowly. Mi Kang's friend Hae Ji gets killed by Han-Sol. Will she be able to find justice?
We can see that Eun Kang, Seung Hyun, and the others are slowly beginning to perceive things through the eyes of the police. They have started to think like them all of the time, which helps them in untangling every page of the case.
Couple Chemistry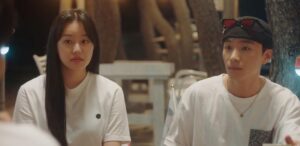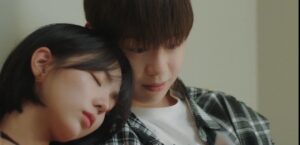 In a club, A Ri and Kim Tak share a romantic kiss. Dae Il falls in love with Han Na after seeing her dance in a club. Both couples are now getting to know each other more. On the beach, A Ri sees the scar on Kim Tak's chest which makes her sad and emotional. This scene acts as an affirmation of how they have started to love each other.
Supporting Character
In a club, Seung Hyun's phone gets exchanged with the woman who gets beaten to death by Han Sol. Seung Hyun calls her by Eun Kang's phone and Han Sol picks it up.
We see a glimpse of Han Sol's wrongdoings in the club with girls. Han Sol tells his secretary Shin Eui Seok to take care of all the things and find out and destroy the insurance where other videos are saved. Dae Il plans a trip to Han Na's hometown. That trip is one of the best memorable trips for all the squad as Han Na also became part of their trip. It shows that they are all getting together and they all will fight together.
Eun Kang's older sister Mi Kang gave her friend 2 million won and fell in debt. However, her friend turns out to be the woman who was beaten by Han Sol. She is found dead by Seung Hyun and Eun Kang. The police investigator of this case is Nam Gi. Hae Ji had saved the video of Han Sol's wrongdoings on her phone and on her laptop and that laptop is with Mi Kang. Mi Kang gets a call from Eui Seok but Eun Kang stops her sister from giving the laptop to him. Eun Kang, Seung Hyun, and Kim Tak finally open the laptop and they see the video of a club where girls are getting tortured. Will they be able to catch Han Sol?
Moments that stay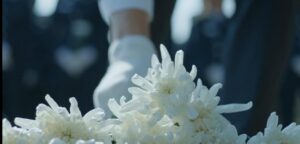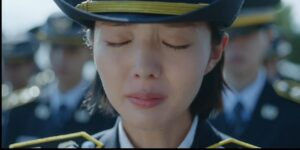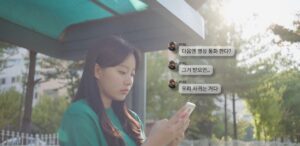 Eun Kang narrates the future reflection of someone's death. The moments of death of a member of the squad who does not graduate with them. Who will it be? Every viewer's heart will break at that point.
Han Na receives a message from Dae Il stating that they will be in a relationship if she picks up his video call after some time. Will she answer the phone?
Verdict
Now the question is whether the Rookie Cops will be able to locate the victim and apprehend the perpetrator based solely on the phone call and video. The series has kept a solid pace thus far, and the upcoming episodes appear to be even more exciting. Will Rookie Cops be able to apprehend Han Sol and reveal his actual identity to the world?
And that's it for episodes 11 and 12. Are you watching this drama? Are you enjoying it as much as we are? Let us know in the comments!
Connect with us on Instagram  Twitter  YouTube for more content, interviews & news