Episodes 9 and 10 of 'Rookie Cops' are all about the growing relationship between Seung Hyun and Eun Kang.
Review: Rookie Cops – Let Me Convey My Emotions (Episode 7 & 8)
Plot Summary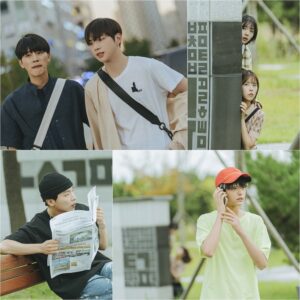 The episode's main highlight is the blossoming relationship between the lead characters. Along with the romantic angle, the episodes focus on Ju Young, Dae Il, and Bum Ju getting scammed with their purchase of PC Four Pro. With the help of Dae Il and Bum Ju, Ju-Young decides to catch the scammer.
All of the students undergo a two-week training program with mentors from various police stations. Sueun Patrol Division, Cheongu, is training Eun Kang, Seung Hyun, and Kim Tak. It is a difficult division, and no KNPU student has ever received an A. Seung Hyun is mentored by Sergent Park, Lieutenant Oh is the mentor of Kim Tak, and strict Lieutenant Jin is the mentor of Eun Kang. Kim Tak meets Lee Se Hyun's grandma while patrolling. The scamming involves Lee Se Hyun. Will they be able to apprehend the fraudster and his mastermind? Finally, we discover that Jo Han Sol, the CEO, is a horrible person. Will his friends be able to discover him and bring justice to the girl who was beaten up in the club by him?
Couple Chemistry
Seung Hyun and Eun Kang finally declare their affections to one other. We also see A Ri getting jealous of other girls admiring Kim Tak. Although A Ri also has feelings for Kim Tak, she wants to take some time to accept him when Kim Tak professes his feelings for her.  Seung Hyun teaches Eun Kang how to drive and share a lot of lovely moments together. They are also discovered kissing outside Eun Kang's house by her sister.
Supporting Characters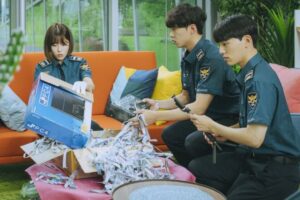 Han Na and Eun Kang's friendship is gradually developing. Han Na is seen as an outsider at university since she lives in a shell and loves to be alone, however it seems that she does not want to live that way. She informs Detective Nam Gi that she will no longer be working for him. Some people come to Han Na and try to attack her and blame her mother. Dae Il arrives on time and rescues her from their hands.
Ju Young purchases the PC Four Pro from an unknown website and is scammed. Later, KNPU students are escorted to a fictitious crime scene and ordered to watch and track out the murderer.
As a result, Ju Young resolves to catch Lee Se Hyun, the fraudster. They look everywhere and then decide to look at convenience stores as well. Dae Il and Bum Ju are also assisting her in this. They're waiting outside the store for the fraudster.
Outside, Eun Kang and Seung Hyun happen to meet them, and Ju-Young believes they are looking for her.
Eun Kang and Seung Hyun are relieved to learn that their friends are unaware of their relationship.
Ju Young sees that the same person who was engaged in the fraud case is coming for another delivery just as they are having a casual conversation. They all silently follow him to the convenience shop, where he is captured. However, after capturing him, they discover that he is only a part of the scam, while the true mastermind is someone else. Will they be able to apprehend the mastermind? We observe a fresh case involving Jo Han Sol being presented to them. He is the CEO of a company. A female in a club swaps Seung Hyun's phone and that girl is being beaten by Han Sol. Will they be successful in solving the case?
Moments that Stay
While patrolling, Kim Tak encounters Lee Se Hyun's grandmother, who is waiting for her grandson to return home. The grandmother is mentioned by Kim Tak to Eun Kang. Eun Kang attempts every trick in the book to find the mastermind. Jang-Gu, the major fraudster, is discovered by Eun Kang, Seung Hyun, and Kim Tak. Lee Se Hyun meets his grandma for the first time after running from home. Eun Kang sends a note to Lieutenant Jin before heading to the mastermind. He lends a hand to Eun Kang, Seung Hyun, and Kim Tak in their search for the mastermind. They all receive an A in training and are recognized by Sueun Patrol Division, Cheongu.
Verdict
Love is in the air, as Kim Tak and A-Ri also join the romantic angle of the story along with Seung Hyun and Eun Kang.
The drama is highly entertaining to watch since it centers on the daily lives of rookie officers.
One thing is clear in the latest episodes: Kim Tak's expression dominates the show. Even just watching him is entertaining and endearing, and A Ri's connection with him may take off. However, based on Kim Tak's appearance, we still have time. The drama is slowly revealing the depths of the characters, and there is still a lot to see.
And that's it for episodes 9 and 10. Are you watching this drama? Are you enjoying it as much as we are? Let us know in the comments!
Connect with us on Instagram  Twitter  YouTube for more content, interviews & news