"Rookie Cops" episodes 13 and 14 will make you shiver. The drama ends in a week and its getting intense with every episode.  Every chapter of history opens at the beginning. At the start of the first episode, we see a man being pursued by a group of individuals who we later learn is Kim-Tak's brother.
Review: Rookie Cops – Sometimes Connections Develop Over Time (Episode 11 & 12)
Plot Summary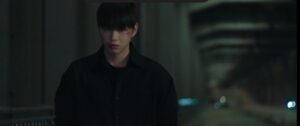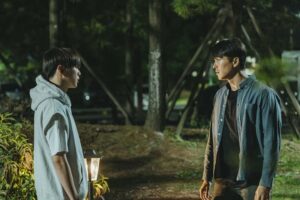 Wi Seung-Hyun was about to deliver the laptop over to Detective Kang to assist in the Min-Jae case investigation. He did, however, take Go Eun-Kang's advice and gave the evidence to his father, who he thought was more trustworthy than Detective Kang. Unfortunately, Wi Gi-Yong betrayed his son by handing over the proof to Jo Han-Sol, the mastermind behind Min-Jae's death. Wi Seung-Hyun then had a horrible feeling after accidentally seeing his father meeting Han-Sol in a hidden location in the middle of the night. He then approached Detective Kang and informed him that he had handed over the laptop to his father. Detective Kang became enraged and concerned.
He previously told Wi Seung-Hyun about his previous relationship with Wi Gi-Yong and how Seung-Hyun's father had betrayed his colleagues for his own benefit. Kim-Tak discovers the true cause of his brother's death. He made the decision to stop attending the KNPU.
Couple Chemistry
Ki Han-Na was called by Yoo Dae-Il. After being released from the hospital owing to his accident, he was overjoyed to see her again. Dae-Il tried his hardest not to be overt about his sentiments, but he nevertheless gave her the bouquet. Despite this, he tried to be unnoticeable by claiming it was a present from a friend. They were even photographed for the first time as a couple. We observe cute love moments between Kim-Tak and Shin Ah-Ri, and their pals were surprised when they found out about their relationship.
Supporting Character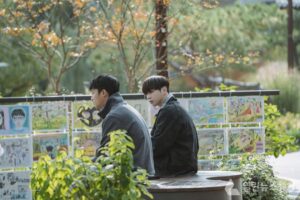 Shin Ah-Ri's tenderness and goodwill overwhelmed Kim-Tak. She gave him a present, as well as for his grandmother. Because students are not permitted to date on campus, the couple kept their feelings for each other hidden. Unfortunately, someone discovered their relationship and was going to expose them while they were conducting an exercise in one of their classes. Fortunately, professor Cha Yoo-Gon interrupted because discovering the identity of the hidden couple was not a priority at the time. Bum-Ju and Ju-Young, on the other hand, were interested more by secret lovers. After some thought, Kim-Tak revealed that the fingerprints on the door were his and that he was secretly spending time with his lover.
Bum-Ju and Ju-Young were taken aback by Kim-Tak's confession, but they were much more shaken when they learned that Shin Ah-Ri is his girlfriend. Wi Seung-Hyun finally figured out that his father was the one who killed Kim-Tak's brother. He went to Jo Han-Sol's office and bravely informed him of his drug suspicions. Wi Seung-Hyun told Han-Sol to take him to jail if he was found guilty. Wi Seung-Hyun learned the truth about his father's background. Kim-Tak visited Wi Gi-Yong at Seung-Hyun's house, inquiring about his role in his late brother's killing. Seung-Hyun noticed his father and Kim-Tak arguing. Later, Kim-Tak learned more about Gi-Yong's relationship with Jo Han-Sol, which angered him even more because Seung-Hyun knew but didn't tell him.
Kim-Tak decided not to attend in the new semester. He returned to his village to support his grandmother in running the local restaurant after handing in his withdrawal paper to professor Cha Yoo-Gon. Shin Ah-Ri was surprised to learn that her lover had left her without telling her why through a handwritten note. Eun-Kang and Seung-Hyun went to see Tak to try to settle the problem, but it didn't work out.
Moments that stay
Dae-Il works as a chauffeur in order to assist Han-Na in repaying her mother's debt. He even dialed Ha-Na's number,  but she didn't answer. He overheard screaming while waiting for his client in an unusual place, prompting him to investigate further. He discovered there that a group of officers from the police department were assaulting women. He was apprehended while collecting evidence, but he managed to flee. During a car chase, Dae-Il's car crashed off the bridge and into the river while he was being chased by those people. The episode finished with Dae-Il clinging to the last rays of hope, and now we must wait to see what happens next in the plot.
Verdict
Now the question is will Seung-Hyun and Kim-Tak ever be friends again? Will Dae-Il be saved? The series has opened a solid pace thus far, and the upcoming episodes appear to be even more sad and exciting. Will Rookie Cops be able to arrest Han Sol and reveal his actual identity to the world?
And that's it for episodes 13 and 14. Are you watching this drama? Are you enjoying it as much as we are? Let us know in the comments!
Connect with us on Instagram  Twitter  YouTube for more content, interviews & news