'Our Beloved Summer' has come to a close, as the final two episodes were released this week. The spectators' hearts were captured by the last episodes as the storylines of the whole cast was tied up in a satisfactory way. The characters have aided in the development of the drama, and the concluding sequences with Choi Ung expressing his love for Yeon Su are both heartwarming and welcoming.
Review: Our Beloved Summer – Life is Beautiful (Episode 13 & 14)
Three Idiots
Choi Ung goes out and buys Yeon Su some wonderful presents as he gets to know that Yeon Su actually loves receiving presents. Choi Ung's exhibition is also going to open up soon and Yeon Su decides to wait until the last day of the exhibition to pay a visit, ensuring that she does not steal his time in the spotlight.
During the exhibition, Choi Ung is irritated by Ji Ung's absence from the show but his mood soon changes dramatically when he learns that Ji Ung's mother is dying. Ji Ung reveals he isn't sad over his mother's death, which causes him to experience a range of emotions. Cho -Ung is caught off guard by Ji Ung and Yeon Su is unable to make it to the exhibition on time because her grandmother falls sick and is admitted to the hospital.
In the hospital, Yeon Su's grandma advises her to keep people near to her and enjoy her life, which is both lovely and heartbreaking. She also advises Yeon Su not to live her life the way she has. When Choi Ung returns home, he discovers Yeon Su alone outside. She expresses concern that she has ruined everything and apologises but Ung comforts and hugs her. Choi Ung returns home and confronts his mother, who says that she was aware of Choi Ung's knowledge about his adoption. Nevertheless, she assures that Choi Ung is her family.
Ji-Ung and his mom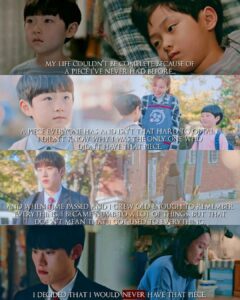 Ji Ung has spent most of his childhood feeling alone. In a flashback, it is shown that Ji Ung's mother accused him of being the main reason for her having a miserable life. It's repulsive and depressing, and it's easy to see why Ji Ung despises his mother. Ji Ung puts his heart and soul into his work.  For a long time, he's been unhealthily obsessed with the documentary, but now we know why. Knowing his mother's illness, he doesn't want to return home, and Chae Ran is concerned. Ji Ung eventually pays a visit to his mother in the hospital. There, she confesses that she originally planned to leave because she was scared he'd end up as unhappy as she was. As a result, she abandoned him.
Ji Ung laughs at her explanation and acknowledges that he will never forgive her for what she has done to him. No amount of pain can make up for what she's done. Despite this, she is still his mother. He agrees to visit her again, but it's evident that the two have a lot of baggage.
Choi Ung and Yeon Su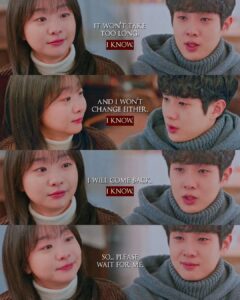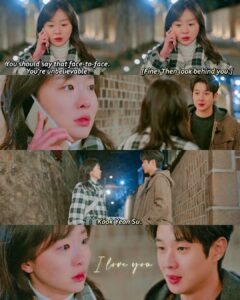 This exhibition has become the buzz of the town, with two of Yeon Su's coworkers praising it. She eventually publicly announces her relationship with Choi Ung. Yeon Su goes to the exhibition on the last day, but NJ arrives before. The trouble is, she's purchased all of the tickets for herself, which throws Choi Ung for a spin. She shakes his hand as a symbol of friendship, indicating that establishing an impression is far more important to her than spending a lot of time with him. We return to the present after all this time as Choi Ung makes a major decision.
He's going to start over, with his sights set on studying abroad, but he'll need Yeon Su by his side. Yeon Su decides to think over it because it's a big decision. Finally, Yeon Su makes the decision to stay in her current situation and enjoy it for a longer period of time. Choi Ung, on the other hand, is intent on studying abroad. Choi Ung vows to return and asks her to wait for him, despite the fact that the two are headed in different directions. Choi Ung finally shocks her by appearing in the street to tell her he loves her, and the two keep communicating.
Final Thoughts
Choi Ung's mature response to criticism shows how far his character has progressed, and Ji Ung's openness about his mother and how he's feeling is another significant step forward. The flashbacks at the opening of this episode do a good job of demonstrating how bad Ji Ung's childhood was.
Then fast forward two years. Ji Ung and Chae Ran drive together, with the latter in a far superior position. He's happy, and he'll be happier when he learns she likes him. They are on their way to a book donation event, where Sol Yi and Eun Ho are both preparing for the big event, and he asked Sol Yi out on a date.
Ji Ung is also shooting, and when Yeon Su and Choi Ung arrive, he greets them with a friendly smile. He appears to have moved on from his crush on Yeon Su and is living his best life. Choi Ung makes a brave decision and asks Yeon Su to marry him when he is alone.
Our Beloved Summer comes to a sweet conclusion that wraps up all of the major plot aspects and offers our characters a satisfying conclusion. Before moving on, a lot of this drama has been about treating past wounds and getting one's life in order. With that in mind, this K-Drama has been conceptually sound, and the last part neatly wraps everything up.
Connect with us on Instagram  Twitter  YouTube for more content, interviews & news