K-Drama fans, Park Seo Joon fans and Marvel fans, there might be a present coming your way!
Actor Park Seo Joon has reportedly received an offer for a role in the upcoming film, 'Captain Marvel 2: The Marvels,' which has its release confirmed on November 11, 2022.
Is this Park Seo Joon's Hollywood debut? The actor in an earlier interview with XsportsNews, had said that although he doesn't want to get ahead of himself, he'd be more than happy to take up the offer of a Hollywood debut, if an opportunity arises. The actor had earlier received acknowledgment from Hollywood director Francis Lawrence, who has worked on films such as 'The Hunger Games' and 'I Am Legend,'  and had watched Park Seo Joon in 'The Divine Fury.' He had praised Seo Joon for being a charming actor and considering how Francis Lawrence is known to walk of movie theatres if he doesn't like the movie, this is a very high acknowledgment.
If the reports are true, we may see the actor working alongside actor Brie Larson, who reprised a similar role in 'Captain Marvel 2: The Marvels' prequel, 'Captain Marvel (2019)'—the first movie with a female lead and hero in the Marvel Cinematic Universe, raking $1.13 billion worldwide.
Captain Marvel 2 is part of the Phase Four of the Marvel Cinematic Universe (MCU) . Besides Brie Larson, Teyonah Parris, and Iman Vellani are among the actors confirmed for the cast of the film and the film will be directed by Nia DaCosta. Fans had earlier witnessed how the director had tweeted about Park Seo Joon after watching 'Itaewon Class'. The Marvels director Nia DaCosta, went as far as calling him her "new drama bf" in her tweet.  Was this a sign or did she decide to cast Park Seo Joon after watching him in the drama is an answer for which we would have to wait for.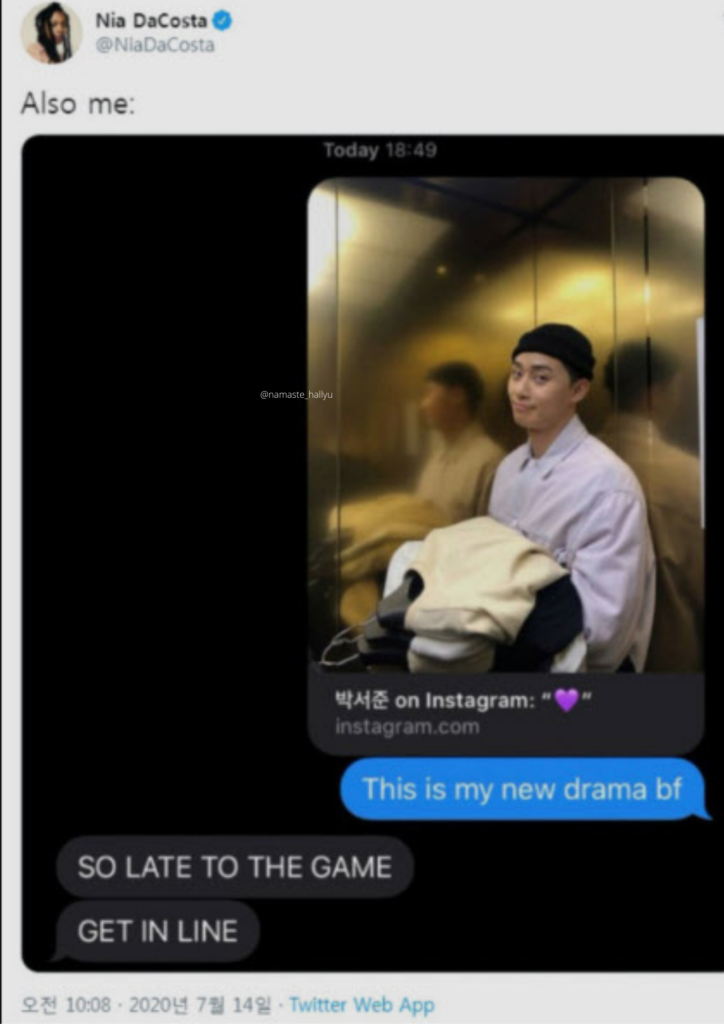 The Actor is currently shooting for 'Concrete Utopia,' an upcoming South Korean disaster-thriller film based on second part of webtoon 'Pleasant Bullying' written by Kim Sung-nik which is about an earthquake destruction and its aftermath. It is being directed by Um Tae-hwa and also stars Lee Byung Hun and Park Bo Young. According to an insider, once the filming for 'Concrete Utopia,' is completed and all legalities are completed, the actor would leave for the United States in the later part of the year.
However, Park Seo Joon's role and his participation in the movie is still shrouded in a mystery, as his agency, Awesome ENT responded with "No Comment" with respect to the reports. However, multiple Korean news agencies have confirmed the news and it is is also reported that the actor has already completed an internal review.
The actor last appeared in the drama, 'Itaewon Class' (2020) as a main lead, while he had a guest role in 'Record of Youth' (2020). Park Seo-Joon, had also made a guest appearance in the Oscar-winning 2019 film 'Parasite' and has also been shooting along with IU for an upcoming South Korean sports comedy-drama, Dream,  written and directed by Lee Byeong Heon. The filming in Korean locations were wrapped up in Oct 2020 but additional foreign shoots was postponed due to the pandemic.
If Park Seo Joon's role is confirmed for 'Captain Marvel 2: The Marvels,'  he will be the third Korean actor to star in a Marvel movie following Claudia Kim in 'Avengers: Age of Ultron' and Ma Dong Seok in 'Eternals,' and with the joining the MCU, it would not only bring more diversity to the Captain Marvel cast but also add more talent while also sealing the actors status as a world star beyond the status of a Hallyu Star.
Are you hopeful about Park Seo Joon starring in 'Captain Marvel 2: The Marvels'? Let us know in the comments!
Find us on Instagram Twitter   YouTube for more content & news!