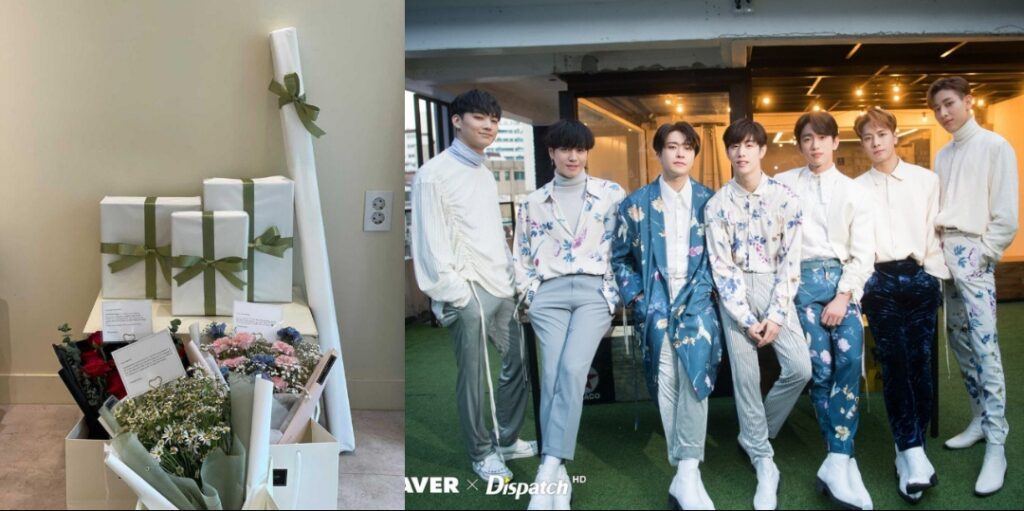 Like all other Ahgases, Indian Ahgase never fail to show their love and support for GOT7 members. Even after the boys parted ways with JYP Entertainment, Ahgases' continued supporting the boys' individual careers as they entered into contracts with various  agencies. Even with their solo careers taking most of their time, the GOT7 boys kept up their promise to Ahgase and dropped a new single "ENCORE."
This special bond that the members have with their fans is one of the reasons that this fandom is special. 
Recently, Indian Ahgase sent meaningful gifts to GOT7 members- Jaebeom (Jay B), Jinyoung & Yugyeom. After parting ways with JYPE, Jinyoung entered into a contract with BH Entertainment, Yugyeom signed with Jay Park's Hip-Hop label AOMG. GOT7's leader Jaebeom entered into a contract with Jay Park's another label H1GHR, and changed his stage name to Jay B. 
 

 

View this post on Instagram

 
On June 1st, Indian Ahgase sent a few gifts to these members with encouraging messages & flower bouquets.
These gifts were sent  on behalf of all Indian Ahgases. GOT7 has a loyal fanbase in India and they were all excited to send them flowers to show their support. They have three Whatsapp groups and they are on both Twitter & Instagram. The fans came together to donate for the project, making it very successful. 
Ahgase were very attentive and thoughtful while choosing suitable gifts for the members!
They sent Jaeboem a canvas holder and paintbrushes as he loves art. Along with these, they also sent a cheering message, referring to themselves as his besties & a beautiful red roses bouquet. Ahgases chose these bouquets based on the member's personalities. As Jaeboem is soft-spoken, yet has bold and strong opinions and works hard tirelessly for the team and himself, they thought red roses suit him the most.
As Jinyoung loves to read books, they sent him four books- The Old Man and The Sea, The Monk Who Sold His Ferrari, Who Will Cry When You Die, and Wuthering Heights. This is really very thoughtful of them, looking at the choice of books that were sent. We are sure he would love these books! They also sent him a card with an encouraging message about his upcoming projects and bouquet of Zinnia and Baby's Breath. They particularly chose these shades since he is the one who is patient, humble, supportive and hardworking. So, they felt these pastel-coloured flowers suit him the best as he gives off calm vibes.
They sent Yugyeom a shirt and a cap, along with a congratulatory card with well-wishing messages & a lovely bouquet of Daisies. They chose to send Daisies for him because his bright personality and looking at him makes everyone happy, intend making their day better. They chose a white & yellow combination to match the sunshine theme. 
They even tweeted, "We were confused, we wanted to gift him the whole world."
On June 1st, these gifts reached their destination. It took one whole week for the gifts to arrive at the floral store where they ordered bouquets. As soon as the gifts arrived, everything was delivered to the companies the very next day. 
It reached the companies😍@JAYBDEF___ @yugyeom #Jinyoung @GOT7Official #GOT7 https://t.co/vz1lkU5HGp pic.twitter.com/bbvSrhkAfO

— Indian IGOT7 🇮🇳 🎀 (@Indianahgase) June 1, 2021
The floral & gift shop they contacted (Aeonie Floral) knew the addresses of the companies, so it made the process less hard for Ahgases. The gift shop staff took pics after reaching the companies and made sure they were taken inside safely. They placed orders at two gift shops, and they were very helpful.  
Previously, they showed their support for Youngjae by sending him gifts. Youngjae was the first member to sign up a contract with a new company after parting ways with JYPE. It took three days for his gifts to deliver to his agency, Sublime. The best part is, the pictures of Youngjae with the gifts were posted on Sublime Artist Agency's Twitter and Facebook!
Check out our previous article to know more about this project.
Young Jae Loves The Gifts Sent Indian Ahgases
The seven admins of Indian Ahgase have been stanning GOT7 from various eras. Some of them were with the boys since the beginning and a few of them were with them from 2018.
"Each Ahgase has their own beautiful story about how GOT7 inspires them. For me, they were a ray of light and hope when I was at my lowest. GOT7 always showed their love and affection for their fans all the time. When I started stanning them, it didn't feel like I was new to them. They felt like my old friends who were always there to support me. GOT7 always asks us to work hard & believe in ourselves, follow our dreams & ignore negativity. I will forever be grateful to GOT7. Because of them, I found my happiness & lots of friends whom I can rely on."

                                                                                                                                           – One of the admins of Indian Ahgase
Even in the past, Indian Ahgase took part in various social activities & did many fan projects on GOT7 anniversaries & members' birthdays.
GOT7 6th Anniversary Project:
Ahgases travelled from various places to attend the event,talking about GOT7 all day while making posters and charts, the Best day of our lives💚@GOT7Official #GOT7 pic.twitter.com/3cEeTKw1Ow

— Indian IGOT7 🇮🇳 🎀 (@Indianahgase) May 8, 2020
GOT7 7th Anniversary Project:
We provided food for the whole day in both the places in the name of GOT7.
We completed 2 states and 5 states to go, as there is a pandemic going on volunteers couldn't go to 7 states at the same day.
But will complete the project in the coming days.#7YearsWithGOT7 pic.twitter.com/zPd1iQ3TrL

— Indian IGOT7 🇮🇳 🎀 (@Indianahgase) January 15, 2021
JJ 8th Anniversary Project:
The most touching thing about this project is that, Ahgases sang this song!
Full video available onhttps://t.co/g1vOPoCTGh

— Indian IGOT7 🇮🇳 🎀 (@Indianahgase) May 23, 2020
IGOT7 6th Anniversary Project:
Always here for you #got7! 💚#6thYearAsAhgase #갓세븐  @GOT7Official https://t.co/ypg7sJBT9n

— Indian IGOT7 🇮🇳 🎀 (@Indianahgase) May 9, 2020
Jackson Birthday Project:
To our dearest Jackson,
You persisted, you endured, you never gave up, and you made it..We created history together..Happy 3rd Anniversary❤
INDIA loves you❤
Full vid⬇️ https://t.co/tLXV4Jy49w#TeamWangIs3 @JacksonWang852 #TEAMWANG #JacksongWang @GOT7OFFICIAL #GOT7 pic.twitter.com/4TsrIHFASI

— Indian IGOT7 🇮🇳 🎀 (@Indianahgase) June 25, 2020
 

"GOT7 has a very loyal fanbase here in India. The boys always show their love for India and mentioned multiple times that they want to visit India. On a recent VLIVE, Bambam mentioned he has something for us. Indian Ahgase will forever support them and cheer for them until the end. We hope they will visit India someday."

                                                                                                                                                                                  – Indian Ahgase
Fan projects like this inspires other fans into participating in such projects and doing good deeds, and we are very glad that we got to know their story. As much as Team NH is proud of this fandom, we are sure GOT7 will be even more proud of Indian Ahgases and will love the gifts. It is great to see the rapid growth of K-POP in India and we further hope to see more such fan projects by various fandoms!
Find us on Instagram @namaste_hallyu   
Written by Lasya Pusuluri