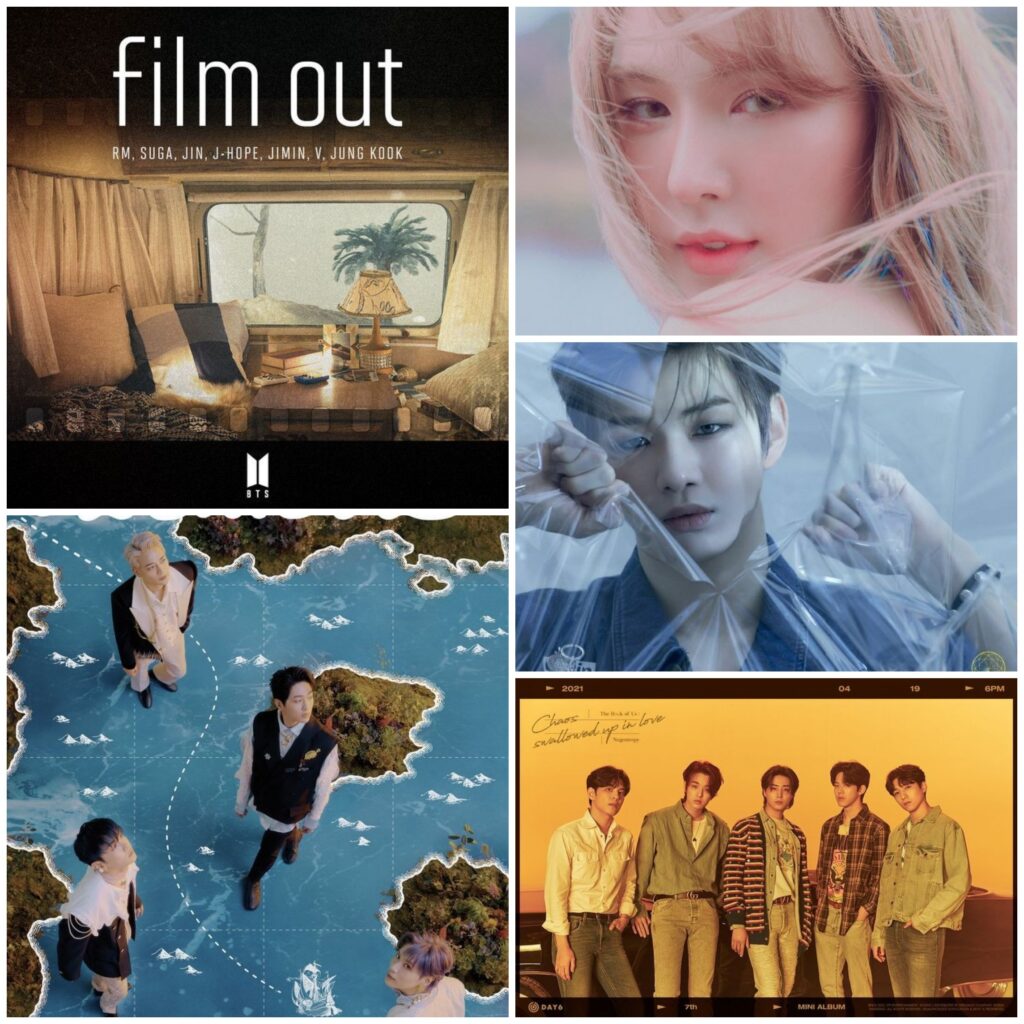 It is a new month, which means you must be bracing yourself for new K-POP songs, comeback, and debuts but as we wait, we bring to you a monthly recap! 
In April, we were blessed with some of the finest K-POP releases and although we may not be able to add each and every release, Namaste Hallyu brings you our list to revisit some of your favorite tracks of April! 
Release Date-1st April
BTS released the MV of their Japanese song, 'Film Out' on April 1st, 2021 and this song is part of the ending theme in the Japanese movie, 'SIGNAL-The Movie Cold Case Investigation Unit' also it is co-produced by Back Number's Iyori Shimizu, alongside BTS's own Jungkook. It is a sentimental ballad that depicts the fading distant memories and this song will be part of their upcoming Japanese album "BTS is Best".
Release date -2nd April
Seventeen's Hoshi released his first solo mixtape titled Spider. The Music video of the track "Spider" was released on 2nd April 2021. Spider is a very charismatic R&B dance track. The song is about getting caught up in a consuming relationship which is depicted as a spider web in the MV.
Like Water – Wendy (Redvelvet)
Release date- 5th April
Red velvet's Wendy released her long-awaited solo album, 'Like Water' which contains a total of 5 songs. The MV for the title track of EP 'Like Water' was released on 5th April. It is a calming song with an aesthetic and dreamy-looking video. This song is Wendy's way to thank her fans. 
Release Date – 5th April 
Astro returned with their 2nd full album,  'All Yours' and their MV, 'One' showed an intense side of ASTRO which they have never shown before. As always their vocals were strong and we cannot get over this new side of Astro.
Release date- 8th April
StayC returned with the first-ever comeback and their 2nd album 'Staydom' on April 8 2021 including the 4 latest songs with 'ASAP' as their title track. The MV for the title track is bright, energetic, and charisma-filled, blending pastel background with edgy outfits. 
EXCLUSIVE: Up Close And Personal With Rookie Stars, STAYC
Release Date- April 8th
On April 8, OnlyOneOf released their third mini-album 'Instinct Part. 1' with the title track 'libidO'. The song title, as well as choreography, created a buzz among K-netizen. Earlier, OnlyOneOf explained during the showcase for their comeback, "We put in a lot of effort to break the existing boundaries. This album is the most instinctive album to show the endless challenges and attempts that OnlyOneOf is making." Many Fans appreciated the group for owning the song and choreography so well.
We Do -SuperM X Prudential
Release date – 9th April 
SuperM has released their groovy English track, 'We Do' in collaboration with the insurance company Prudential on April 9th, 2021. It is a joyful dance that encourages people to maintain a healthy lifestyle.
The Moon – Moon Sujin (feat. Taeil NCT ) 
Release Date- 11th April 
The well-known R&B singer, songwriter Moon Sujin has collaborated with NCT's Taeil for the song, 'The Moon' and it is a relaxing duet with perfect harmonization.
Release date- 12th April
'Atlantis' is a repackaged version of SHINee's 7th studio album 'Don't Call Me'. It is a pop dance track featuring rhythmical guitar and bass lines and fun sounds of string, brass, and percussion instruments. The members' powerful vocals give a refreshing quality to the song. 
Release date-13th April
'Antidote' is the title track for the much-awaited album of Kang Daniel. 'Yellow'. The song is about the remedy to the poison as the singer tried to express his inner feelings through this track. Antidote combines alternative R&B and rock elements and emphasizes Kang Daniel's sharp, yet stunning vocals.
WaterColor- Wheein (Mamamoo)
Release Date- 13th April 
Mamamoo's vocalist Wheein has finally released her first solo mini-album 'Redd'. The MV for the title track of the album 'Watercolor' was released on 13th April 2021. It is a song about taking control of your narrative and owning it. The song's  uptempo dance track matches well with Wheein's warm vocals and this song is definitely a must listen. 
 Yeonnam -dong – Dvwn (feat. LilBoi)
Release Date- 14th April 
On April 14th, Dvwn released his EP, 'It's Not Your Fault' along with the music video for the title 'Yeonnam-dong' featuring LilBoi.The music video follows this vibe with an organic concept that just focuses on the delivery of the lyrics and the feelings. This is an R&B song that will give a chill and smooth vibe. 
EXCLUSIVE: Dvwn Speaks About His Music, Inspirations, Upcoming EP & More
Release date – 19th April 
NU' EST dropped a music video for Inside out from their new album, 'Romanticize' on 19th April and the cinematic video features the boyband performing in a pink-hued room surrounded by giant domino pieces. The members also get their chance to shine individually, with solo scenes in various locations, from an art museum to a boxing ring. 'Romanticize' is a track that brings out NU'EST powerful vocals. 
Release Date-April 19th
Day6 released their 7th mini album, 'Day6 released 'The Book of Us: Negentropy – Chaos Swallowed Up In Love' with the title track,  'You make Me'. This album wraps up the band's 'The Book Of Us' series.
'You Make Me' is the closing of a chapter, and the song does leaves us on a wistful note. The MV shows the love story of two couples and it was Day6 first comeback in almost a year
Release Date- April 19th 
'Thank You' is the special anniversary song by the group to the fans. From its bright pastels to its airy pop sound, 'Thank You' compiles plenty of nostalgia-slicked nods to Apink's past. The song remains heartfelt throughout, serving as a simple ode to Pandas (Apink's fans). It was their last song with Nauen as she terminated her contract with the company after that and has recently signed with YG Entertainment. However, the companies as well as Naeun has confirmed that Apink will come back together in future.
Touch By Touch-GREAT GUYS
Release Date-April 20th
Great Guys released the title track ' Touch By Touch' from their special album 'Again'. With the pastel suits and bright theme, the MV gives a fresh pop song vibe. The melody echoes a sense of carefree glee. The group drew a lot of attention because of a fan post asking to support them and a lot of netizens have supported the group and appreciated their work.
Release date-April 26th
The rookie group, 'ENHYPEN' returned on April 26th  with their second EP, 'Border: Carnival' with 'Drunk-Dazed' as their title track. The MV has a mysterious concept where they are seen to be hosting a supernatural party of sorts, celebrating what could be a birthday or coming-of-age.
Release Date- April 26th 
AB6IX released with their new single, 'Close'. It is the first release from the boy band's fourth EP, 'Mo' Complete: Have a Dream'. They have delivered classic,  unadorned dance-pop through this song.  The song starts off with a dreamy, laid-back vibe, showcasing the group's vocals and harmonies on the opening refrain. Their vocals add a refreshing tone to the song.
Release Date- April 29th 
(G)I-DLE has returned with their brand new single 'Last Dance' on April 29th, 2021 in collaboration with the community app, UNIVERSE. The MV features the group wandering through a dense forest in the middle of the night while following a mysterious compass and features scenes of the individual members in a dimly lit laboratory filled with strange experiments. 
ITZY -M.A.F.I.A (In The Morning)
Release Date- April 30th 
On April 30, ITZY released their new album, 'GUESS WHO' along with the music video for the title track, 'M.A.F.I.A (In The Morning)'. The song expresses confidence in secretly stealing someone's heart, comparing it to a mafia game.
Release date -April 30th
eAeon unveiled "Fragile," his second solo album which features "Don't," as its lead track in a collaboration with  RM from BTS . RM's voice blends beautifully with indie singer eAeon voice. In the Mv, we can see a couple enjoying their time together. The pair showcased a resonant melody, accompanied by yearning vocals, and powerful lyrics that explored love and loss.
What is your favorite comeback or song of April? Can't get enough? Here are some special mentions for the list.
Bonus track
Scared-P1HARMONY
Tomorrow-EXO CHANYEOL
Coffee- KYUHYUN
Down (feat. Grey)-A.C.E
Gone-Rosé [BLACKPINK]
Have we met before (ft. Eric Nam)-Sarah Barrios
neon-Amber Liu ft Peniel (BTOB)
Written by Anamika