If there is one thing that Korean Dramas always do well, it is the supernatural theme mixed with romance and comedy.
Need some good dramas in this genre? Here is a list compiled especially for you!
THE MASTER'S SUN (2013)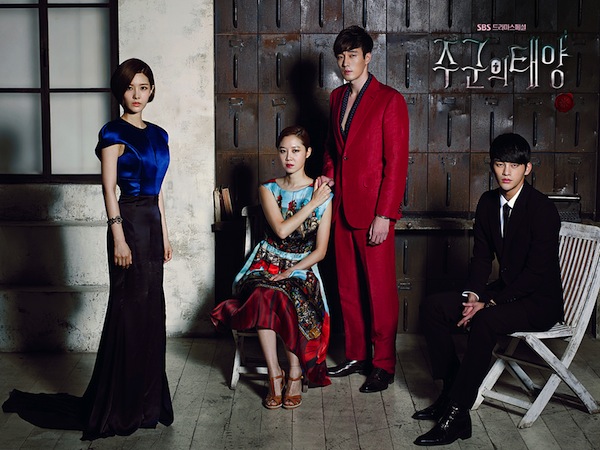 Number of Episodes: 17
Cast: So Ji sub, Gong Hyo Jin, Seo In Guk, Kim Yoo Ri
The Master's Sun is undoubtedly one of the very finest dramas in this genre. It deals with the story of Tae Gong Shil (Gong Hyo Jin), a woman who can see ghosts and is much troubled by their existence. Everything changes when she meets the very haughty and arrogant Joo Joong Won (So Ji Sub), the CEO of Kingdom, who does not believe in supernatural things. However things take a turn when touching him makes the dreaded ghosts momentarily disappear from Tae Gong Shil's view.
A riot of romance, horror and comedy ensues and the leads have a sparkling chemistry to keep the story alive. With a nicely crafted plot and wholesome entertainment, The Master's Sun should definitely figure in your watch-list, if you desire to escape in the world of fantasies, love and ghosts!
OH MY GHOST (2015)
Number of Episodes: 16
Cast: Park Bo Young, Kim Seul Gi, Jo Jung Sook, Im Joo Hwan
Oh My Ghost concerns itself with the relationship between Na Bong Sun (Park Bo Young) and Kang Seon Woo (Jo Jung Sook). Bong Sun is a timid and shy girl and much like the usual K-Drama female leads, she is bad at her job as an assistant in the restaurant. As usual, she gets shouted at a lot, until a flirty female ghost, Shin Sun Ae (Kim Seul Gi) possesses her and completely changes Bong Sun's personality. Sun Ae died a virgin and takes over beautiful females to charm equally handsome men, who almost die before she gets any satisfaction. Only men with "good energy" will be able to fulfil her needs and after accidentally possessing Bong Sun, the man happens to be Kang Seon Woo.
Seon Woo, like the mostly all K-Drama male leads is an arrogant chef and of course, Bong Sun admires him while he does not. Basking in female admiration and still attracted to his ex-lover, he is the typical male lead to the T (honestly, can this drama get any more cliché?) The change in Bong Sun's personality (after possession) catches his attention and thereon, their story begins.
You may or may not like the drama, given the overwhelming presence of K-Drama familiarities but at the same time, the chemistry between the leads is undeniable and the supporting cast, including the chef's crew have done a wonderful job. Overall, watch Oh My Ghost if you want romance, comedy, crime, a pinch of the supernatural and yummy food!
HWAYUGI (A KOREAN ODYSSEY) (2017)
Number of Episodes: 20
Cast: Lee Seung Gi, Oh Yeon Seo, Lee Hong Ki, Cha Seung Won
A Korean Odyssey can be a hit-or-a-miss but it is certainly an entertaining drama! It charts the story of Jin Seon Mi (Oh Yeon Seo), a girl who can see spirits and her relationship with Son Oh Gong, The Monkey King (Lee Seung Gi). The latter, due to certain corrupt acts has been relegated to the mortal world and can be relieved of the burden by consuming Jin Seon Mi. However, a curse causes him to fall in love with Seon Mi and become her guardian. What follows is an adventure with lots of twists and turns.
The side characters are diverse and aptly casted, making the drama a comedic affair of sorts. The cinematography is top-notch and Lee Seung Gi shines in his role as Son Oh Gong. Watch this drama for pure escapism, laughter, a little horror and of course, romance!
HOTEL DEL LUNA (2019)
Number of Episodes: 16
Cast: IU, Yeo Jin Goo
It would be a crime to not include this fantastic drama in the list. It has the much beloved IU, reprising the role of Man Wol, the CEO of Hotel Del Luna, a mystical hotel to offer comfort to those floundering between life and death. It seems as if Man Wol is stuck in this thankless job, but we then come across, Goo Chan Sung (Yeo Jin Goo) who is forced to work with her, owing to a promise his father made with Man Wol years ago. How does their story pan out?
With stunning cinematography, special effects and a very memorable performance by IU, Hotel Del Luna has gifted one of the most spirited female leads in K-Drama history. Watch the drama for an unusual storyline, amazing cast and of course, Man Wol's impeccable fashion sense!
SELL YOUR HAUNTED HOUSE (2021)
Number of Episodes: 16
Cast: Jang Na Ra, Jung Yong Hwa
Sell Your Haunted House is currently airing, but its brilliant premise makes it land on the list. The drama is centred around Hong Ji Ah (Jang Na Ra), who runs Daebak Reality, an exorcism agency that purges and then sells houses that were hitherto haunted. Ji Ah has a dark past and owes her exorcism skills to her mother, who died under unnatural circumstances. In a twist of events, Ji Ah ends up meeting Oh In Beom (Jung Yong Hwa), a conman who stages hauntings and frauds people. However, In Beom discovers that he has certain special qualities, which makes him a perfect candidate to partner with Ji Ah in her ventures. What does this alliance hold for them? What happens when their pasts threaten to mar this relationship?
Although the drama is ongoing, it shows the promise of a gripping story with an amazing caste. Jang Na Ra is superior in her role as Ji Ah and Yong Hwa is oddly endearing. Do watch Sell Your Haunted House for sweet, heart-warming moments, occasional creeps, curious cases, great food and a badass female lead!
Hope you found another new addition to your list! Do look forward to the next parts!
For quick updates and more,  follow our Instagram @namaste_hallyu @namastehallyustudio
Written by Mehak Talwar