"Nevertheless" has been one of the talks of the week, as Song Kang in this drama has decided to shoot his viewers with intense looks and flirty lines, that are both cute and sultry.
"Sometimes, the reality you're facing seems unrealistic. It feels like you've become the most special person in the world. It feels unrealistic."
What is your take on love at first sight? I'm not sure what I feel about it, but I also think this drama is going to make good use of this concept and that I will enjoy it. So here is what I think. 
Plot & Cast 
"Nevertheless" is a 10 episode Netflix K-Drama starring Song Kang and Han So Hee. The drama is adapted from a Webtoon with the same name, and is authored by Jeongseo. The plot in short is about two art students who are very much interested in each other, but the boy feels relationships are a drag though he enjoys flirting. And the girl is skeptical about love, but wants to date. 
Song Kang plays the role of Park Jae-Eon and Han So Hee as Yu Na-Bi.  The drama airs once every weekend on Netflix. 
The Drama
The plot begins with Na Bi's unhealthy relationship with Hyeon-U, who can't seem to respect her choices and adds extra meanings even into THE TINIEST things like the choice of nail colour. He also happens to be an artist and an art teacher who sculpted an erotic sculpture of a woman and names it after Na Bi. 
Well art is abstract, as it is more to see than meets the eye. But art also requires consent, which Hyeon-U being a grown individual didn't seem to understand. He further even called her by her name in the exhibition, causing her embarrassment on a great level. 
He is also manipulative and though subconsciously she did know that he wasn't the right one, her mixed emotions and unwillingness to accept this, clouded her judgement. 
Judgement day comes, when she catches him cheating on her with a student. This was what she needed, for him to mess up and she could leave with no regrets whatsoever. She finally takes the decision that she should have taken way back. 
Exit Hyeon-U, Enter Jae Eon
Na Bi, who just made one of the best decisions of her life, like any heartbroken adult, hits the bar and wallows. But this was not for long. Her encounter with Jae Eon happens as he mistook Na Bi for someone else. Their eyes meet and Na Bi feels an instant connection. Na Bi in Korean means butterflies, and very conveniently Jae Eon happens to love butterflies and it further holds value for him. On hearing her name, that is the same as something that's meaningful to him, Jae Eon's interest in her obviously heightens.
He was about to leave but receives a call that makes him stay back, and Na Bi and Jae Eon roll from there. The attraction is super dense between them and the camera shots have been taken from certain angles to attribute to the same, closeup shots, slow shots, and more. 
The Butterflies (We mean the story)
The viewers are left guessing as to who Jae Eon was supposed to meet with, but it could probably be a blind date. Though he tells Na Bi that he cancelled on her (the one he was supposed to meet with), something tells me that perhaps he got stood up. Let's wait and watch if this theory is actually right. 
The next scene moves on to them playing darts and having short conversations. Jae Eon is pretty good with the darts. Na Bi is super attracted to him and of course a part of her wanted to ace the dart throwing game, but she happens to be really bad at it. I felt bad for her, just for second, but what happened next…I would be more than glad to be bad at darts! 
NOBODY, LITERALLY NOBODY 
Song Kang: Pulls a slow Kabedon 
Me: *Dies* 
I usually don't watch on going dramas, because binge watching is my favorite activity and I cannot handle the cliff-hangers. But the next scene is what got me roped into watching this drama. If you share similar perspectives as mine in terms of watching on going shows, and yet you are watching this one, I bet it is this scene that probably got you in as well. The internet was flooded and is still flooding with these pictures.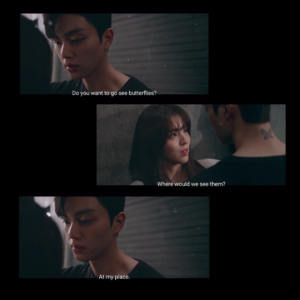 This scene gave BUTTERFLIES to all the viewers! 
This is me and you right now:
Oh, and to whoever said this line, GIRL, WE FEEL YOU!
Song Kang's role in the drama is described as a person who loves to flirt but is not serious about relationships. He is a versatile actor plays his part really well. Starting from pick-up lines to heated moments, Song Kang aces it. This received mixed reactions from the viewers. Personally, I'm open to this and so I loved every heart-racing scene Kang gave us. 
Jae Eon shows a few red flags that has kept Na Bi in check, but she is also unable to resist the temptation of thinking about him or wanting to meet him. There is not much we know about him and he can be a touchy person, but not sure I want to deem him a walking red flag already, but Na Bi keeping herself in check and giving the chemistry enough time to grow is the best way to handle it. 
Na Bi has more than twice pulled back when Jae Eon leaned forward to kiss her. But towards the end, the attraction gets super intense and Jae Eon once again leans forward to kiss her, and it didn't look like she was planning to move away this time! Sadly that is the cliff-hanger of this episode. 
The Other Story 
Keeping aside the main leads, the plot hasn't yet opened up doors for the supporting characters. Not saying that the entire focus is only upon the main leads, there are a few scenes specifically for the supporting characters, but I also feel the directors won't introduce many stories. The drama seems to be a romantic slow-burn and given the limit on episodes, the leads will get more attention. 
But I think we can look forward to a love story for Yoon Sol.
Yoon Sol is also a student in the same art academy as Na Bi, and both these girls have applied for a foreign exchange student program. I also feel that the writers and director have something more for Sol in this drama.  Maybe the love story does not necessarily have to be with a man. I see signs, and maybe she's bisexual? or even lesbian? Members of Team NH who are watching Nevertheless feel the same way too. 
Probably we read too much into the signs, but we're still keeping this door open.  
We especially think she feels something for Ji Wan. 
Keeping that theory aside, I believe we can also look forward to cute bestfriend moments! 
TIME TO TAKE NOTES:
Here is a piece of love advice from Nevertheless.
(Note- the dialogue is by a supporting character)
✍️Ice✍️cream✍️for✍️true✍️love✍️
Verdict
Have you watched episode one? Do you think they will kiss!? A part of me does think they will and let me enlighten you as to why. Song Kang was also the lead in Love Alarm, which is also a short drama but with two seasons, and in the very first episode fans got a heart-fluttering kiss scene. So there is every chance that Nevertheless could have one in episode two. But let's not keep our hopes too high, directors cannot be trusted.  That apart, we wonder how the relationship will progress and how the other characters will play a part. I would also really like to see how well the chemistry between the leads builds up to a point that it breaks their current views about love and proves to be a beautiful feeling. 
But well that's it for episode one. Let's look forward to more in the next episode. Are you watching this drama? Do share us your thoughts and opinions. Tweet to us or comment below! See you for the next episode! 
Find us on Instagram Twitter   YouTube for more content & news!