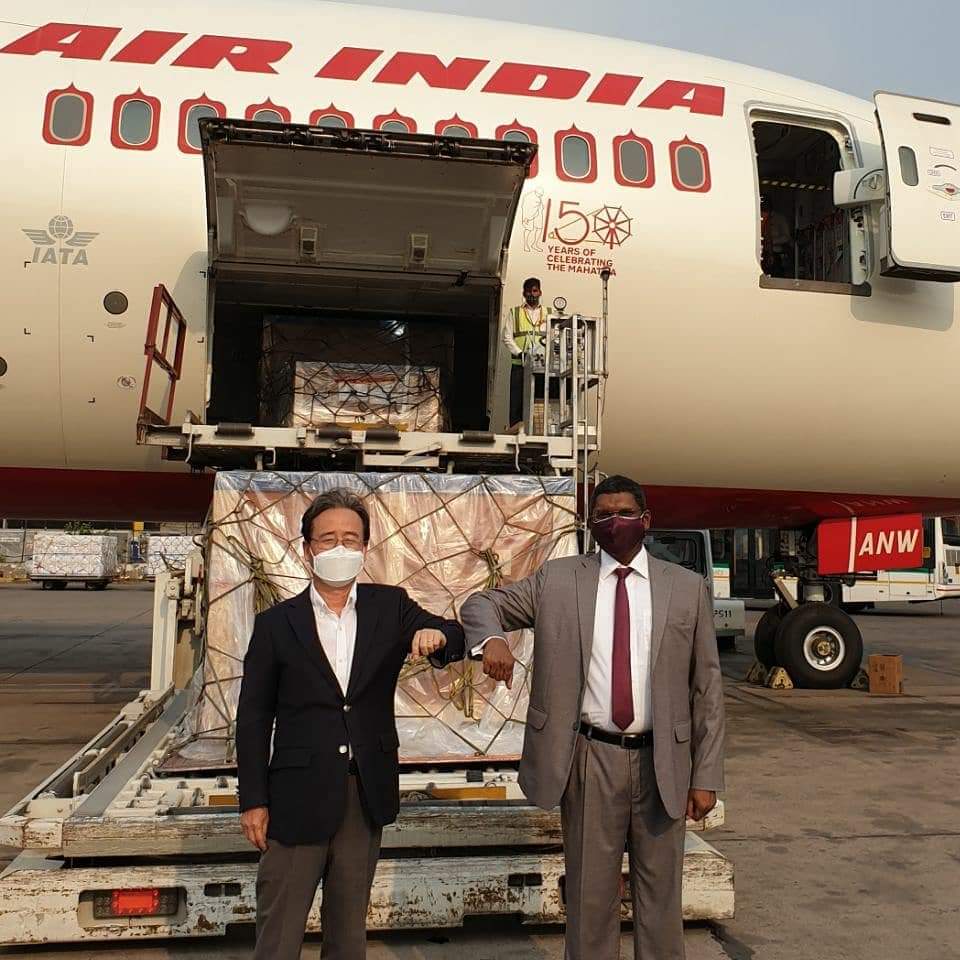 Earlier last month, the South Korean Government had assured support to India in its battle against Covid-19 crisis and today, it has been fulfilled. In a statement posted by Korean Cultural Centre India, it was stated that, South Korea has sent 230 Oxygen Concentrators, 200 Oxygen Cylinders and 100 Negative Pressure Isolation Stretchers on flights and that it is scheduled to arrive on May 9th & 12th respectively. The first flight has landed at IGI Airport and more medical supplies will come in the coming days. The South Korean Ambassador to India, His Excellency, Shin Bongkil was seen receiving the supplies.
India is facing the biggest second wave of the COVID-19 and everyday, the numbers of cases are growing and number of deaths are rising. The number of new cases has been over 3,00,000 everyday consistently and India has also recorded the highest single-day reported cases globally. The spike in coronavirus cases has thus resulted in a shortage of oxygen cylinders, intensive care beds in hospitals, and ventilators in India, amongst other things. People are dying not only because of Covid-19 but because of the lack of supplies and this shaken the country and its health care system. During this time, many countries has sent their support and have offered and extended their support to India including South Korea.

In case, you wish to donate, here is a list of few verified organizations who are working to help those struggling in India.

Hemkunt Foundation (https://hemkuntfoundation.com/donate-now/)
Khalsa Aid India (https://www.khalsaaid.org/donate-india)
GiveIndia (https://covid.giveindia.org/healthcare-heroes/)
Zomato Feeding India (https://pages.razorpay.com/zfi-oxygen)
Uday Foundation (https://www.udayfoundation.org/covid-19-wellness-kits/)
The Indian Government has also set up a COVID-19 Central Helpline Number (India): 011-23978046
UPDATE:
The Republic of Korea (South Korea) has sent aid for India's Corona Crisis + Assures more support.

India is currently the biggest victim of COVID-19's second wave, and not a day goes by without hearing news about deaths, shortage of oxygen cylinders, and other concerning issues. Among the many countries who have sent aid to India, South Korea too promised to send help and have been doing so. A part of the promise was fulfilled on May 9 and for the second consignment, another flight was scheduled for May 12 and hence, more medical supplies has arrived today at 3:30 AM at the IGI Airport.

The Korean Embassy in India updated on their Facebook, stating that, "Korea keeps supporting India in the fight with the pandemic by sending medical supplies. The 2nd consignment arrived today at 03:30 AM at IGI Airport, containing 200 oxygen concentrators and 100 negative pressure carriers. More will come soon."


Although the initial aid has been received, the South Korean Government has assured more help in the coming days. We hope that these medical supplies quickly reach the ones who are in desperate need of it, and that more people do not suffer during these dark times.


UPDATE:
As promised, South Korea will soon deliver more medical aid to India. Three special flights have been scheduled that will carry 100 oxygen concentrators, 10 ventilators, 10,000 antigen detection kits ( for 2,50,000 tests), and 100 negative pressure carriers. The scheduled dates are 13th, 14th, and 16th of May.  
 

 

View this post on Instagram

 
UPDATE:
We hope and pray that you and your dear ones are home and safe. Please wear your masks, eat healthy, and sanitize your surroundings. As responsible citizens let's help our nation get back to normalcy.

If you would like us to use our platform to amplify any news or request related to Covid-19, kindly tag us.
We hope that everyone of you are staying home and staying safe. If you would like us to use our platform to amplify any news or request related to Covid-19, kindly tag our Instagram @namaste_hallyu and @namastehallyustudio