Episodes 7 and 8 of Rookie Cops is all about how our feelings are not noticeable by us but it is easily by others. In the camps, a new level of jealousy can be easily noticed and we see individuals showing off their talents in their respective fields, These episodes also focus on the back stories of the supporting cast.
Review: Rookie Cops – Can't See Injustice (Episode 5 & 6)
Plot Summary

In Episode 7, there are hints about Kim Tak's brother, Hyun Soo's death being linked to Gi Yong. The 47th Cheongram Sports Festival is being held in KNUP, and all the students and professors are preparing for it.  After the couple spends some time seething in jealousy, Seung Hyun finally takes a step forward and kisses Eun Kang. Han Na finally breaks out of her shell and chooses to be friends with Eun Kang. The theme of friendship can be seen once again as the bond between the cast grows stronger with every episode.
It is revealed in this episode that Ju Chan broke up with his girlfriend. The relationship between the other KNPU students is also discovered at the festival. Kim Tak appears to be interested in Shin Ah Ri.
Couple Chemistry

Things get awkward because of the unexpected kiss. While Eun Kang feels embarrassed, Seung Hyun is ecstatic. Eun Kang and Ju Chan have a conversation and Seung Hyun is jealous of their closeness. Seung Hyun has a misunderstanding as he hears only a part of their conversation.  Eun Kang makes it clear to Ju Chan that she now only admires him as a senior. Seung Hyun plans to tell Eun Kang about his feelings in a public phone booth on the night of the festival. He kisses her before Eun Kang is able to express her feelings to him. They kiss each other.
Supporting Character

Ju Chan gets angry as Sun Yu prepares for the farewell. The students have been getting an increasing number of penalty points and they need to win some. Ju Young's potential as a science high school graduate shines when needed.  During the festival training, the male students are instructed to train the female students during the festival training. Eun Kang is trained for the festival by Seung Hyun and Han Na by Kim Tak. Since Kim Tak is training with Han Na, Shin A Ri starts to feel jealous.
It is revealed that Cha Yu Gon had recommended Kim Tak's brother Hyun Soo to Gi Yong for operation. However, Hyun Soo dies in a car accident and Yu Gon ends up resigning. Gi-Yong is taken aback when he discovers that Kim Tak is Hyun Soo's brother. Because of the Billards Hall incident, he tells Seung Hyun to not be friends with Kim Tak. The relationship between Seung Hyun and Gi Yong is discovered by Yoo Dae Il and Seo Bum Ju. The four of them are now given friendship rings. Gi Han Na informs Nam Gi that she will not be able to accomplish the work. The festival features performances by Kim Tak and Seung Hyun, Yoo Dae Il, and Seo Bum Ju.
Moments That Stay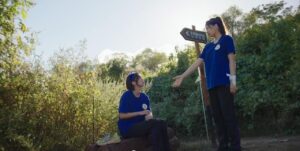 Eun Kang is wounded during the marathon and has to drop out. Eun Kang requests Han Na's assistance, but she declines. They have a fight but later Ha Na returns to help her and they rekindle their friendship. There seems to be a connection to Um Hyuk and Ha Na. He thanks her for assisting her friend. Will Eun Kang be able to help Han Na with her problems? Will they be able to form a strong bond?
Verdict

The emphasis of the latest two episodes of Rookie Cops is the romance between Seung Hyun and Eun Kang and the conversation between Han Na and Nam Gi.
While Han Na and Eun Kang's relationship seems to have taken a positive turn, we might have to wait a bit more until they become best buddies. Kim Tak's brother's back story also seems interesting and quite sad. Something may be connected to Seung Hyun's father, but what else is expected to be revealed later?
And that's it for episodes 7 and 8. Are you watching this drama? Are you enjoying it as much as we are? Let us know in the comments!
Connect with us on Instagram  Twitter  YouTube for more content, interviews & news