Episodes 5 and 6 of Rookie Cops warn us that you can't close your eyes to injustice and must take a stand to put an end to bullying. We also get to watch Seung Hyun and Eun Kang's lovely moments. These episodes also highlighted the bond and trust between Shin A Ri, Kim Tak, Yoo Dae Il, Seo Bum Ju, and Ju Young.
Review: Rookie Cops – Let Us Take A Stand On Our Own (Episode 3 & 4)
Plot Summary
Eun Kang expresses her thoughts on her new university life. She decides to put some distance between herself and Ju Chan. When Eun Kang is telling Seung Hyun about Ju Chan's athletic abilities, we are able to see Seung Hyun's jealous side. A Ri works for Promotion Corps, and Wooyong chastises her for ordering the wrong T-Shirts. Detective Nam Gi is the owner of the spycam, according to Professor Cha Yu Gon. Seung Hyun and Kim Tak visit the billiard hall and spot the bully, but they interfere at the last minute.
The mid-term exams begin, and Seung Hyun notices Hyun Suk cheating. He decides to ignore it till he learns the truth about why he was keeping his phone in the exam. Someone informed the Student Council, and Hyun Suk assumes it was Seung Hyun, so he releases a video of Seung Hyun and Kim Tak beating the bully in the billiard hall. Will they be held accountable? Will they be able to reveal Hyun Suk's true identity to the university?
Couple Chemistry
In these episodes, Seung Hyun and Eun Kang have a lot of lovely moments together. In one scene, Eun Kang asks Seung Hyun to take her picture under the moon, but he gets lost in her eyes while taking the picture. Seung Hyun also gets envious of Eun Kang's blind dating experience and decides to call her up for trivial stuff. When Eun Kang returns from her second date, she meets Seung Hyun and they proceed to eat something at a convenience store. During their time together, it is evident that they have some really good chemistry. These episodes also highlight Kim Tak staring at A Ri. Is he in love with her or just friends with her?
Supporting Characters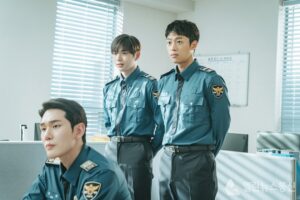 A Ri requests a weekend group date with Eun Kang and Ju Young. Eun Kang wishes to invite Han Na, but the latter makes it clear that she does not want to befriend her. It's also revealed that Han Na is the one who informed the Student Council about Hyun Suk cheating during the exam. The group visits the bully's victim to persuade him to tell the truth but he refuses. However, Seung Hyun's note convinces him to tell the truth. Detective Nam-Gi receives the video of the fight in the billiard hall from Han Na.
Professor Cha Yu Gon met Nam Gi as he is about to begin his training at the university. What could have happened between Nam Gi and the police university's students and authorities? Why does Han Na follow through on everything he says? The university may be in for even more problems, as Nam Gi is planning something new.
Moments that stay
Eun Kang's date dumps her but she assures her friend that she broke up with him. Seung Hyun and Eun Kang discuss her blind date, and she asks him for dinner for saving his life. Seung Hyun escorts her to the gun-shot practice area, where he assists her in shooting in the middle of the sheet. She succeeds and turns around, smiling. They share a romantic moment.
Verdict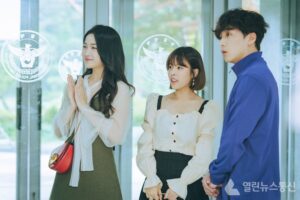 Seung Hyun and Eun Kang's friendship has started to take a different direction, but we may have to wait a bit more for that. The series has just the correct amount of each element that make it so attractive. The backstories of the other characters are also interesting and leave you wanting more.
And that's it for episodes 5 and 6. Are you watching this drama? Are you enjoying it as much as we are? Let us know in the comments!
Connect with us on Instagram  Twitter  YouTube for more content, interviews & news