As K-Pop fans, don't we just love it when idols display their friendship and support to fellow artists?
Collaborations are one of my favourite things about idol friendships and I just love how this ends fan wars. Plus, we get fire music and no one's complaining! 
Have you ever come across a bop song, but only later knew that idols/artists you never expected worked in that song's production process? Too many times right?
Here are five artists who worked behind the scenes you probably did not know about.
BTS' Suga
Suga produced 'We Don't Talk Together' by Heize that features rapper and songwriter, Giriboy.
'We Don't Talk Together' is a breakup tune that begins with a dramatic scene in a graveyard where Heize is seen working on burying her former romantic feelings, giving us creepy vibes as she says the phrase "bury my feelings" in a literal sense. Further, we see her having a tea party for two with a skeleton, feeding it vanilla worm-filled cake and macaroons. She takes a stroll with the skeleton on a wheelchair wearing a black mourning veil, dances within the graveyard, feeds the skeleton breakfast, and even checks for temperature and nurtures it. 
These show that she does have residual feelings and it's acting up. When Giriboy's rap arrives the video shows that she's re-living the things she has done with her ex, using the skeleton as a coping mechanism for their breakup. 


SHINee's Jonghyun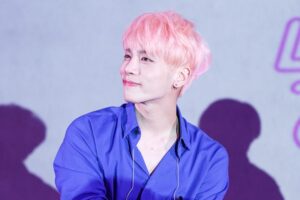 Writing about this feels nostalgic. SHINee's Jonghyun was a singer, radio host, and author under SM Labels. He is the songwriter of Lee Hi's 'Breathe' and worked with her when they were label mates.
The lyrics are beautiful as it sends a message, radiating support and power. Having someone to hold you when you fall or when you need a break, is important. The lyrics "It's alright, I'll hold you" is a source of comfort to people who really need it. We live in such a rushed generation and people are working so hard to meet their responsibilities, but in the process lose themselves or fail due to overpressure.

"It's alright if you run out of breath.
No one will blame you.
It's okay to make mistakes sometimes
Because anyone can do so"
The lyrics hit home when you read about Jonghyun's story. 
B.I 
BLACKPINK's 'Whistle' was co-written by (Kim Han Bin) B.I. former group leader and member of boy group iKON.
'Whistle' and 'Boombayah' are songs from BLACKPINK'S first mini-album 'Square One.' 'Whistle' is a hip-hop song that makes the listeners feel alive and brings out an addictive vibe. Lyrically, the song is about their romantic feelings for a guy who is hard to forget, but still makes their hearts flutter, and they just want to be with him. In the start we also see Lisa fixing video game remotes. This probably indicates that they are characters in a game or they feel like one since they feel controlled by these feelings. 
Jennie's line goes "softly call out to me, like a whistle in my ear" and in the background we can hear a lot of whistles, clearly indicating what this song is about. There is a lot happening in the video with Rosé sitting on top of the world, another example of expressing a metaphor/phrase, this could indicate that she feels like she is "on top of the world" because of her feelings for him. Soon all of them take turns to sit on top of the world, this probably isn't just limited to romantic feelings but the girls living up to the name of being such talented young women who are rising to the top. 
Seventeen's Woozi

Woozi produced and wrote 'Downpour' that was performed by girl group I.O.I. He was I.O.I's Lim Na Young and Zhou Jieqiong label mate. Downpour was the group's final song as they bid farewell in 2017. This final act of theirs got them immense popularity in their soil, but sadly they were ending. 
The lyrics are about the members' feelings and gratitude towards all who supported their journey and a song of hope that someday they will meet their fans again. The MV is full of the memories of practice sessions and performances by them, including all the fun they had as a group and all their good times, making this song and MV super emotional.
"Will it stop now? These raindrops, these tears?" these lyrics are really painful but we love the part that is full of hope, it goes "It's alright. It's just a passing downpour," leaving their fans with hope that one day they will make their comeback. 
Big Bang's G-Dragon
Taeyang's 'Ringa Linga' was produced and co-written by rapper G-Dragon his fellow group-mate of Big Bang. 
The theme and the set-up of the song revolve around Taeyang who is part of the street racing groups. The song is a hip-hop and electro combination with a cool dance bit suiting Taeyang's personality perfectly. The lyrics express how he is confident of himself, physically and mentally, as he trusts himself and his talents. These lyrics back this up-

"I'm always hotly burning up
Girls cry over my body, my songs
Whether it's a slow jam or a dance
Just trust your body
Don't be scared, just close your eyes"

Further, the lyrics also motivate people to start believing in themselves and live their lives. Though Taeyang sings about his feelings, these feelings can inspire people. 
Did you know about these behind the scenes workings of idols? Which one is your favourite song? Let us know in the comments!