Things get chaotic as we reach the final episodes, with the residents focusing on survival and greed. Our leads try to keep everyone safe, and despite a few missteps, the ending wraps up the series beautifully.
The Plan
Now that his identity is out, Andrew takes Seo Yoon away. Promising that she'll come to get her, Sae Bom, with Yi Hyun's help, tries to patch up Jung kook.
To ensure that they will all leave the complex safely, Yi Hyun strikes a deal with Tae Seok when he learns that Sae Bom has antibodies. He uses this as leverage to get them out of the building.
Downstairs, it is revealed that Joo Hyeong and Yeong Ok knew about Andrew's true identity. Right then, our leads are brought to the gym by the killer. Andrew says they will have to turn on the emergency power to get Seo Yoon back.
The Reveal
On the way back after switching on the generators, Yi Hyun's bite is revealed to Sae Bom. Though they manage to escape from the zombies, the fact that Yi Hyun is infected deeply hurts Sae Bom. The two of them, Seo Yoon, Hae Sung's wife, and Jung Kook, all head up to the rooftop. There Yi Hyun sacrifices himself to make sure Andrew can't reach them.
Sae Bom drives everyone out and wants to go back to get Yi Hyun, but Tae Seok injects her and takes them all to the facility.
Escape
Episode 12 begins with Sae Bom watching a video Yi Hyun had recorded on her phone. Meanwhile, Tae Seok interviews the other residents of the complex.
As Sae Bom's antibodies are falling, he is left with no other choice but to give one to his wife. Soldiers reach the dormitory to take Sae Bom away. But with Tae Seok and Lieutenant Lee's help, she manages to escape. Before leaving, she gives the other cure to Kang Eun Ji, Seo Yoon's mother.
Out Of Control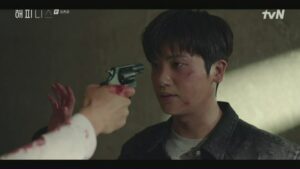 After killing Andrew, Yi Hyun heads down to see Joo Hyeong talking about the pills and his injuries. The pressing matter at hand is that Andrew is still alive, and is hiding somewhere.
Sang Hee shows up to see Joo Hyeong but is caught up in the midst of the latter, and Yeong Ok trying to kill Yi Hyun. Joo Hyeong slashes Sang Hee and throws her at Yi Hyun, who barely manages to overcome the infection and reaches the apartment. That's when Sae Bom shows up, and with her help, he successfully turns back.
Soldiers show up at the apartment complex, and we get to know that Soo Min also has antibodies. He's taken away, and so are the other residents. In the end, Andrew is lured out by Sae Bom's blood and shot dead by Yi Hyun.
Happiness!
Jumping ahead in time, we see Yeong Ok and Ju Hyeong on trial for their crimes. Seo Yoon and Yi Hyun are healthy, and we get the happy ending that we had been hoping for!
Final Thoughts
Despite being majorly shot in one location, the K-Drama didn't disappoint. The pace and the characters kept viewers engaged and wanting more. Being set in a post-pandemic-zombie-apocalypse world, it wasn't grim, and we got to see a lot of light moments.
The ultimate message here is that greed and betrayal lead to destruction. It manages to show both the best and the worst parts of humanity and forces us to ponder on how we would act when faced with a situation like this.
Until the end, we wondered why the K-Drama had been titled 'Happiness', but the ending made it clear. After everything, the leads managed to survive and grew closer while finding their happiness made it clear. Sure it felt a little rushed, but if it was any slower, the viewers wouldn't have stuck till the end of the show.
Equal parts thrilling and addicting, 'Happiness' send the message that we define and create our own happiness.
Have you watched 'Happiness'? What do you think about it? Let us know in the comments!
Connect with us on Instagram Twitter YouTube for more content, interviews & news.