Ever since P.V. Sindhu bagged the bronze medal in the Tokyo Olympics, along with her name being seen and heard everywhere, the player's coach, Park Tae Sang, is also being congratulated all around the country. If you don't know it already, yes, the coach is from South Korea! That sure does make us excited, right?
When Sindhu beat China's He Bing Jao for the bronze medal on Sunday (Aug 1, 2021), she let out a winning scream, ran, and hugged her coach, who was of course as happy as Sindhu. The coach was also seen cheering and screaming during her winning moment.
Coach Park Tae Sang has been training Sindhu for the Olympics since late 2019 after the player's coach, Kim Ji Hyun had to leave for personal reasons. During that time, Park Tae Sang was already coaching India's men's singles players and when Kim Ji Hyun left, he shifted his focus to Sindhu and started training her.
"It is an important moment for my leadership career because as a player and coach I never won an Olympic medal. So, it is a first for me too. I am very happy, can't express myself," says the 42-year-old coach after the win. Park claimed the gold medal in the Asian Games 2002 during his international career as a player before turning to coaching in 2013.
"I am still receiving constant messages. On Instagram, every second there is change, change, change (rapid gestures to show quick scrolling through notifications). This is the first time I have experienced something like this. Thank you, India."

– Park Tae Sang
Adding to his happiness is that he will finally be getting back to South Korea. "My daughter is three years old. Since last February, I have seen my family for 13 days. My wife is asking me to come back to Korea, I have promised my daughter I will soon return," he said.
The two-time Olympic winner Sindhu also extended her gratitude to Park for her win. "I was really sad and upset (after the semifinal defeat to Tai Tzu Ying). But Mr. Park told me we have another chance. He told me there's a lot of difference between a bronze and a fourth place. When I woke up the next morning, I was again ready to give it my best," she said.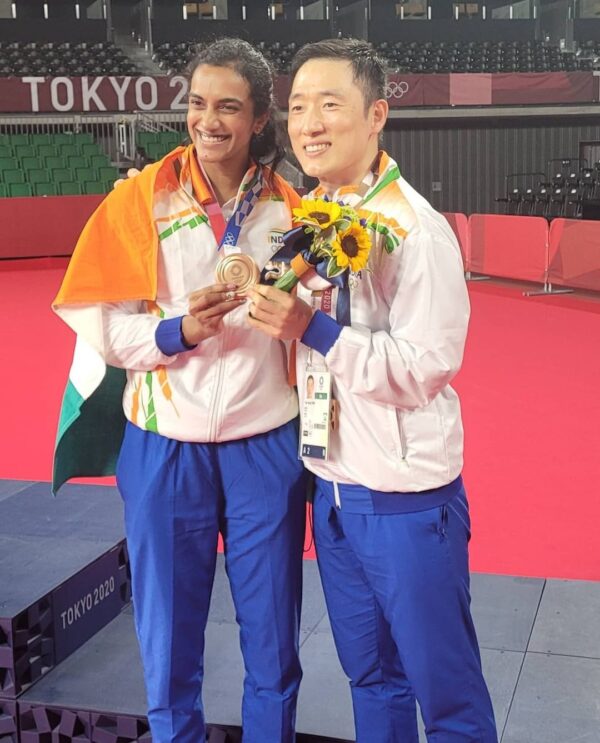 "My coach is happy. He put in a lot of effort and I would like to thank him. He left everything to be with me during the pandemic. He would have been missing his family. He always believed in me and we've finally done it. [At the end of the match] I just had tears and then went to my coach and hugged him," she said, acknowledging Park's sacrifice and support for her win.
Both the coach and his star student have proved to possess some really good partnership with communication, hard work, and efforts that made them achieve their one shared goal of bagging an Olympic medal.
Congratulations to Sindhu and coach Park Tae Sang for their hard work that has now brought immense pride to our country!
Find us on Instagram Twitter  YouTube for more content & news!