Will they actually stand a chance? 
Team NH is officially in a dilemma. Though a part of us roots for the couple, we know what kind of a person Jae Eon is. Now that things between them are growing, especially after episode 3, Na Bi has to get ready for a bad heartbreak. But if you want to look at this positively, this could be her breakthrough and she'll be better and stronger that before. 
Some from our team have already decided that they will not root for Jae Eon. But people like me, though we know that one day we probably will join the rest of the team, we still want to give him a chance. 
Also, guess what? Someone told me what happens in the end of the Webtoon! Don't worry, I will not be spoiling that for you. We can push this discussion to the last episode. But if you would like a little insight about the finale, the ending makes sense and we're extremely curious to know how the show will end. We eagerly look forward. 
"What is this emotion? I hope it's just love. Not childish jealously."
It is definitely jealousy. I do agree that Na Bi likes Jae Eon, but she has always been careful around him. Her initiating the kiss is for sure the effects of catching him kissing Yun Ji. It's just too early for her to fall in love with him. You could very well hit me up with "love works in weird ways," but this situation makes that phrase redundant, given the history and all. 
"Nevertheless" Review: Na Bi Gladly Invites Trouble (Episode 2)
He hadn't contacted her since that day and this only added on to her insecurity. Some would defend him and say that she didn't contact him either, but what else can she do? She is desperate not look desperate in front of him and wants to know if she was just another one in his parade of girls or if he actually feels something for her. Very debatable, I know.
A couple of days go by with both the leads making no contact at all, only increasing the weight in the air. Na Bi who could no longer take this silence, walks up to Jae Eon's workplace. But he received a call from a certain "Seol-A," and so, Na Bi decides to follow him. When Na Bi noticed how close Seol-A and Jae Eon looked together, it was in that moment she knew…she will never be his girl. 
In the convenience store while thinking about what she had just witnessed, she runs into her junior, Kim Eun Han, who has a crush on her and they even exchanged numbers. Eun Han is sweet and innocent. He even offered her his drink he'd been saving. She saw an opportunity to date someone better, who gives her the attention she deserves, and decided to give this a try.  
It's great to see Na Bi still holding on to her values and not settling for less, but she chose the wrong person to do that with. Though she found Eun Han cute and did like him, it wasn't much. But this was one way for her to prove to herself that she will not be taken advantage of and she really wanted to stay away from heartbreak and rejection.
Jae Eon noticed Na Bi and Eun Han getting close and his jealousy took over him.
Bad move Jae Eon. Manipulation? I expected. But this? Not the best way to handle it. The leads have a mild argument about where he says "I thought you were enjoying it," he definitely got led on by Na Bi. Not that she wanted it to be this way, she just made a mistake. 
They end things there and Na Bi walks into her "new beginning," or so she thought. She has fun on her date with Eun Han who really seemed to care for her. He hugs her cutely and says "You know that he only hurts other people. Don't let someone who was never sincere towards you, hurt you." Great advice Eun Han and this is something Na Bi definitely needed to hear.
She is set on keeping thing going with Eun Han. She deleted Jae Eon's contact too and decided to give ALL her attention to the new 'cute like a button' boyfriend. I was really starting to believe that the drama finally introduced the second lead and things were probably going to get messy. Did you guys fall for it too? 
In the college festival, things go South when she meets Kim Eun Han's new girlfriend, his old school crush who called him out of the blue and now they're together. From his face it is super evident that he didn't mean to hurt Na Bi and it all happened really quick. Na Bi gets rejected again. To top it all, Jae Eon was watching all this.
ARGHH! I'm sure none of us liked this. Na Bi does not deserve to get rejected like this, and most definitely not in front of Jae Eon. Eun Han does explain to her and sincerely apologized as well, but he really could have saved her from this embarrassment. She goes home, rolls herself into the blankets like a burrito, and wallows in embarrassment. She even falls sick! Girl seems to be sick of love, who can blame her.
*Alexa play Lovesick Girls by BLACKPINK*
Jae Eon calls her.
I know right!?
It is a known fact that no matter how much she tries to push him away, when she's next to him, butterflies don't stop.
Let the woman wallow in peace!
She tells him that she's sick but couldn't continue the call since her phone runs out of juice. This is the universes' way of telling her "Bruh stop talking to him and just go to sleep before you change your Mr. Red Flag!"
She quickly runs to the convenience store to get some medicine, finds nothing, and comes back home to see Jae Eon outside her door with paramedics trying to break in. 
 Jae Eon comes back with food and medicine for Na Bi. She invites him and the game is back on people! Why god? Why? Team NH, though frustrated, couldn't stop laughing at how the leads are back to square one. 
Jae Eon obviously cannot leave after this. He stayed the night and nursed her throughout.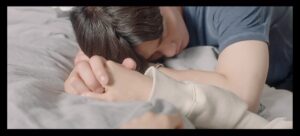 He even slept off holding her hand, UwU.  What followed after…was a HUGE leap for Na Bi with Jae Eon
It is just not fair how Na Bi keeps trying to make up for her silly decision but comes back to were it all started. Her racy dream, becomes reality.
The Other Doors
In the 3rd episode, we enjoyed the plot line of the supporting characters more than the main leads. I like how even with the limitation of time in term of episodes, the director has allotted time for them as well.
Let's start with Sol and Ji Wan
Omg! They're so cute. This shot, I don't find anything romantic about it, but the comfort it emits is healing. Also Team NH strongly feels that Ji Wan and Sol will end up together and we just can wait! Read more to see our theories.
Sol meets up with Ju Hyeok for lunch. Here is a series of pictures that will show you that Sol cannot take a hint XD
Oh Come on Sol!
Now, Let's Take A Peek in Ji Wan's Date.
 Ji Wan and her date are on their way to grab some food, and on their way talk about the movie. We have a theory here, but first see the pictures and jog your memory.
Her date felt the movie was about friendship, but Ji Wan totally felt it was about love and she also wanted to watch it with Sol. This is another piece of the puzzle the production team dropped for us.
Both these girls are out on the same day and almost cross paths, only Ji Wan notices her, but has no idea who the man with Sol is.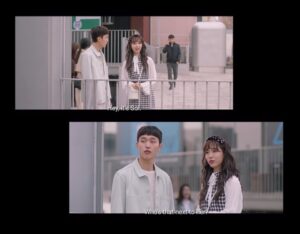 Next Important Scene
Sol still hasn't decided which foreign school she wants to go to, and most importantly hasn't told about this to Ji Wan. But the seniors unintentionally let the cat out of the bag and now she knows.
Ji Wan was hurt. Sol lately hasn't spent much time with her and is keeping a few secrets from her. Ji Wan was pretty understanding about the foreign exchange program, Sol needed time to tell her that. But doesn't change the fact that she's hurt and feels some sort of drift between them.
But things go South in the festival when their common friends starting talk about Sol's students exchange program, and Ji Wan realizes that she was the only person left out from this news. Sol brought Ju Hyeok to the festival and Ji Wan blew up.
More than jealously, disappointment is what I see here the most. The girls developing a romantic relationship or not is secondary, but before all that, they're best friends. So naturally Ji Wan is sad and I don't think I want to associate this with romance. I want to see this completely from a 'friendship' perspective, it only seems fair like that.
Bit Na and Nam Gyu Hyun
We saw this coming! But just not this soon, haha.
We support!
Now, let's move to the new, important character. 
Who is Seol-A?
 What is happening? Seol-A doesn't look like just any girl. Jae Eon called her his "fate." So he was portrayed as someone who has no interest in dating, but now he has is future already made? 
All of us now:
Verdict
 Recently, Na Bi has been making a lot of careless decisions. Jae Eon makes her feel different, and she wants to do things she's never done before, but isn't ready yet. Looking at the how things are speeding up between them, and given how slow she is at catching up with him, things aren't looking pretty. 
Her previous relationship has traumatized her, another heart break is the last thing she needs. But like she said it herself "the gates of hell have opened." 
Jae definitely feels something for her. He cares for her and he remembers little details about her. So there is a slim possibility for the leads to work out, provided he puts in effort. But to put in effort, he needs to like Na Bi so much that he is willing to change his perspective about commitment. Can he do that? Does her like her enough?
I need to confess something. I started this drama for the leads, but I'm going to be watch it more for the supporting characters. What about you guys? Comment away or tweet to us!
See you for episode 4 !
Find us on Instagram   Twitter   YouTube for more content & news!