Do you know what Chuseok is?
추석 (Chuseok), one of the most important Korean traditional holidays, is a festival meant to celebrate the bountiful harvest. The word Chuseok comes from the Chinese characters 秋 (qiū, which means "autumn/fall") and 夕 (xī, which means "evening/sunset"). Thus Chuseok literally means "the evening of Autumn."
As it is a mid-autumn harvest festival, it is also called 한가위 (han-ga-wi). Han-ga-wi comes from native Korean words, 한 (han) meaning "big" and 가위 (gawi) meaning "center," thus meaning "the great middle (of autumn)." However, the name Han-ga-wi is not come across very often, and Chuseok is the more commonly used name. It is sometimes also referred to as "Korean Thanksgiving Day."
Chuseok is a three-day long holiday in South Korea, celebrated on the 15th day of the 8th month of the lunar calendar, on the full moon. This year, the Chuseok holiday falls between the 9th to the 11th of September with the full moon on the 10th.  
During Chuseok, people travel to their ancestral hometowns and spend time with family. The customs and celebrations include eating traditional Korean dishes, performing ancestral worship rituals, exchanging gift sets and playing folk games. Keep reading to learn more about the key rituals and conventions associated with Chuseok!
Han-bok (한복)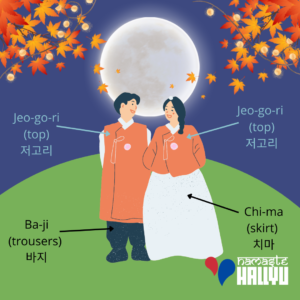 Often seen in historical K-Dramas, the han-bok is the traditional clothing worn by Koreans on special holidays such as Seollal (Lunar New Year) and Chuseok.
Char-ye (차례)
Char-ye is a memorial service performed for ancestors on cultural holidays like Seollal and Chuseok. It symbolizes the conventional view of transcendent life beyond physical death, and is a way of showing respect to the ancestral spirits that protect their descendants. It involves the preparation of traditional foods, which are then offered to generations of the family's ancestors. The char-ye rites are generally only performed by the eldest male heir of the family.
Seong-myo (성묘)
Seong-myo is the second major ritual associated with Chuseok. It involves visiting the ancestral graves, after performing the char-ye at home. The place is tidied up by cutting weeds and bushes that may have grown there, and this process is called beol-cho (벌초).  This is another way of caring for and showing respect for the ancestral spirits. 
Song-pyeon (송편)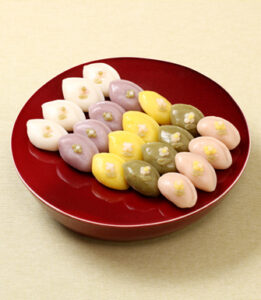 Song-pyeon is one of the most popular food items prepared for the Chuseok meal. It is a half moon-shaped traditional rice cake made with a variety of ingredients including pine nuts, sesame seeds, black beans, cinnamon, walnut, and more. It is believed that if a single woman makes a beautiful looking song-pyeon, she will find a good husband and that if a pregnant woman makes a beautiful-looking song-pyeon, she will give birth to a beautiful daughter.
Han-gwa (한과)
Han-gwa is a general term that encompasses a wide range of traditional Korean sweets made with rice cake, adorned with textured patterns and decorated with natural colours. Han-gwa includes several types of well-loved sweets such as 약과 (yak-gwa; a honey cookie), 유과 (yu-gwa; a deep-fried cookie), and 다식 (da-sik; a tea cake). 
Ssi-reum (씨름)
Ssi-reum, or wrestling, is one of the most popular games played on Chuseok. There are many wrestling competitions held during the Chuseok holidays, and the winner is crowned Cheon-ha Jang-sa, Baek-du Jang-sa, or Hal-la Jang-sa, which means "the most powerful".
Gang-gang-sul-lae (강강술래)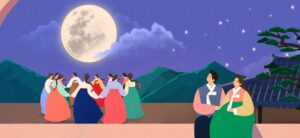 This is an ancient Korean dance which is often associated with the Chuseok holiday. Women dressed in the han-bok join hands to form a large circle, and sing while going around the circle. Gang-gang-sul-lae was first used to usher in an abundant harvest and has been recognised by UNESCO as an intangible cultural heritage from Korea.
Which of these Chuseok activities or dishes would you most like to try? Let us know in the comments~ 
추석 연휴 잘 보내세요 여러분! (Chu-seok yeon-hyu jal bo-nae-sae-yo yeo-reo-bun!) – Have a nice Chuseok holiday, everyone!
Featured Image Credits: 10 Magazine Korea
Connect with us on Instagram  Twitter  YouTube for more content, interviews, & news.