In 2020, there's no question K-pop is now part of the mainstream. It's a different environment than even two years ago, when "League of Legends" virtual group K/DA broke YouTube records and charted on Billboard's world lists.
"As real musicians, we wanted players to interact and 'stan' over them, the same way they can with other musicians in the real world through social media," said Patrick Morales, Riot Games' creative director for "League of Legends," K/DA and Seraphine, the new music-based Champion character. "Much of what began as a celebration of music has gone on to inspire content from skins to limited-time in-game events … creating a unique ecosystem."
The K/DA production line has three tracks: the songs, the in-game skins and events, and the marketing, which Morales oversees. Toa Dunn, head of Riot Music Group, said they write music that "makes sense" for the characters and the lore. It's not necessarily about chasing the latest sound or trends in music.
"Even for us back in 2018, a lot of us were really passionate and inspired by Western pop and K-pop at the time, and the differences between the two," Dunn said. "It's exploring what we're passionate about and having that as the North Star we chase, as opposed to what is someone else is doing. We think that's something that resonates with players. We're not trying to imitate, we're just driven by pure passion and what our players like. And that's how we end up in the spaces we're at."
"We didn't do it with the intention of following what was happening at the time, because there was no parallel to K/DA," Morales said. "We just wanted our own take on it, and we know our players. Our only hope with K/DA was to channel their love of the game into a place they didn't expect. The unique thing about K/DA musically is that it is a different mix of eclectic inspirations. … Broadly, it feels like pop to me."
Riot Games has finally released K/DA's last concept music video featuring Ahri's "I'LL SHOW YOU" and also helped to produce the song. This last track from the "ALL OUT"  EP features artists like Bekuh BOOM, Annika Wells, and popular K-pop group TWICE. The MV has plenty of visuals that hint at many struggles she faced throughout her carrier.
With the August release of K/DA single "THE BADDEST", Riot Games virtual K-Pop act have made their ultimate takeover as they dropped their first EP, "ALL OUT ", on November 6, 2020 (Friday).
K/DA DEBUT EP [ALL OUT] // STREAM ON 11.06.2020#KDA #ALLOUT #CALLINGALLBLADES #COMINGSOON pic.twitter.com/wxdCwwwgEA

— K/DA (@KDA_MUSIC) October 2, 2020
K/DA the four-member K-pop act may not be physically available in our timeline, but through the digital magic of Riot Games, they emerged from digital DNA to chart-toppers in this world. The digital group found mainstream success in 2018 and was composed of League of Legends champions Ahri, Kai'Sa, Akali, and Evelynn with the release of their viral debut single "POP/STARS." 
Stream the new EP below.
K/DA Members:
Ahri (voiced by Miyeon) is a nine-tailed foxgirl mage in League, who is one of the most popular characters in the game. In-game, her abilities revolve primarily around dashing around and a Charm ability that forces enemies to walk towards her. In K/DA, Ahri and Evelynn serve as the main vocalists. According to Miyeon, she started learning more about League and actually played the game as Ahri to better understand her character.
She has carried you to where you need to be.#WHEREWEVEBEEN #AHRI #KDA #CALLINGALLBLADES pic.twitter.com/0SBNs5a1Hz

— K/DA (@KDA_MUSIC) September 23, 2020
Evelynn (voiced by Madison Beer) is, similar to Akali, an assassin-type character, whose lore is centered around being a succubus. In K/DA, Ahri and Evelynn serve as the main vocalists.
You choose who they see.#WHEREWEVEBEEN #EVELYNN #KDA #CALLINGALLBLADES pic.twitter.com/fHHrS9zA3q

— K/DA (@KDA_MUSIC) September 11, 2020
Kai'Sa (voiced by Jaira Burns) is a relatively new character in the game and a marksman character. According to her lore, after spending most of her life trapped in The Void, a horrific alternate dimension, she returned as a killer who zooms around and shoots missiles from cannons floating above her shoulders. In K/DA, Kai'Sa is the main dancer of the group.
To you who feel lost.#WHEREWEVEBEEN #KAISA #KDA #CALLINGALLBLADES pic.twitter.com/GK1uUy9In2

— K/DA (@KDA_MUSIC) September 14, 2020
Akali (voiced by Soyeon) is an assassin-type character in League who weaves in and out of the darkness and throws kunai at opponents. In K/DA, Akali is the rapper of the group. Soyeon said she tried to "feel like Akali and move as if I were Akali" during the motion capture for Pop/Stars.
Come back stronger.#WHEREWEVEBEEN #AKALI #KDA #CALLINGALLBLADES pic.twitter.com/3IlgxPjYCv

— K/DA (@KDA_MUSIC) September 2, 2020
K/DA's "I'll Show You"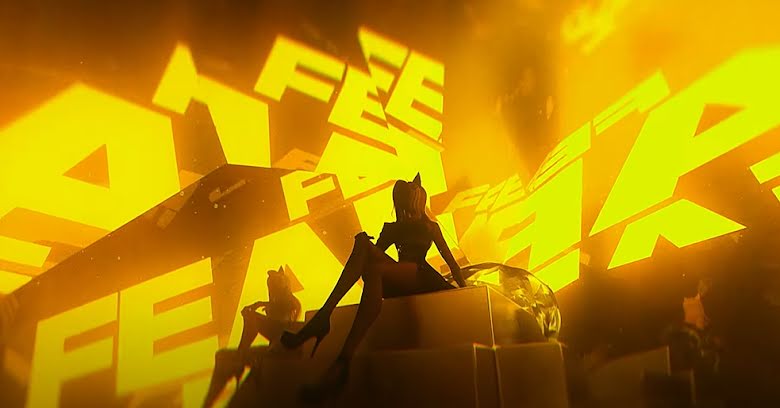 The MV is packed with stunning visuals and great vocals gaining more popularity on Twitter with the hashtags #ILLSHOWYOU and #KDAxTWICE. Among these tweets, were ONCEs and (K/DA's new fandom) BLADEs having fun picking out the tiny details that reminded them of TWICE, the featured artist on the track. The most notable of all the references were the two lotus scenes.
The lotus scene is very similar to TWICE's "FANCY" and "I CAN'T STOP ME".
The umbrella scene and the picture view scene also reminds of ONCE's memories with TWICE's "Feel Special".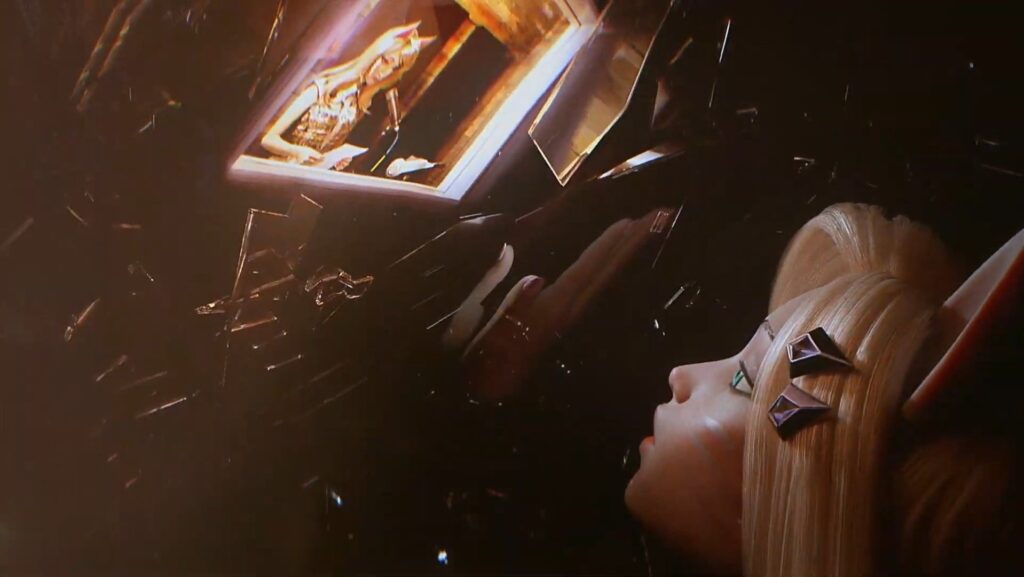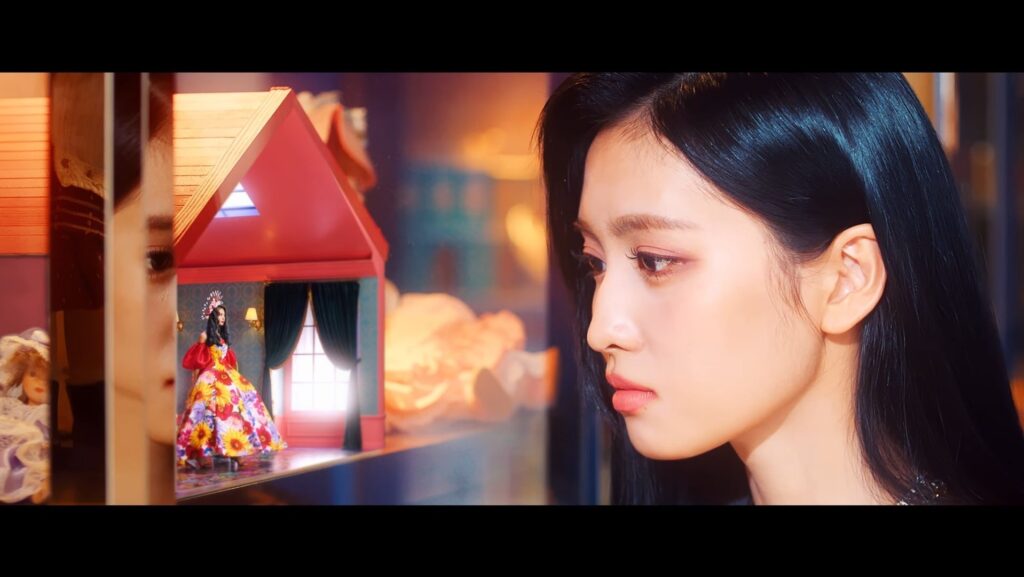 The pose is very similar to TWICE's "FANCY".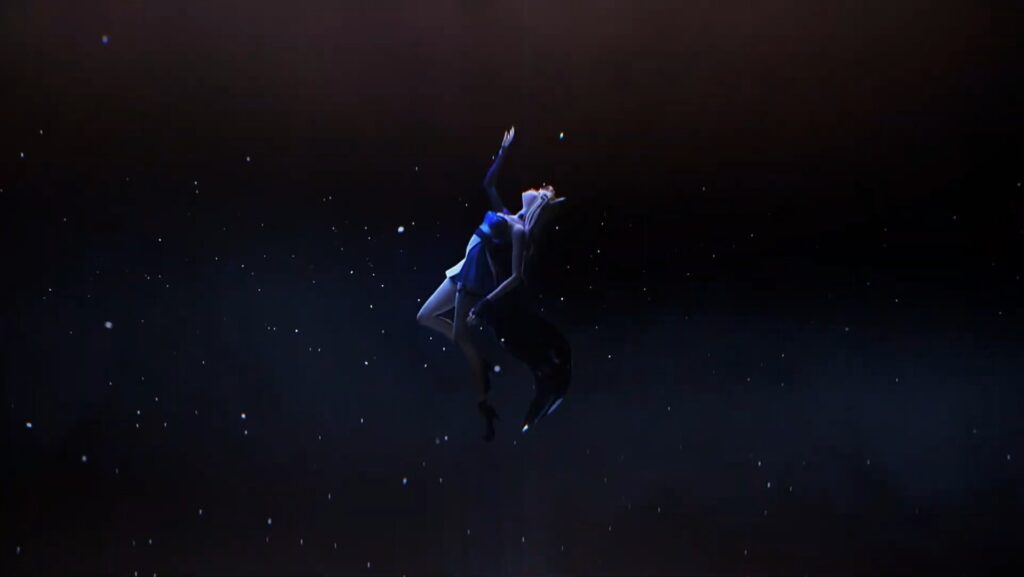 Also, some K/DA fans found that the mirror scene is similar to the Japanese release of TWICE's "Fake & True".
K/DA fans still enjoyed finding these small things that reminded them of TWICE. It's nice to see K/DA paying a small homage to their guests, TWICE.
K/DA UPDATE'S
K/DA UPDATE (10/09/2020): 
The group announced the official tracklist for their upcoming EP "ALL OUT". Their post also revealed that the official music video for their next single "MORE" is scheduled to drop on October 28 (Wednesday).
K/DA [ALL OUT] EP TRACKLIST // "MORE" OFFICIAL MV – YOUTUBE PREMIERE 10.28.20#KDA #ALLOUT #TRACKLIST #KDAMORE pic.twitter.com/iOqjS7LqTp

— K/DA (@KDA_MUSIC) October 9, 2020
K/DA UPDATE (10/16/2020): 
The group shared a new update about their upcoming EP, revealing collaborations with the likes of Madison Beer, Lexie Liu, Kim Petras, Aluna, Bekuh BOOM, TWICE, and Annika Wells.
Below you can check out the K/DA – "ALL OUT" EP tracklist.
"THE BADDEST" ft. Bea Miller, Wolftyla, (G)I-DLE
"MORE" ft. Madison Beer, (G)I-DLE, Lexie Liu, Jaira Burns, Seraphine
"VILLAIN" ft. Madison Beer, Kim Petras
"DRUM GO DUM" ft. Aluna, Wolftyla, Bekuh BOOM
"I'LL SHOW YOU" ft. TWICE, Bekuh BOOM, Annika Wells
After the announcement of the release of the "ALL OUT" EP K/DA has been inviting fans to share dance covers of "THE BADDEST" as well as their cosplay outfits of each member.
All Out was written by Bekuh Boom, and produced by Riot Games composer Sebastien Najand. Riot says the EP represents a more 'global pop sound', as opposed to purely a K-pop one, which I'll admit I didn't quite understand when listening to The Baddest, More, and Villain—three tracks I see very much at home in modern K-pop.
K/DA UPDATE  (10/23/2020): 
The countdown to the release of K/DA's "More" music video has begun and a new video teaser looks like K/DA will be unveiling another full-production video for their next single, backed by their thundering bass drops.K/DA's '"More"  music video was scheduled to premiere on October 28 at 10 p.m. (PHT/SGT).
Thank you all for taking part in the past month of #KDAMORE. Now, experience this first look of the upcoming music video: "MORE."

Pre-save "MORE" now: https://t.co/MgRQs8QJ2X pic.twitter.com/J67Y4R5XAl

— K/DA (@KDA_MUSIC) October 23, 2020
Three days. | YOUTUBE PREMIERE 10.28.20 / 7:00 AM PDT#KDA #ALLOUT #KDAMORE pic.twitter.com/FgPqHDj09m

— K/DA (@KDA_MUSIC) October 25, 2020
Two days. | YOUTUBE PREMIERE 10.28.20 / 7:00 AM PDT#KDA #ALLOUT #KDAMORE pic.twitter.com/sSxVf1ZjrO

— K/DA (@KDA_MUSIC) October 26, 2020
Tomorrow. | YOUTUBE PREMIERE 10.28.20 / 7:00 AM PDT#KDA #ALLOUT #KDAMORE pic.twitter.com/9c3zyq5nl3

— K/DA (@KDA_MUSIC) October 27, 2020
K/DA UPDATE  (10/29/2020):
The group finally unveiled their second single "More" off of their upcoming EP, "ALL OUT". The animated visual sees the group share their first collaboration with Riot Games' virtual influencer Seraphine. Since it's 10 p.m. (PHT/SGT) release, the visual has garnered over 6.5 million views at press time.
Check out the video below.
K/DA UPDATE  (11/01/2020):
K/DA made their AR return to the World's stage at the Pudong Football Stadium in Shanghai for its 2020 installment before a crowd of around 6,000 fans.
K/DA performed their latest single "More" with a special live appearance by Chinese pop star Lexie Liu, who lends her voice on the recorded track as Seraphine.
Get to know more about K/DA below:
THE BEGINNING OF K/DA
The team behind the Riot Games staged an elaborate production with American pop-rock act Against the Current, who performed "Legends Never Die" as a virtual dragon swooped into the arena through augmented reality for its opening ceremony when the annual League of Legends World Championship (a.k.a Worlds) was held in Beijing, China back in the year 2017.
When the team found out that the next Worlds would be held in South Korea, the ideas started running in their heads as the next one had to be even bigger. And there was no better way to go big than by tuning to Korea's greatest export—K-Pop.
The Riot Games team initially didn't know much about K-Pop, they knew they wanted to create something big that would surprise fans—a music video with dance choreography that leaned toward K-Pop. So they researched and learned. Gathering inspiration from the many sides of the explosive genre while living and breathing K-Pop. The team went back to the drawing board revamping the soul-devouring nine-tailed fox Ahri from her 2013 Popstar skin (which closely resembles Girls' Generation's Genie era) to continue her story. They had their thinking hats on constantly asking themselves "What would Ahri be now?" taking the idea further and they found her to be an empowering leader of the pop quartet that vibed along the lines of pop and hip-hop with music that was hard-hitting and made listeners feel good and pumped up.
K/DA DEBUT :
K/DA was debuted by Riot games at Worlds 2018 Incheon, South Korea with "POP/STARS" featuring (G)I-DLE's Miyeon and Soyeon who lent their voices to Ahri and Akali, respectively, as Madison Beer and Jaira Burns recorded and performed as Evelynn and Kai'Sa, respectively. The augmented reality versions of their counterparts appeared onstage with them for the opening ceremony presentation.
And that was just the beginning. From there, K/DA rose to fame as their debut single, "POP/STARS"  topped iTunes and Billboard charts with over 170 million digital streams. Its official animated music video was an entire powerhouse of its own as it reached over 377 million views, making it the most successful debut for a K-Pop group in YouTube history.
After their announcement, K/DA revealed that they will be releasing their debut EP, ALL OUT, on November 6, 2020 (Friday) featuring collaborations with the likes of Seraphine, Lexie Liu, Kim Petras, Aluna, Bekuh BOOM, TWICE, and Annika Wells. Leading up to the release K/DA dropped teasers for the release of their third single "MORE" which features Seraphine. The animated video garnered over 6.5 million plays in 15 hours of its premiere.
Throughout the month of November, Riot Games released concept videos for each track off of K/DA's "ALL OUT" EP.
You might have heard the name of the famous online sensation Bailey Sok and One Million Dance Studio. K/DA collaborated with them making fans filled with their updates and feeds with collabs and dance video.
"I'LL SHOW YOU" the track on K / DA's first official EP album, features a fast pace with a unique K-POP musical style. Members of the popular Korean girls' group 'Twice" Jihyo, Nayeon, Sana With the participation of Chae-young, it attracted a lot of attention even before the song was released.
The video "1MILLION XK / DA-I'LL SHOW YOU" has received strong reactions since its release on the 26th at 10 pm. This video shows a refreshing choreography combined with a fast, gaudy pace and is directed directly by LIA KIM (Kim Hye-rang), the representative of the One Million Dance Studio, and the chief choreographer who works on TWICE's 'TT' and Sunmis 'Gashina' worked, choreographed. Draws attention by creating and appearing. Debbie, Yujin, and Canal, who also appeared in the "1MILLION XK / DA-MORE"creative choreography video of the EP album's title track 'MORE', including choreographers Minyoung and Ara, showed brilliant choreography. The video reached 5 million views within two weeks of its launch.
This concept video was another impressive creation of Riot and should be able to hold K/DA fans over until the group returns with another set of hit songs.
K/DA OFFICIAL FAN CLUB AND LIGHTSTICK:
K/DA has their official fanclub including the merch and lightstick.
They also have a fan kit containing concept photos, art, turnarounds, and instrumental stems which you can download for free here.
WHICH IS YOUR FAVOURITE CHARACTER FROM K/DA AND WHAT DO YOU THINK ABOUT THEIR LATEST MV? LET US KNOW IN THE COMMENT SECTION BELOW.
Stay tuned here for more updates on K/DA.