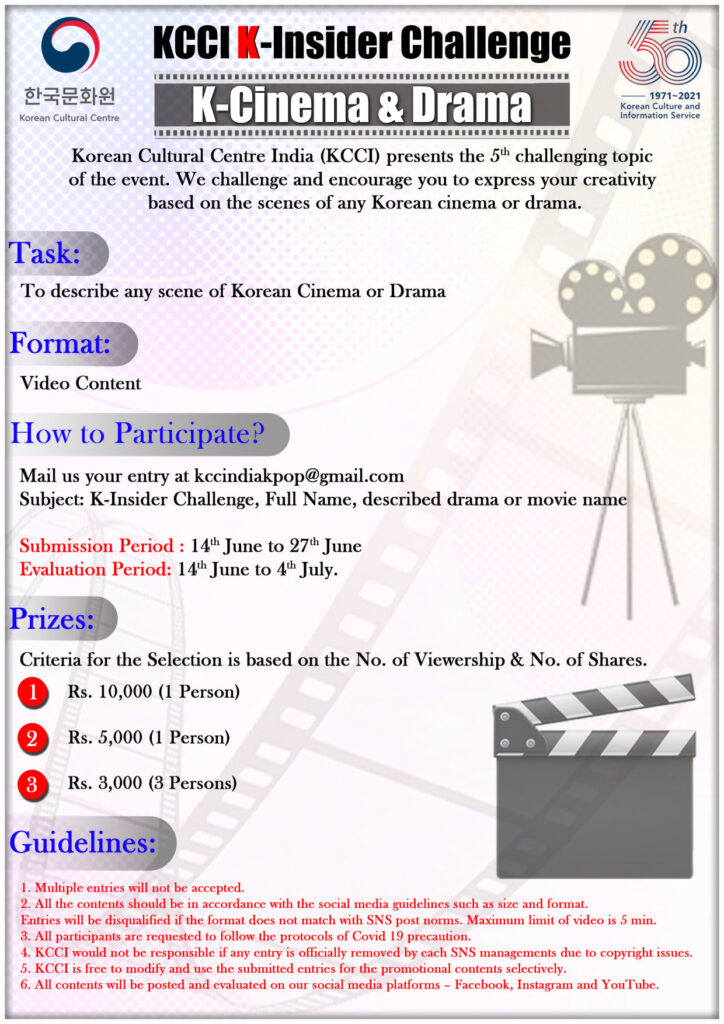 Korean Cultural Centre India announces Video Contest + Cash Prizes to be won!
Love watching Korean Drama or Movies? Binge watching through this pandemic? Here's a chance to win cash prizes!
The Korean Culture Centre India is back with KCCI K-Insider Challenge! And the 5th challenging topic of the series is 'K-Cinema & Drama scene description'. You can express your creativity based on the scenes of any Korean cinema or drama through a video. The criteria of selection is based on the number of viewership and share.
The prizes are as follows:
1st place(1 person): Rs. 10,000
2nd place(1 person): Rs. 5,000
3rd place(3 persons): Rs. 3,000
You can participate by mailing your entry to kccindiakpop@gmail.com with the Subject as,  K-Insider Challenge, Full Name, described drama or movie name. The submission period  starts today i.e. 14th June and runs till 27th June and the evaluation period is from 14th June to 4th July.
KCCI has also posted the below guidelines:
1. Multiple entries will not be accepted.
2. All the contents should be in accordance with the social media guidelines such as size and format. Entries will be disqualified if the format does not match with SNS post norms. Maximum limit of video is 5 min.
3. All participants are requested to follow the protocols of Covid 19 precaution.
4. KCCI would not be responsible if any entry is officially removed by each SNS managements due to copyright issues.
5. KCCI is free to modify and use the submitted entries for the promotional contents selectively.
6. All contents will be posted and evaluated on our social media platforms – Facebook, Instagram, YouTube.
For more information, you can check the official announcement below.
Good luck to all the participants!