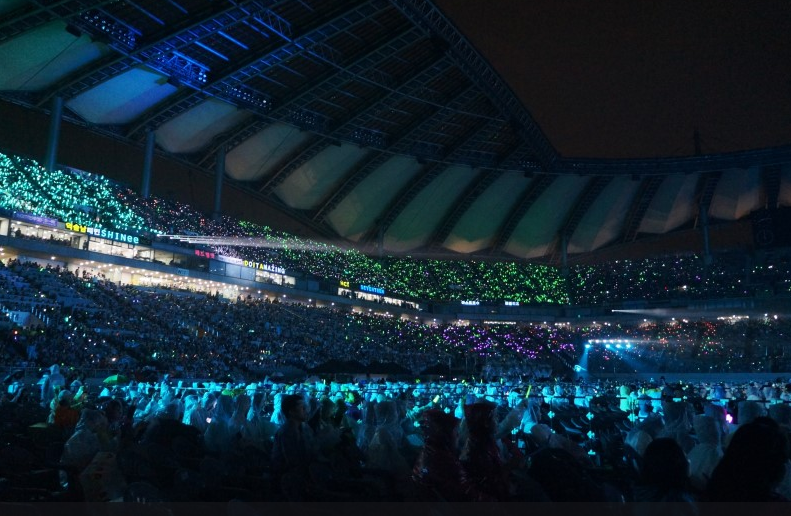 K-POP has become a big sensation over the years garnering fans all over the world and hence making a mark of it's own.
The music, outfits, concepts, variety shows and many other aspects of the industry have attracted people regardless of their age. In this episode of 'K-onversations,  where we discuss the K'ontroversies and other topics, we will today, look beyond all the music, talent, sold-out shows, glamour, immense popularity, alluring bright faces that we see on the screen and dive into another aspect of it which is generally unspoken of. We hope that we can encourage positive discussions.
The pressure that comes with being a K-POP idol such as back to back schedules, an ideal image to maintain and public scrutiny can get demanding, especially when the survival of K-POP idols in the industry is strongly dependent on the opinions of fans and the general public besides their talent. It would not be wrong to say that one of the foundations for a successful career is in maintaining the 'image' presented to the public and is therefore strictly regulated by the companies and fans. Though this is similar for celebrities all over the world, the nature of marketing and K-POP in general tends to be greatly dependent on their "public image" as compared to the rest. The early entry of individuals into the 'idol life', intense competition, societal expectations, abuse and exploitation amongst many other factors make them easily susceptible to mental health issues such as anxiety, depression, eating disorders, panic disorders etc.
Despite the necessity, mental health is generally frowned upon and has been a hushed-up topic in the K-POP scenario as well as in the country in general. Mental health is still considered a taboo and the society considers it as a sign of weakness. Hence, it is a silent expected norm to have the ability to sort out issues on one's own instead of approaching a mental health professional. According to the latest statistics, Korea still has the highest suicide rates among the OECD countries and suicide has been the leading cause of death among the youth in Korea. The entertainment industry in Korea has also witnessed numerous suicide cases for over a decade, this highlights the essential necessity to address mental health.
Though there has been a slow shift towards progression, a lot of work is still required. Occasional mentions about mental health have been observed previously but the unexpected passing of SHINee's member, Kim Jonghyun in 2017 put the necessity of mental health in the limelight. The K-POP world then received two other shocking news about the demise of Sulli and Goo Hara in 2019 highlighting the necessity of a change in the K-POP industry.
What makes K-POP idols more susceptible to mental illness? Is there anything that has been done for it? What are some of the apparent probable causes? What are some of the things we as fans and the society can do? These are a few of the many questions that needs to be addressed.
Majority of the trainees join during their formative years getting exposed to circumstances that borderlines on child abuse. Psychologists have always emphasised on the importance of early childhood experiences and how it can affect adulthood. To cater to their profession, idols form a persona. The duality between the real self and the created identity can become one of the triggers for mental health issues at a later stage.
Many a times, Idols start training when they haven't developed a sense of self yet. There are many idols who are known to have started training at a very early age and that itself becomes a factor as there are difficulties in facing the challenges along with the uneasiness about the future of whether they would be able to debut or not and even if they do debut, there are factors that they have to face that comes along with the job. The freedom artists have in the K-POP industry is limited and regulated majorly by the agencies. This can be freedom in terms of expression of creativity to individual identities. The roles and image created for each member and the expectations accompanying those roles are typically manufactured by agencies. In this process the final artist we see becomes a product whereby the humane aspect takes a backseat.
K-POP fans are not new to the rigorous training system before debut. Survival shows such as Who is Next, Mix Nine, Produce 101, Sixteen and Idol School are just a few that gives us a glimpse of the training process. A documentary of Nine Muses by BBC also opened up a major conversation of what happens during the training process. There is a cut-throat competition to get into agencies and it does not end there. The training process can include many aspects from practising dance, vocal, rap and facial expressions to one's role in the group. Balancing between jam packed schedules, living together with other trainees, dealing with personality differences, maintaining an 'ideal' weight, competing for a spot in the debut group and societal expectations can become an excessive burden to individuals. These experiences are considered 'normal' for idols and talking about it, unfortunately can in turn be detrimental for them.
The nature of their job also demands idols to have a perfect image which is impossible to maintain and the struggle to achieve that 'perfection' can be a major stressor. The 'image' here includes both – desired personas and physical appearances. We often hear idols talk about their extreme diet plans and regular weight check ins by their own companies. Despite compact schedules, there have been instances of idols still performing even if they are sick to the point of fainting on stage. K-POP idols are scrutinised if they do not smile in pictures, interact lesser or more than usual and even dress differently from what is expected. Shinhwa's Kim Dongwan has particularly talked about this issue where he mentioned about the expectations from celebrities to smile and be cheerful even if they haven't eaten or slept well.
Apart from this, idols are also very cautious when it comes to getting into romantic relationships as this can hamper their survival in their industry. Every minute aspect of their lives come under the magnified glasses of the public and this can become extremely taxing for idols. When Bigbang's member Taeyang confirmed his relationship with Min Hyorin, it was received quite positively as compared to other dating 'scandals'. Though the approach towards dating news has changed positively over the years, most dating news are still frowned upon. There does seem to be a biasness when it comes to dating 'scandals' as well but there seems to be no definite distinction or rule behind it.
Another topic that has not been talked about enough is menstruation. Cramps, mood swings, cravings are natural during periods. However female idols are expected to still with bear it and carry out their roles throughout their schedules. PRISTIN is one of the few girl groups who has openly talked about the difficulties during periods. Female idols are also likely to be scrutinized more compared to their male counterparts. Sexism and misogyny sadly still exists in the K-POP industry like everywhere else and female idols do suffer because of it.
Last year, several male stars including Choi Jonghoon and Jung Joonyoung were caught involving in sexual crimes where they were sentenced to imprisonment for abusing and raping women, illegally filming and distributing the tapes. This is just one of the many incidents where stars abuse their celebrity status. Apart from this, there have also been several private incidents of celebrities which have been greatly debated and frowned upon because of the abuse of "celebrity power".
Like any industry in the world, there are clear-cut power dynamics going on in relation to gender, between idols themselves, idols and the company or idols and the people working as part of it. The nepotism, senior-junior culture and expected roles from the relationships when misused can be easily abused. Sponsorship is also common and many aspiring trainees and idols have reported of abuse from sponsors. Though there are exceptions, agencies in the K-POP industry have been known to provide long unfair contracts to idols. There have been numerous cases of mistreatment, exploitation and abuse of idols by agencies. In 2018, former The East Light member, Lee Seokcheol exposed the horrifying physical and verbal abuse the members faced. Boy group ATEEN also recently revealed the sexual abuse they faced from their CEO and his wife. Wooyeop and Taeseon from TRCNG filed a report against TS Entertainment at the end of 2019 for contract termination on grounds of abuse, extortion and poor living conditions. BAP had also filed a lawsuit against TS Entertainment in 2014 against unfair treatment.
Bullying is another common issue often heard of. The K-POP world was recently startled with the bullying reports made by former AOA member Kwon Mina against former leader Jimin. Former lLUV member Minah also made allegations against the members of lLUV for bullying her. Cyberbullying, threats and negative comments from netizens also affects an individual's mental health greatly. Verbal abuse is another form of abuse that is highly brushed under the rug or normalised.
Even when idols recognise that they have mental health problems, many of them are unable to seek help due to the stigma and shame attached to approaching a mental health professional. It has been seen as a sign of weakness and a lot of them avoid it. Friends and family members naturally become the source of help but there is a bigger need for a mental health professional.
In an interview conducted this year by Xsports News with several agencies regarding their artists' mental well-being, only a few mentioned their incorporation of mental health professionals. Majority of them mentioned meditation, interventions from the management themselves, allowing breaks and taking care of their idols. These initiatives are great but it might not solve the actual issues which require the help of mental health professionals.
Though the topic of mental health is generally frowned upon, idols such has Shinhwa's Kim Dongwan, Bang Yongguk, Bigbang's G-Dragon, EXO's Kai, IU, Super Junior's Leeteuk, Suzy, Epik High's Tablo, Girls Generation's Taeyeon, BTS's RM & Suga, KARD BM, Block B's Park Kyung, Lee Hi, Younha, Former Royal Pirates Member James Lee, Former f(x) member Amber, MFBTY and many more K-POP idols have come out and spoken about it openly through interviews, songs and their personal works. This has been welcomed by the fans who struggle as well as relate to it but as an industry, there is still a lot that has to be learned, unlearned and accepted.
The topic of mental health in the K-POP industry is vast and it is not possible to delve into the depths of it through an article. The issues are deep rooted and changes cannot happen in a day. The system in the K-POP industry itself needs a change. There is an immense need for recognizing and talking about mental health. Agencies and companies also need to step up and incorporate measures addressing mental health of idols. Talking about mental health needs to be normalized. It is also important that agencies recognize the importance of using mental health professionals over other alternatives they generally tend to use.
The idea behind this 'K-onversation' was to bring up the important topic of mental health, what lies behind and to remind us that no matter what image is portrayed, K-POP idols are also human beings like us. As fans, it is important to think about what we say or do online and the repercussions our actions can have. While we love the music and the impact it gives us, we need to continue remembering that idols are also human beings, mental health is real and the consequences of making assumptions over what we see through our screens can be harmful. So let's all enjoy the music!
If you or anyone you know is facing any Mental Health issues, please do reach out for help. You are not alone:
iCALL (10 AM to 8PM, Mon to Sat) : 9152987821
SNEHA (10 AM to 6 PM, Mon to Sat) : 9167535765
Fortis Stress Helpline (24/7) : 8376804102