FNC Entertainment's rookie group, P1Harmony comprising of members Keeho, Theo, Jiung, Intak, Soul, and Jongseob has already become one of the promising acts in the K-POP industry. The group embarked their journey in October, 2020 with their first mini album DISHARMONY: STAND OUT accompanied with a powerful single, 'SIREN'  continued to soar high by participating in multiple promotional activities which also includes their notable collaboration with the DAZED Magazine. Despite debuting in a pandemic era, the members' strong performances and well built teamwork gained fans around the world and made them more curious about the group's return. After almost six months, the act made their first comeback with another fierce single "SCARED" along with their second mini album DISHARMONY: BREAK OUT. The latest mini album, develops the DISHARMONY series as the group continues to voice out of being a change.
While comparing their debut and comeback experience, Theo states, "Compared to our first album we felt more at ease with the second album preparations and promotions. It was an easy transition." Keeho further adds, "We had a lot more in person and offline events, fan meets. We had fan meets once every week and it went so quickly that I can't even remember. We did a lot of things."
Album Review: P1Harmony isn't "Scared" to Express in DISHARMONY: BREAKOUT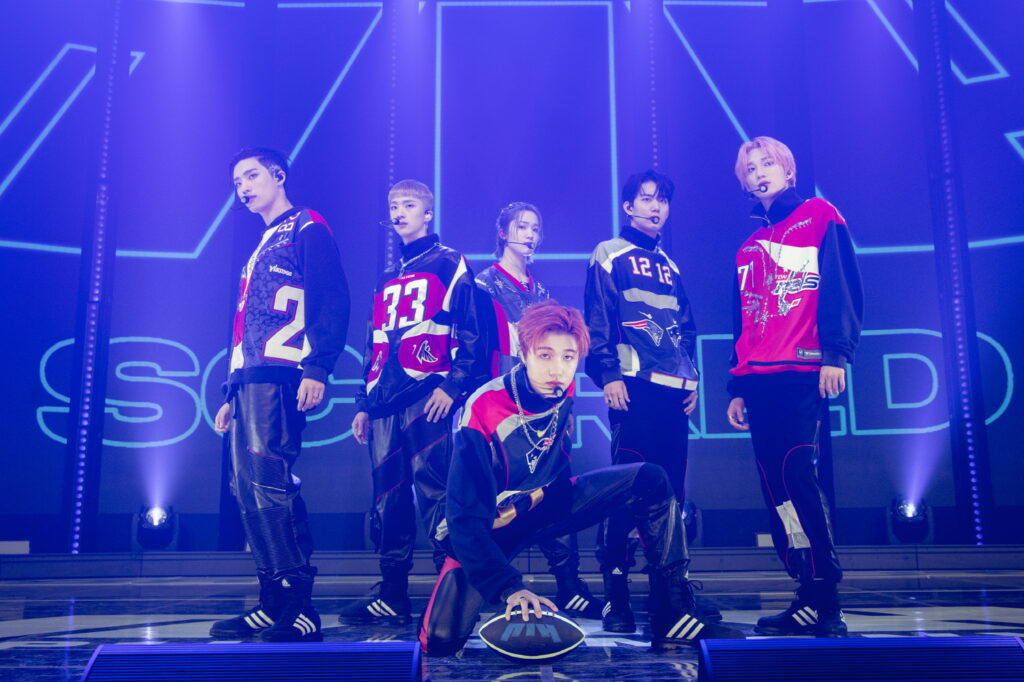 In the era where uncertainty prevails among every individual, it has become a necessity for every artist to spread hope – leading the industry to an age of social message. With the huge phenomenon rising among the new generation artists it is easy to get swayed away by the wave, but for P1Harmony, they are confident with where they are heading. "The first debut and the first comeback are both really important. In our first album, we were kind of deciding our sound and how we want to go forward with our concept style. During our comeback, we were a little nervous and confident at the same time. We wanted to know what our fans thought about our music. We prepared for our second album  just as long as we prepared for our debut so we actually had more confidence in our music and our performances," Keeho wisely weaves his answer as the youngest member, Jongseob adds in, "During our first promotions I took time to observe and learn from everything we did. The second time I wasn't that nervous or scared to express myself. I felt more comfortable".
"Make up your mind/ Show what's really inside you/ Stop lying" sings the group in their latest title track as the members continue to reinforce the message of accepting oneself and being a change. The members explain the amount of thought put behind the lyrics of 'Scared' and that "Don't Be Scared" is not just a catchy tagline. When they were asked if they would like to tell the message to themselves, the members honestly opened up about their past and present fears that they would like to overcome in due course of time. Keeho answers first as he says, "I would say 'Don't be Scared' to my past self. I was so scared of getting on stage when I was young. I could sing and dance well but I wasn't just confident enough to showcase it to people. I was not confident and I don't know why. I wish I could have stopped worrying like that and had more confidence."
Jiung gives a new perception as he opens up, "I want to say 'Don't be Scared' to my future self. Not to comprise his needs or standards. I wanna learn more, explore, gain more knowledge, meet more people and have more responsibilities. Not to be scared and not to compromise myself for my surroundings".  Theo continues, "I wanted to tell 'Don't be Scared' to my future self. Not to be afraid of gaining more public attention and popularity,"  perhaps knowing that they are going to make it big for sure in the near future. The most positive member voted by the members, Intak sincerely answers, "I want to tell myself not to be scared of all the hardships that life tends to throw at me in the future. Sometimes, it is gonna happen regardless and I want to be confident in overcoming such difficulties in life," later followed by the youngest, "I want to tell my future self not to lose my freedom. When I was young, I would do music more confidently and was never afraid to do stuff on stage. But, as I grow older I feel more hesitant in being free and constructive. I wanna have enough confidence to do what I like". Soul, known for being a keen observer of any conversation and interview, finally confronts, "To my past, present and future, I want to say not to be afraid of gaining people's attention. I always felt that I had the fear of having a spotlight but I wanna tell myself not to be scared of it anymore".
When most of the members choose 'Scared' as the song that represents themselves for its in-depth message, Theo picks 'AYAYA' as his favourite, "Personally it is my favourite song. Whenever the song is being played, I have so much fun." The song remains as a special track for the members as its lyrics were personally penned by N.Flying's Seunghyub a.k.a J.DON. "I am always honored and grateful for being able to work with our seniors. We had a lot of fun working with him and in future, I hope we could also compose music and make melodies together," replies Jiung when the members nod in unison agreeing to his answer. On the other hand, Jiung relates himself with their second promotional track, 'Reset' as he adds, "One of my goals is to reset things in the world and be a new type of idol. I wanna break the regulations and find a new way. Show my own style to the world". 
With tracks like 'Pyramid', 'End It' and 'Reset' the act aims to deliver their fans from their own restrictions. 'Reset' in particular is a full song that sings about resetting the constraining society. Intak's lines, "Rewind Reset again today/ Everyday I'm gonna do what I have to do/ I create a new job code," reflect on the ever growing world which is still tied to limitations and speaks volumes to the fans as well as the members. "My part in the song actually speaks to me the most. Everyday there are so many things that people want from me and it has become a routine. Every day repeats itself and feels the same.. Regardless of all of those circumstances I want to reset and do what I want to do," explains Intak. Keeho then elaborates the idea behind Soul's part, "In Soul's part, it is mentioned as devil's whisper but what we wanted to express is don't listen to people that make you feel down. Don't listen to your haters. You just have to reset it (stereotype, pattern) and do what you really want." The sextet uses their music as a medium to strengthen the fans and at the same time express themselves as individuals which makes them special. "I think our biggest strength is us being genuine in whatever we do. We take our music seriously but still have fun. And, during the process, we just are chill and try to enjoy everything we get to do," adds Keeho with a confident smile. 
The group has cemented in the gritty concepts with their past releases but the members are always open to explore, "Just like our message, I don't want to be scared to do what I want to do. We just wanna keep doing what we like doing. We can't really promise a genre but we would like to implement everything we like. Depending on the era we are in, we just want to go with the flow," states Jiung. The latest album promotions were also accompanied with many more exciting projects including P1Harmony X Wonderwall Series, 1TheK role model dance covers, KCON: TACT appearance, Intak's favourite, Sprout Harmony (SAESSAK HARMONY), a YouTube series under their official channel and fan meets. The group also made history by becoming the first K-Pop group to perform on the Rolling Stone stage. Jiung fondly remembers the stage as his favourite promotional activity and adds his experience of doing the viral role model dance cover of iKON's 'Killing Me', "As for me, I really like Bobby from iKON so I got to choose those songs and had so much fun performing them".  Jongseob chooses dance covers as his favourite when Soul votes for KCON but ultimately, getting to meet their fans in person during their offline fan meets stays superior and feels more personal to the members. 
"We only had online fan sign events for our debut. This time, while preparing for offline fan meets, I was really feeling anxious. But, after getting to meet and interact with fans, it made me feel intimate and close," recollects Jongseob. As for Theo he says, "I initially felt nervous to look at them and felt nervous about our interactions. Now, I know how to speak with them and even pose for cameras. I am thankful for the amazing pictures they take of us." Keeho sums it up by sharing, "It is nice to know that people care about us and people love us and that's why people wanna be famous. And, I feel like we are living a life that everybody wants and we are honestly grateful to all of them. I am glad that we could share what we enjoy doing and be ourselves."
The group had their most anticipated online fan meet Time To Move Out on July 18th surprising fans with both power packed performances and sweet melodies. Adding to the sextet's original stages, the members took turns in doing an English cover to some of the most well-known pop songs. Jiung began with Avil Lavigne's 'Girlfriend' by switching it into 'Boyfriend' and made his fans' hearts flutter. The covers also included the vocalist duo Keeho and Theo singing Ariana Grande's 'Needy' followed by the youngest trio Intak, Soul and Jongseob taking over the stage with their fierce rap verses for Dreamville's 'Down Bad'.  The act then got together to cover Conan Gray's 'Maniac'. The performance list included songs from both the EPs STAND OUT and BREAK OUT letting the fans go through the memory lane along with the group and enjoy the stages. The sextet has also promised to bring a lot more in the upcoming days and of course, we are excited.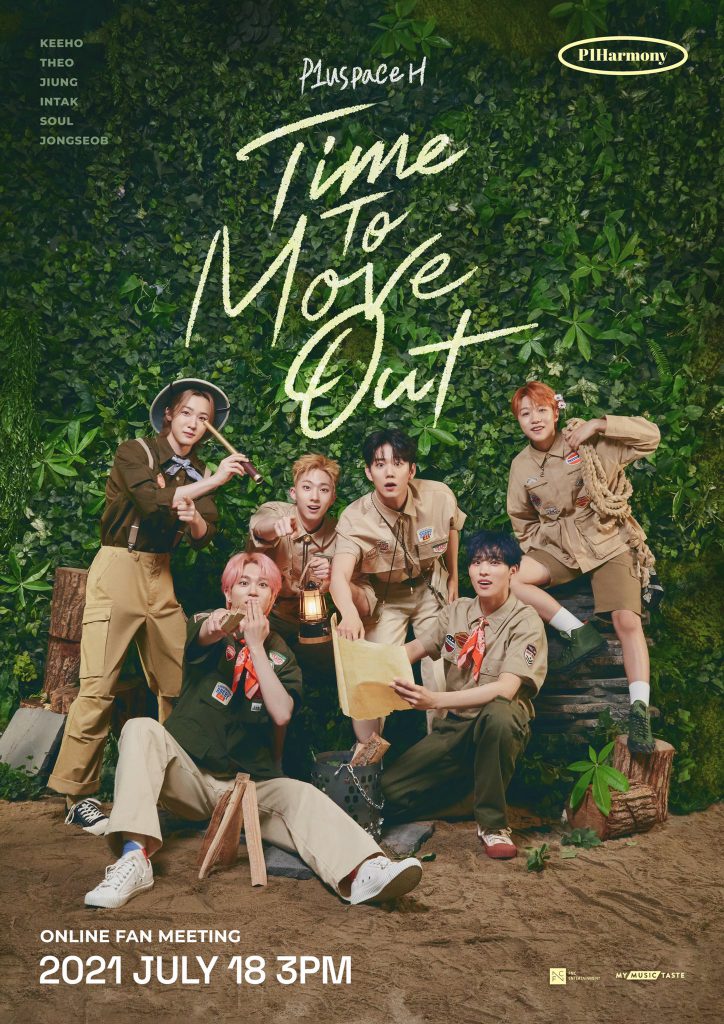 As the discussion moves towards their fans and India, the members shared the first thing that come to their mind when they think about India and their food preferences. "Taj Mahal! It is just so beautiful," proclaims Keeho. Jiung shares his love for Indian food as he says, "I really like curry. Couple days ago, myself, Intak and Jongseob ate curry and I really like lassi. And, I would love to taste them when I come to India,"  Theo continues, "I thought of curry as well". The youngest members, Soul and Jongseob names Lassi as one of their favourite beverages when suddenly Keeho exclaims, "Oh My God," and the whole room turned towards him as he beams with excitement,  "I am sorry, I just got reminded of Bollywood! When I was in Canada, I had friends from India. They introduced me to a lot of Bollywood music, movies and dramas. I love how dramatic it is and the music as well. I really adore Bollywood music for how it is impactful and inspiring artists worldwide".
P1Harmony then takes the time to thank their fans in India. "I am very grateful that fans from India are listening to our music from far away. And, I would like to meet you all in person as soon as the situation gets better," states Jongseob as Keeho joins in and says, "In future, I definitely want to meet you guys and show our performances. In the meantime, I am actually thankful for now. Even though we can't meet each other right now, I just wanted to let everyone know that we are feeling your love regardless of the distance". Jiung concludes by sending a message to Indian P1ece and also mentions about the Covid-19 situation in India as he says, "It was really heartbreaking when I first heard the news about India's situation and I really want to send all the good vibes and positive messages. I love travelling so, when things get better I really hope to meet you guys in person and experience the local food and culture. Till then, take care. Thank you!" 
Indian P1ece, until the time P1Harmony visits us, make sure to check out their latest album and keep your eyes open for more exciting releases.
Connect with us on Instagram Twitter YouTube for more content, interviews, & news.
Written by Anthea Isaac