EXCLUSIVE: Korean Dost – A Journey From Being Fans To Having More Than A Million Fans
Posted by : TeamNH
What started with a mere fondness for the Indian culture has now become a 1M+ family. Korean Dost is a YouTube channel by two Koreans, Min, and Hoon and the channel is all about their love for everything Indian- Food, Clothes, Music, Films, and People.
Whether it is K-Drama, K-POP, K-Beauty, or K-Food, the K-culture is taking shape in India and at a growing rate. The love for Indian movies and culture has always been there as well but the growth cannot be said to be the same. However, over the years we have seen many Koreans showing their love for India through their SNS and one such YouTube Channel is 'Korean Dost'. Since August 2019, Min and Hoon are promoting cross-cultural love and admiration among their many followers and they have been gaining recognition among the Indian fans. We love a cross over and as part of our K-Lifestyle, we wanted to know more about them. We were eager to know about their journey and here's what Min from Korean Dost has to say about their beginnings, their struggles, their first fan meeting, and much more. 
Namaste Hallyu (NH): Which was your first encounter with Indian Culture?
Korean Dost (KD): My first encounter with Indian culture, from what I can remember, was Bollywood. During my college years, 3 Idiots was a big hit, and I really had a great time watching it. I studied Engineering just like the main character Ranchoddas.
NH: How did you come up with the name Korean Dost and Yaaron, and what was your aim behind the channel?
KD: Hoon actually came up with the name, and Yaaron was decided by our subscribers. To be honest, Yaaron is kinda forgotten (laughs). Our aim is to explore Indian culture firsthand and eventually become the cultural ambassador between India and Korea.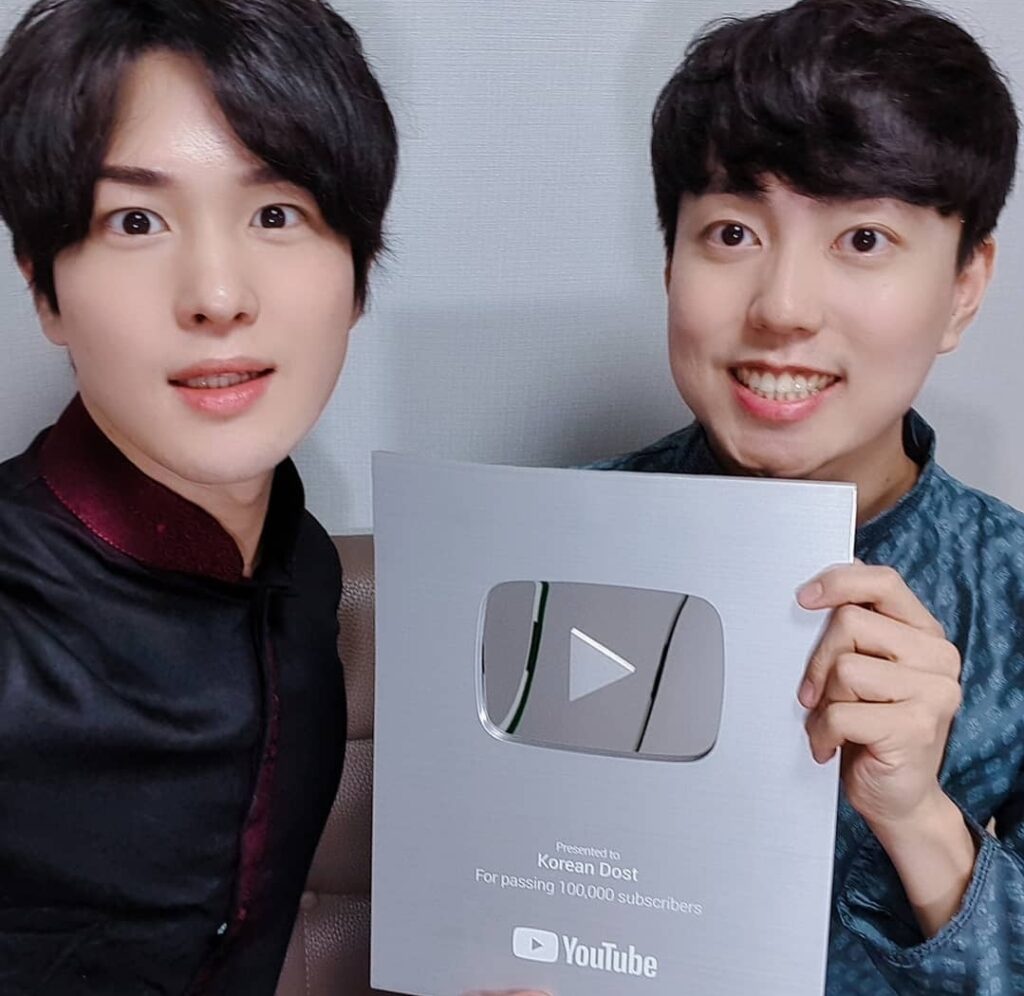 NH: Do you feel knowing English or a common language is of importance to communicate across a different culture?
KD: Of course. Being able to communicate is essential, or at least the first step towards mutual understanding among us. I feel it is imperative to communicate, and language is a fundamental means to do it. 
NH: We would love to know the whole process behind your videos- conceptualization, scripting, production, and editing. How long does it take to finally put out the content on YouTube?
KD: This really depends on the type of videos. The reaction videos take very little time to script, film, and edit. We usually film around 10 reaction videos back to back, non-stop, and the same goes for editing. However, in the case of cooking videos, interviews, vlogs, etc they take much longer to prepare, film, and edit. It's really hard to come up with original content, so we sincerely hope to revisit India to do more filming!
NH: Speaking about revisiting, you had visited India in December 2019 with Hoon for the first time. What was the experience like? And how did COVID-19 affect your plans of visiting India this year?
KD: It was the best experience. It's hard to describe in any words. It was the most meaningful trip we've ever had. The love and joy we felt, we only want to share that with more people of India.
In the case of future visits, it's unclear due to COVID-19 . Our initial plan was to visit Mumbai last winter. However, with the ongoing pandemic, our plan for this year is also still unclear. We sincerely hope that this pandemic situation comes to an end so that we can revisit India very soon. Until that time, please stay safe and healthy, everyone. And yes, we still talk about what we experienced in India until this day, and to find out what we experienced, please watch our videos ~~
NH: Ever since Hoon took a break from Korean Dost, the channel has been flooded with questions like when he is coming back? Does that upset you? How do you deal with it? How has the journey been transitioning to working solo as compared with working with someone?
KD: Ever since Hoon left, I tried to do my best to maintain the Korean Dost channel, and it wasn't easy (laughs). Questions like 'when is Hoon coming back' or 'where is Hoon' is too frequent, so I'm used to it by now, but it's quite uncomfortable (laughs). I guess I deal with it by not dealing with it.
The synergy created by more than one person is immense. There is a massive gap between working solo and co-working, so I miss the days we used to work on things together.
Note: The interview was conducted before Hoon started to feature officially in the videos again. We are so excited to see Hoon Back!
NH: Do you feel YouTube has changed the way your friends or family approach you? 
KD: Some people think that I generate a huge income (+5,000 USD per month), but I am making the least amount of money ever since I left college. Other than that, not much has changed since I don't reveal my channel to people around me unless it's necessary.
NH: Is there any stereotype that people have towards India or Indian people that you wish to break?
KD: Many people look down upon Indian culture. But if only they would pay closer attention, they could see much more. There is a lot to be learned from India. From what I have discovered, people with higher status and influences try to discover the truth about humanity and this world in general. From what I can tell, India has much to offer in terms of 'this truth.' In this instance, when people feel fatigued towards spirituality, they will seek to discover more about India. Hope that I can be of some help when that time comes.
NH: You recently opened up Korean Dost for membership. Tell us a bit about that experience.
KD: It's great. I know the price isn't that cheap, yet many people signed up for it. We have a group chat in KakaoTalk Messenger (WhatsApp version of Korea). There, we communicate daily with Me, Hoon, and Eric. Often, there are too many messages to read and respond to but it's just amazing to see people have varied conversations and create another community of one.
NH: Everyone has been having a hard time due to COVID-19, what do you want to tell your fans to cheer them up in this new year?
KD: We know that it's been a tough year. All borders were closed, some loved ones were separated, and many lives were lost. We are living in a time where we are forbidden to have faith in others out of fear of the spread of viruses. We know that many are struggling to sustain their lives, and it is the same for us. We sincerely hope for everyone's safety and happiness. Until the time we meet, please stay safe. Everything will be okay and we will all eventually meet someday.
We are grateful to Min for taking the time out for the interview and we congratulate Korean Dost for achieving such a milestone, for sharing their love for India, and for creating amazing content. If you are not a Yaaron yet, do check out their channel and show them lots of love. For more content related to their India Trip, you can click here. 
Tags: Bollywood, Indo-Korea, kdrama, Korean Dost, kpop, Youtuber
One Response to "EXCLUSIVE: Korean Dost – A Journey From Being Fans To Having More Than A Million Fans"