KIM WOOJIN has made his much anticipated solo debut under 10x Entertainment with his debut mini album,  'The moment: 未成年, a minor.'
With 'Ready Now' as the title track, his mini album 'The moment: 未成年, a minor' dropped on August 5th at 6PM KST. He had earlier released 'Still Dream' which served as a pre debut single and the title track 'Ready Now' premiered a day prior to album release.
Review: Kim Woojin Makes His Solo Debut And Is 'Ready Now' To Set His Mark
He then debuted and performed his songs live for the first time at 10PM KST via a showcase on his official SNS and further spent some time with cubs (official fandom name), by sharing his profile, the album & it's tracks, and the story and meaning behind it.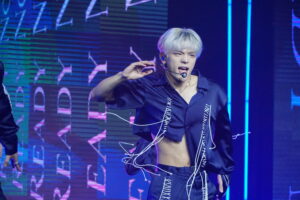 The idol commenced the showcase with his pre-debut single, 'Still Dream', that released last month, which was part of the album's first stage. After he chatted with the host and also read comments of his fans, he later took over the stage and performed the album's title track 'Ready Now' which is a song with the combination of rhythmic sounds and his pleasing vocals thus giving the listeners, a soothing pleasure.
In the conversation that accompanied the showcase later on, Woojin shared, "There are many moments when people's eyes are afraid. It contains the feeling of being alone, without my side, and the message of overcoming wounds and moving forward with a strong will."  
The idol successfully ended his live showcase with his B-Side track 'My Growing Pains' which is  a trendy alternative genre blended with a clean tone. He further thanked his fans for waiting for him as he honestly shared his feelings, "I ran while watching today to the extent that I did not know how time passed. I tried to hide, but I was very nervous".
Kim Woojin's debut album, 'The moment: 未成年, a minor' consists a total of six tracks – 'Ready Now', 'Intro: Alea iacta' est.',  'Still Dream', 'My growing pains',  'Purple Sky', and 'In my space'. The songs has been created using varied genres and he has co-written all the tracks and tells his story.
Did you watch the live showcase? What do you think of this title track? Which is your favorite songs from the entire album? Let us know in the comments or tweets to us!
PC: 10x Entertainment
Find us on Instagram Twitter   YouTube for more content & news!