Our Artist of the Month is the spectacular SPECTRUM (스펙트럼)!
SPECTRUM (스펙트럼) started off as a 7 member group but last July, their rapper, Dong Yoon passed away sadly. Despite this tragedy, the group has powered through strong and fierce promoting as a 6 member group.
After a few ups and downs and one member's participation in the hit show MIXNINE, the group finally debuted on May 10, 2018. They debuted as a seven-member group with the album Be Born and its title track, "Light It Up".
You might know members like Dong Yoon who participated in MIXNINE and Jaehan who was in Produce 101 Season 2. Other members are Hwarang, Minjae, Dongkyu, Eunjun, and Villain (a.k.a the best stage name ever! Everyone else should just stop trying). Each member has his own appeal and charm so definitely picking a bias is going to be tough. Their debut title track "Light It Up" is a fun tropical house number. Its chorus apart from the rest of tropical house songs that came out the following year. Not into tropical house? Try their second mini album Timeless Moment with tracks like "What Do I Do?" and its amazing pre-chorus or the heartfelt, "Dear My" and you will definitely fall for them , if not have a bias wrecker for which you will thank me later ! 
Get to know the members 
SPECTRUM Fandom Name: LANTANA
SPECTRUM Official Accounts:
Twitter: @spectrum_0510
Instagram: @spectrum0510_wynn
Members Profile:
Minjae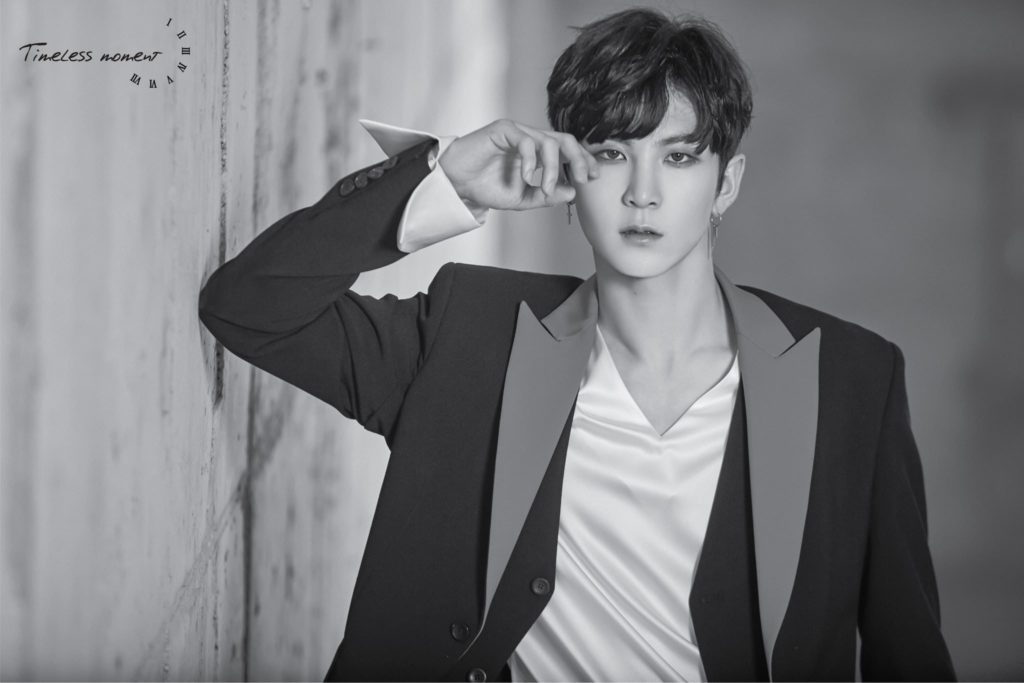 Stage Name: Minjae (민재)
Birth Name: Jo Min-jae (조민재)
Position: Leader, Lead Vocalist, Main Dancer
Birthday: August 8, 1994
Zodiac Sign: Leo
Blood Type: O
Instagram: @minnnnn_jae
Hwarang
Stage Name: Hwarang (화랑)
Birth Name: Park Jong-chan (박종찬)
Position: Rapper, Sub Vocalist
Birthday: December 5, 1995
Zodiac Sign: Sagittarius
Blood Type: B
Instagram: @hwal__._.__1
Eunjun
Stage Name: Eunjun (은준)
Birth Name: Choi Eun-jun (최은준)
Position: Sub Vocalist, Maknae
Birthday: August 6, 1999
Zodiac Sign: Leo
Blood Type: AB
Instagram: @eunjun0806
Dongkyu
Stage Name: Dongkyu (동규)
Birth Name: Moon Seung-hyuk (문승혁) / legalized name Moon Dong-kyu (문동규)
Position: Lead Vocalist
Birthday: November 16, 1992
Zodiac Sign: Scorpio
Blood Type: B
Instagram: @moony_fine
Jaehan
Stage Name: Jaehan (재한)
Birth Name: Kim Jae-han (김재한)
Position: Main Vocalist
Birthday: July 1, 1995
Zodiac Sign: Cancer
Height: 179 cm (5'10")
Weight: 68 kg (150 lb)
Blood Type: A
Instagram: @jaehan__k
Villain
Stage Name: Villain (빌런)
Birth Name: Lee Seung-hyun (이승현)
Position: Main Rapper, Lead Dancer
Birthday: July 17, 1998
Zodiac Sign: Cancer
Blood Type: B
Instagram: @win.hyun_2_717
Member for Eternity:
Dongyoon
Stage Name: Dongyoon (동윤)
Birth Name: Kim Dong-yoon (김동윤)
Position: Main Rapper, Visual
Birthday: June 3, 1998
Zodiac Sign: Gemini
Blood Type: B
Instagram: @dong_y00n
Watch their MV – "What do I do" here below :